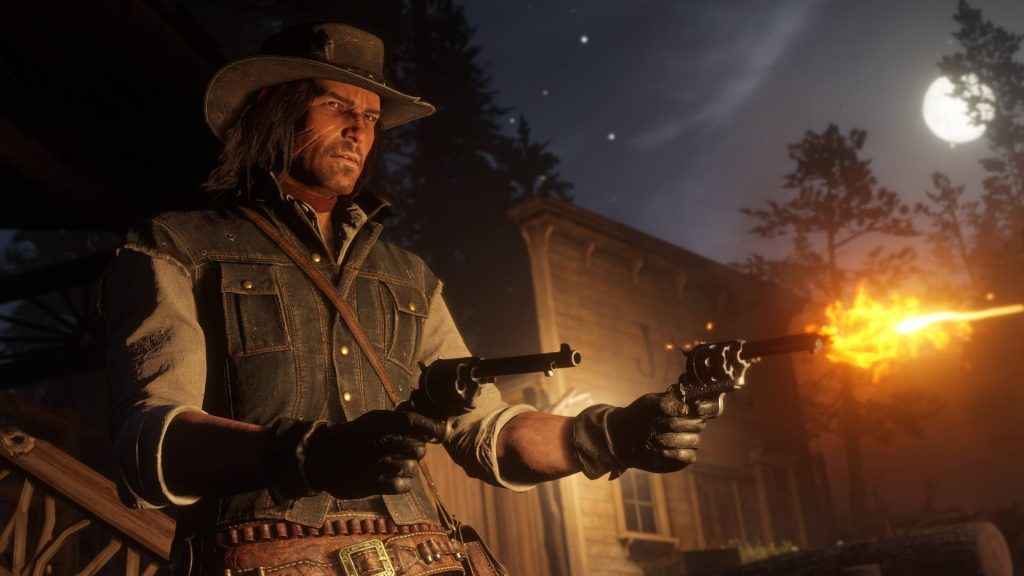 With Red Dead Redemption 2 doing the business critically and commercially, we've been scanning back through our collection of Blu-Rays and have picked out ten of the best Western movies for you to watch once the credits scroll on Rockstar's latest opus.
So without further ado!
Best Western Movies For RDR2 Fans
Best Western Movies: 3:10 to Yuma (2007)
A remake of the 1957 film of the same name (itself an adaptation of Leonard Elmore's novel), 3:10 Yuma is a briskly paced take on the genre that has Christian Bale as a poor rancher who takes on a contract to see Russell Crowe's nefarious outlaw Ben Wade to the 3:10 Yuma train so that he can receive justice for his many crimes.
Pretty much never letting its foot off of the gas for the entirety of its nearly two hour duration, the James Mangold (Logan) directed 3:10 to Yuma is absolutely rammed to the hilt with gunfights, betrayals and an overriding theme of exploiting opportunity wherever you find it in the lawless American West. In particular, Crowe's Ben Wade character is so vicious and kill-hungry that he looks like could wander into Red Dead Redemption 2 and nobody would be any the wiser.
Best Western Movies: Appaloosa
Directed by and starring Ed Harris (he who most recently plays The Man in Black in HBO's superb Westworld remake), Appaloosa centers around villainous rancher Randall Bragg (played with devilish relish by Jeremy Irons), who just so happens to have shot and killed the town Marshall of Appaloosa. Obviously sick of Bragg's transgressions, the townspeople of Appaloosa hire lawmen Virgil Cole and Everett Hitch, played by Ed Harris and Viggo Mortensen respectively, to get in there and sort Bragg and his goons out.
https://youtu.be/Sw1XFu-mFVk
Though seemingly clear cut on the surface, Hitch and Cole's path to getting Bragg dead to rights is anything but as some members of the township push back against his conviction all the while a split between Hitch and Cole grows ever wider and threatens to derail the duo. Though far from an action-stuffed entry in the genre, Appaloosa tells a deftly woven story about conviction, love and the need to find a quiet place away from the hustle and bustle of the world that very few other Westerns do.
Best Western Movies: Deadwood
A long-form television show rather than a motion picture event (the long-gestating Deadwood movie has just been announced which finishes the story told by the show), HBO's Deadwood remains to this day one of the grittiest and finest westerns ever made. Set in the in the Black Hills of Dakota in 1876, Deadwood thrusts together a veritable who's who of the Wild West including Wild Bill Hickok, Calamity Jane and Wyatt Earp to name just a few.
With gold in them there hills, Deadwood centers around how the gold rush turns the titular settlement into a burgeoning outpost of opportunity, and one where the unscrupulous can make their fortunes off of the backs of the less ruthless.
Between the slurry of the blood mixed thoroughfare to the bar tables that are slick with spilled whiskey, Deadwood is realized with such naked grit and brutality that few, if any, other entries in the genre have ever come close to approximating it.
Throw in career best performances by the likes of Ian McShane as the conniving and cuss-mouthed owner of the Gem Saloon, some of the most violent fight scenes ever witnessed on television and a range of truly flawed and thoroughly compelling characters, and it becomes obvious that Deadwood is a Western quite unlike any other.
Best Western Movies: Hostiles
In Hostiles, Christian Bale once more steps into the genre as Joe Blocker, a decorated army veteran who as his final service to his regiment, must escort his lifelong nemesis – a Native American chieftain to his homeland so that he might die in peace.
At the same time that Blocker takes on this task, a homestead schoolteacher narrowly escapes from a pack of rogue Cheyenne warriors who kill her entire family, only to return back to scene of the slaughter whereupon Blocker and his group discover her.
Supremely tense and brutal in a way that recalls the sort of nastiness one would see in Alejandro González Iñárritu's boundlessly brilliant movie The Revenant, Hostiles never lets up with nail-biting tension throughout and all-star performances from every member of its cast. With twists and turns throughout, it proves impossible to turn your face away from the screen, so potent is Hostiles particular brand of savagery.
Best Western Movies: Once Upon a Time in the West
A sprawling Spaghetti Western classic, the Sergio Leone directed Once Upon a Time in the West remains one of the most epic efforts the genre has ever seen. Stuffed with a great cast of characters including Peter Fonda and Charles Bronson, Once Upon a Time in the West is set against the backdrop of the great Westward railroad expansion as Bronson's harmonica playing cowboy seeks vengeance on Fonda's superbly played villian.
Clocking in at close to three hours long and celebrating its 40th anniversary this year, Once Upon a Time in the West is simply a masterpiece and its influence in Red Dead Redemption (and likely its sequel) is pronounced to say the least. If you haven't seen it do so right now. Right. Now.
Best Western Movies: The Assassination of Jesse James
Look, the full title of the movie is The Assassination of Jesse James by the Coward Robert Ford, but using that over and over is like trying to swallow a football so I won't. Anyhow, The Assassination of Jesse James is arguably a slower, more ponderous effort than any of the other entries in this article – and for good reason as it seeks to shed light on the life and final days of Jesse James, arguably one of the most infamous bandits the untamed frontier of the American West ever saw.
Strongly anchored by Brad Pitt's superlative performance as Jesse James, the movie lends a new perspective to the infamous gunfighter as we see him winding down his acts of violence and crime in favor of a quiet life – not realizing that those who have befriended him have done so to feed off his infamy.
Much more of a straight drama rather than a saddle-slapping Western in the traditional sense, The Assassination of Jesse James provides a fascinating insight into one of the figures of the Wild West for whom his shadow looms large above all others.
Best Western Movies: The Ballad of Lefty Brown
Don't let the straight to DVD release of The Ballad of Lefty Brown fool you – this is a superb little Western in which Bill Pullman puts in an astounding performance as a bumbling, slightly unhinged though well-meaning gunfighter who finds his courage in pursuit of vengeance for the murder of his best friend.
From the get-go it's clear that the cinematographer has fallen in love with the boundless romanticism of the pioneering frontier. Indeed, the camera lens frequently finds itself providing a voyeuristic perspective on the beautiful wilderness, as the viewer gets to take in the rolling dusty hills, and creeping sunlit horizons of the Old West.
Hugely entertaining and with a tremendous, tender heart beating at its core, The Ballad of Lefty Brown is an underrated attempt on the genre that more folks really need to see.
Best Western Movies: Tombstone
Easily the better of the two Hollywood motion pictures about legendary lawman Wyatt Earp (feel free to ignore the Kevin Costner one called 'Wyatt Earp' – it's pish), Kurt Russell excels as the grizzled Earp and is ably flanked by Val Kilmer's wonderfully played take on Wyatt's best friend, the gun-toting Doc Holliday.
Centered around both the infamous shootout at the O.K Corral and the catastrophic fallout resulting from that encounter, Tombstone is an action-packed, character driven effort that relishes as much in it's white-knuckle, expertly shot firefights as it does its more tender moments. A great deal of fun from the rip-roaring beginning to the somber end credits, Tombstone is a cracking Western that all fans of the genre should consider.
Best Western Movies: True Grit (2011)
A remake of the John Wayne starring, 1969 film of the same name, Fargo auteurs The Coen brothers take on this tale of revenge in the Wild West with commendably grand results. After having witnessed her father murdered at the hands of vagrant Tom Delaney, resourceful 14-year old Mattie Ross decides to enlist the help of bumbling Texas Ranger LaBoeuf (played fantastically well by Matt Damon) and the ultra-cantankerous Rooster Cogburn to bring him to justice.
In typical Coen fashion True Grit is laced with dark comedy throughout, and it's this trait that lends their version of True Grit a stark difference to not just the other genre entries in this article, but also the 1969 original too. At times laugh out loud funny and at others deeply meditative on the notion of vengeance and how far it can take you, True Grit is without a doubt counted among the greats of the genre.
Best Western Movies: Unforgiven (1992)
The last Western that the godfather of the genre, Clint Eastwood, would ever do, Unforgiven is regarded by many as one of the finest entries in the genre. Both directed by and starring Eastwood himself (which he would go on to later snag two Oscars for – the film won four in the end), Unforgiven casts Eastwood as William Munny, a retired killer who comes back into action when his best friend is abducted and killed.
Taut, masterfully shot and possessing a great baddie in the form of Gene Hackman's corrupt sheriff (he'd win an Oscar for that too), Unforgiven is required viewing for anyone who considers themselves fans of the genre. As a random bit of trivia, Unforgiven was later adapted in 2013 as a Japanese motion picture, swapping out Clint Eastwood for the formidable Ken Watanabe and changing the setting from the American West to Meiji-era Japan.
Red Dead Redemption 2 from Rockstar Games is set to release on October 26, 2018 on PS4 and Xbox One.