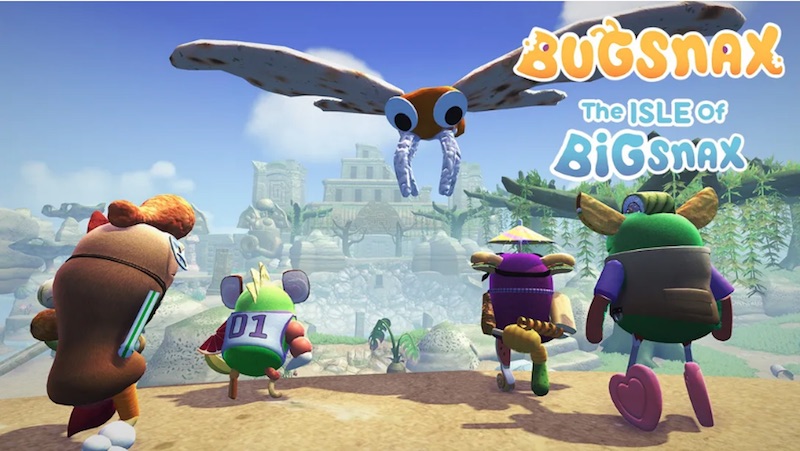 Young Horses Inc. has taken to the PlayStation Blog to announced that Bugsnax: The Isle of Bugsnax is launching for PS4 and PS5 on April 28, 2022.
This latest batch of content for Bugsnax offers whole new biome to explore in the shape of the eponymous island, which is twice the size of any previous location. Bursting from the ocean just off the coast of Snaktooth island, the Isle of Bugsnax is open to a whole new bunch of highlights, including an oversize population.
With this area, we put a greater emphasis on environmental puzzles that put your tools to the test. You'll come across vertical mazes that can only be navigated with your buggy ball, and they ramp up in complexity; some are even inhabited by mischievous snax.

There are also mechanical ruins that can be opened with clever use of your trip shot and its ability to spread fires. Fun fact: A temple door opening from a lit fire may sound fantastical, but we took inspiration from the works of the real-life Archimedes.
The oversized Bugsnax here are able to ignore our traps and tools, forcing you to employ a new substance, Shrink Spice, to bring them down to size allowing you to capture them more easily. Watch though, as it'll explode 30 seconds after you pick it up. Ouch!
Related Content – Sony PS5 Complete Guide – Everything Explained On PlayStation 5 For New Users
Elsewhere, players will also have their own hut to look after, although when you get to the island it's a bit of a mess. Overtime however, it can be transformed into a two-floor luxury gaff that can be decorated and personalised with tons of unique furnishings.
All in all, there's about 180 decorations to hoover up to make the hut your home away from home, which should keep you busy.
Bugsnax: The Isle of Bugsnax is launching on April 28 for PS5 and PS4, with Young Horses also confirming the game is coming to PC, Nintendo Switch, Xbox Series X/S, and Xbox One on the same day.
[Source – PlayStation Blog]