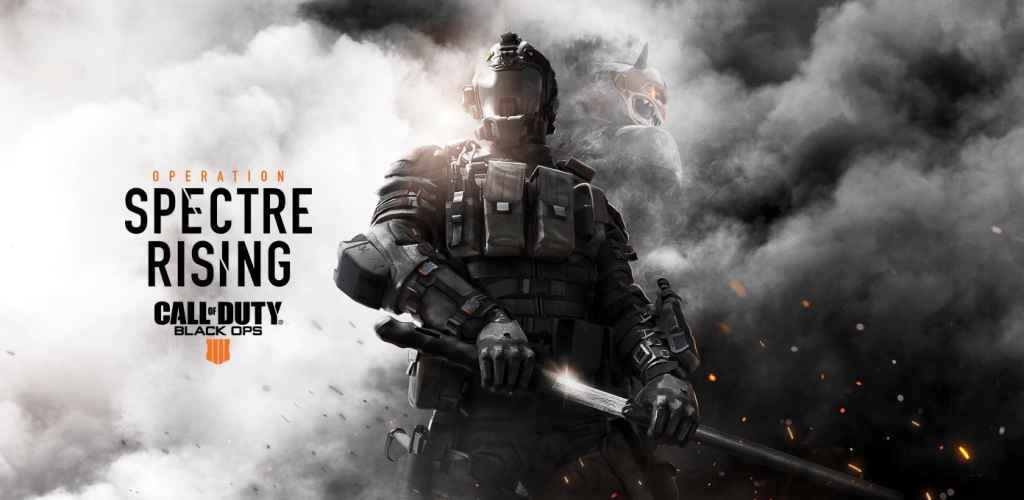 Call of Duty: Black Ops 4 Operation Spectre Rising arrives today on PS4, bringing with it a whole host of shiny new content.
Topping the bill is a returning specialist, Spectre, (playable in both traditional Multiplayer and Blackout) whose stealthy approach to combat and reliance on his Shadow Blade melee weapon provides a welcome change from his gun-toting counterparts.
Although, as you'd expect from a brand-new season of content, there's plenty for fans of all three of Black Ops 4's core game modes.
Call of Duty: Black Ops 4 Operation Spectre Rising – Multiplayer
With the exception of Spectre, the most significant change as far as Multiplayer is concerned is the introduction of two new game modes.
The first, Capture the Flag, is something of a staple in the FPS genre and plays exactly how you'd expect. While the second, perennial favourite Prop Hunt, is perfect for those who're looking for something a little less hectic.
There are a few added bonuses for Black Ops Pass owners, too. In the form of three additional maps this season: Artifact, the colourful Masquerade, and WMD. As well as an altered version of Hacienda, known as Twilight.
Rounding out the content for Multiplayer will be a number of new weapons; a gameplay tuning update; and various new features for the World League Hub, including increased penalties for quitters and tighter skill-based matchmaking.
Call of Duty: Black Ops 4 Operation Spectre Rising – Blackout
Blackout players, meanwhile, can expect even more from the Operation Spectre Rising update.
For starters, Treyarch is introducing two additional game modes. Bounty Hunter, in which players compete to find the Shadow Blade in order to become Spectre himself, using his unique skills to assassinate their opponents. And Ground War – a largescale, team-based mode described by Treyarch as "pure chaos".
These will be joined slightly later in the season by Down But Not Out and Hot Pursuit!
The Blackout roster will also be getting something of any overhaul, with the arrival of six additional characters. The first five of which – Blackjack, David Mason, Misty, Sarah Hall, and Sergei – are available to all. The sixth, on the other hand, Uncle Frank, is exclusive to Black Ops Pass owners.
Arguably the biggest change as far as Blackout is concerned, however, concerns the map itself. Specifically, the Wetworks portion which, following an explosion at the Hydro Dam, has unleashed a flood on the surrounding areas; drastically transforming the environment.
Call of Duty: Black Ops 4 Operation Spectre Rising – Zombies
Last but by no means least, a handful of new Gauntlets will be making their way to Zombies.
Leading the way is Super Blood Wolf Moon which, according to the developer, "embraces the glitz and glamour of the mansion", offering up 30 rounds of undead thrills. This is followed by Labours of Hercules (Ancient Evil) and sundry Hard Mode Gauntlets (debuting in Unsinkable for Voyage of Despair) further down the line.
These new Gauntlets are joined by yet another Mystery Box Weapon (the Tigershark LMG) and a band-new feature: The Classic Elixir Restock. "You'll never have an empty Elixir slot during a Zombies match" again, Treyarch explains, with empty slots instead being filled with a randomly selected classic elixir.
Finally, Operation Spectre Rising will feature 50 unique Tiers across all three modes, "paced to align with the first half of the Operation". Which will include various customisation options (augmented by the arrival of Weapon Charms and Death Effects), weapons, mastercrafts, MKII's, Camos, Specialist Outfits, War Paints, Gestures, and Jump Packs.
That's slightly less than previous than previous Operations, spanning a slightly shorter period of time. Due to the fact that a new set of content will be released alongside the Days of Summer update in June. "Ultimately, this will translate to easier, more frequent updates that establishes a steadier cadence".
For a more in-depth look at everything mentioned above, head over to the Treyarch blog.