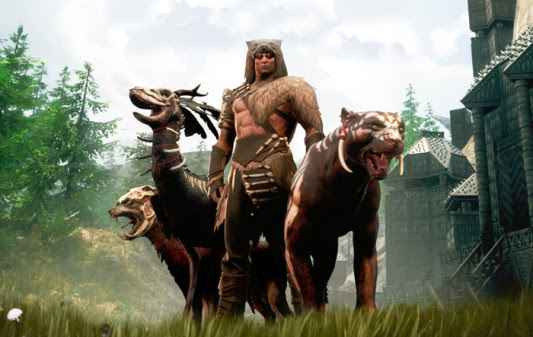 Developer Funcom has today released Conan Exiles update 34 on PS4, Xbox One, and PC. The largest yet since the game emerged from early access five months ago.
Introducing the Midnight Grove dungeon, a brand-new religion (one which allows its adherents to summon the mighty flying avatar Jhebbal Sag), and, most importantly of all, animal taming to the already huge sandbox survival game.
All at no extra cost to existing players.
Conan Exiles Update 34 – Finding Your Dream Pet
"Pets and taming are important new additions to the gameplay in Conan Exiles… something players have been asking [for]". Said creative director Joel Bylos, before explaining how players go about the task of finding a loyal animal companion of their own.
"First you must head out into the world and either find an animal egg or a baby, put them in your animal pen, and then make sure you feed them properly. From tigers to rhinos – there are many different pets to tame and if you feed them right they might even turn into a rare version of that animal".
It's certainly a welcome addition in our eyes, adding another level of depth to what is already an impressively deep game (we really liked it, anyway. Particularly as the player's furry friends can be farmed to produce a regular supply of useful materials or even called upon in battle.
The Savage Frontier Pack DLC
Update 34 isn't the only new thing coming to Conan Exiles, however. Funcom also used today's post to announce the impending arrival of DLC expansion Savage Frontier on console.
Already available on PC, and coming to PS4 and Xbox One on the 17th October, Savage Frontier adds a bunch of new pet skins, weapons, armour, warpaints, and building materials.
As with previous Conan Exiles DLC, Savage Frontier will set players back $9.99 when it releases on PS4 and Xbox One in just under a weeks' time.