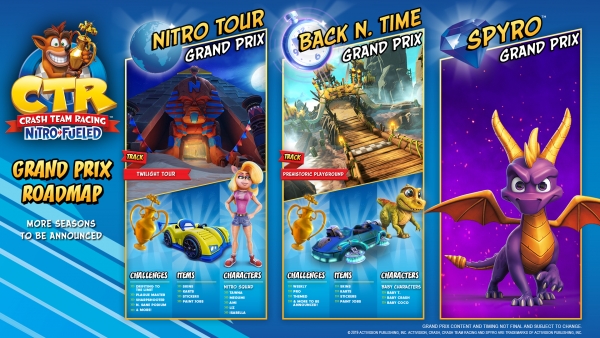 Developer Beenox has announced the Crash Team Racing Nitro-Fueled DLC lineup, revealing the upcoming kart racer will receive free seasonal content beginning just a few weeks after Crash Team Racing's launch later this month. The content will also see Crash Tag Team Racing's Chick and Stew back in the spotlight, with the duo hosting all the latest updates on CTR TV.
Crash Team Racing Nitro-Fueled DLC Detailed
The Crash Team Racing Nitro-Fueled DLC is based around the Grand Prix, which is a themed season comprised of a new track and different challenges to take on. If you beat a challenge, you'll net yourself Nitro Points, which upon reaching a certain level, unlocks rewards including new characters, karts, skins, and customisation items.
Grand Prix challenges also allow you to hoover up Wumpa Coins, which can be spent at the in-game shop, the Pit Stop, for fresh content. Furthermore, the Pit Stop will be kitted out with new items during each Grand Prix, such additional characters, kart sets, wheels, paint jobs, decals, stickers and more.
The first Grand Prix will launch on July 3, and features a reimagined Ancient Egypt and Arabian Town from Crash 3: Warped called Twilight Tour. Players will also be able to unlock Tawna the Bandicoot during the first Grand Prix, providing you earn enough Nitro Points.
Crash Team Racing Nitro-Fueled is due for release on PS4, Nintendo Switch, and Xbox One on June 21.
E3 2019 has already been packed with new announcements. You can watch all of the livestreams, as well as every conference at E3 2019 on our E3 2019 Livestream page.
Struggling to keep up on the news at E3? Check out our full E3 Announcements and News list, containing every reveal during the week-long show across all the conferences. You can also check out a variety of rumours that are surrounding the show. If you would prefer to see the reveals as they happen, you can take use our E3 2019 live feed, which will update with the new announcements as they happen.
Source: PlayStation Blog