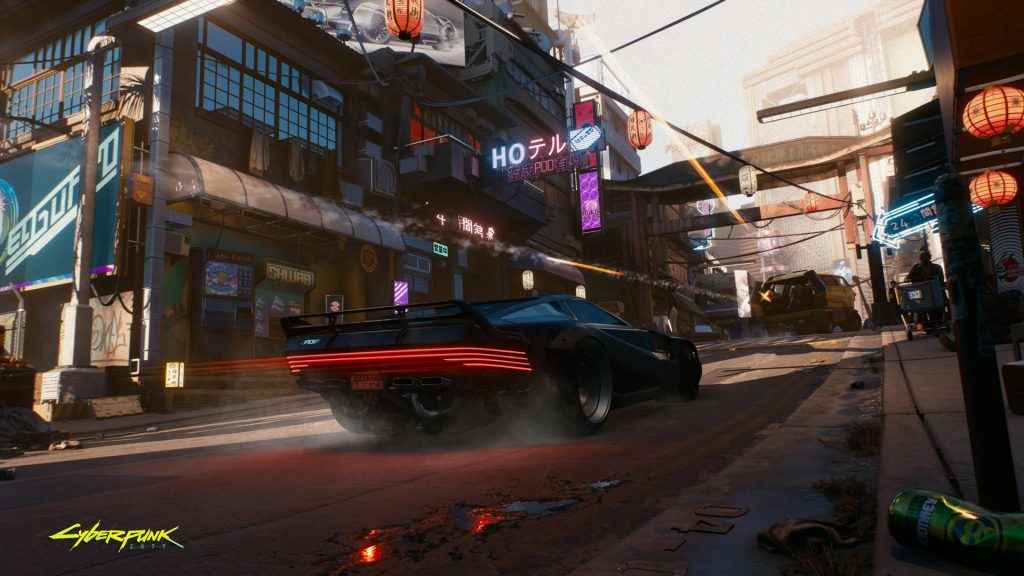 A new Cyberpunk 2077 development update has been provided by CD Projekt Red, and reveals that the game's story has now been completed. Meaning that, in its current state, the game is playable from start to finish.
That's not to say it's anywhere near releasing to the general public, however. And there remains numerous rounds of bug fixing and playtesting between now and Cyberpunk's as yet unspecified launch date.
Seeing Night City in a New Light – the Latest Cyberpunk 2077 Development Update
This nonetheless exciting titbit was revealed during a recent interview with Engadget following GamesCom 2018. In which producer Richard Borzymowski discussed a range of topics appertaining to Cyberpunk 2077. Including the game's futuristic setting and approach to the genre.
Firstly, addressing complaints from some quarters following the E3 trailer – that Night City was presented to us during the day, of all things – Borzymowski explained:
Cyberpunk [is] an open-world game with a day and night cycle. We knew we would have to build Night City in a fashion which will look cool in the daylight as well. This was a bigger challenge to us than night, and we just opted to go with that and make a trailer in daylight, which pushed us farther.
He also reiterated the importance of making something interesting and different in Cyberpunk 2077. Something that provides a unique take on the genre's standard themes and tropes, rather than just another hackneyed Blade Runner clone.
Which is one of the reasons Cyberpunk doesn't:
Tell a story about rescuing the world. We don't want to basically destroy the system. … It's not just another part in this cyberpunk-industry cliché machine.
Story Synopsis
Borzymowski didn't provide any additional story details during the interview. However, the story synopsis over on the game's official website is pretty damn enticing in and of itself.
Set in the year 2077, the Cyberpunk 2077 puts the player in the shoes of customisable protagonist V. A cyberpunk well on his/her way to becoming an urban legend in the rundown, futuristic world of California's Night City.
The world is broken. MegaCorps manage every aspect of life from the top floors of their sky-scraping fortresses.

Down below, the streets are run by drug pushing gangs, tech hustlers, and illegal braindance slingers. The in-between is where decadence, sex and pop culture mix with violent crime, extreme poverty and the unattainable promise of the American Dream.
Sign me up.
We still don't know when Cyberpunk 2077 is likely to release. But, in the past, CD Projekt Red has said it's aiming for a current gen launch.
Source – Engadget