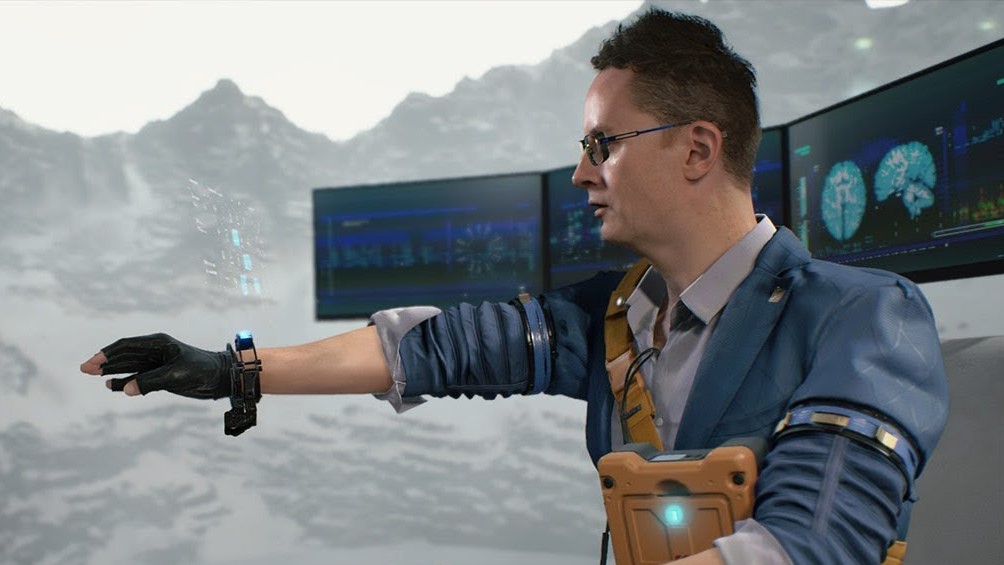 Originally broadcast at San Diego Comic Con a few days ago, a short teaser trailer introducing players to yet another member of Death Stranding's enigmatic cast, Heartman, has just been released on the official PlayStation YouTube channel.
At only two-minutes long, it's not particularly informative. However, by combining Kojima's previous comments on the character, the trailer itself, and the synopsis that accompanies it, we can at least begin to understand how Heartman fits into the wider story.
Who is Heartman?
Played by Danish writer/director/actor and personal friend of Hideo Kojima, Nicolas Winding Refn (Neon Demon, Drive), Heartman is a member of the mysterious group known as Bridges. The same group to which protagonist Sam belongs.
During the trailer, we discover that Heartman lives with a rather unusual condition which causes him to literally die every 21 minutes, before being revived some three minutes later by the automatic defibrillator attached to his chest.
Admittedly, that's roughly twice as long as the life expectancy of the average Sekiro player. But still, given that his overarching goal is to find the family he lost on the "other side" following the titular death stranding event, this endless cycle of death and rebirth is inconvenient, to say the least.
That's all we know about Heartman so far, unfortunately. Nevertheless, it's easy to see how he fits within the wider themes of the game: specifically, the literal and figurative connections that bind us.
You can check out the trailer for yourself below
Death Stranding Edges Ever Closer
The first game to be developed by legendary Metal Gear auteur Hideo Kojima since his acrimonious departure from Konami, we're now within just a few short months of Death Stranding's release. That's the 8th November 2019, in case you'd forgotten.
Even so, we don't really know what to expect. Although, like everyone else who's been following Death Stranding since it was first unveiled back at E3 2016, we have a few working theories of our own.
Stay tuned to PSU over the coming months for all the latest information on Death Stranding.
Source: PlayStation