Earlier this week, the web was awash with rumors of a new Destiny 2 Gods of Mars expansion. The details were said to have been taken directly from a page that appeared on the PlayStation Store.
As you can see in the apparent PSN listing of Destiny 2 Gods of Mars expansion below, the following details were said to be from the upcoming second expansion of Bungie's shooter. The image is said to have been taken from the US Store.
"Destiny 2 Expansion II: Gods of Mars sends your Guardian on a long journey to a brand new destination - the Frigid Vale of Mars, with an array of new missions, adventures and enemies to fight. Charlemagne has reawaken on Mars and has imprisoned Rasputin within an ancient vault. Work with the elusive Ana Bray - long thought to be dead, in order to combat Charlemagne's Remnants, free Rasputin, and uncover the secrets of Clovis Bray," reads the description.
The following set of features are then detailed:
Explore the Frigid Vale, a new destination that conceals the mysterious Clovis Grove and Charlemagne's Vault beneath its surface.
New story missions and adventures
New themed weapons, armor and gear to earn
New cooperative activities
New competitive multiplayer arenas
New enemy faction and bosses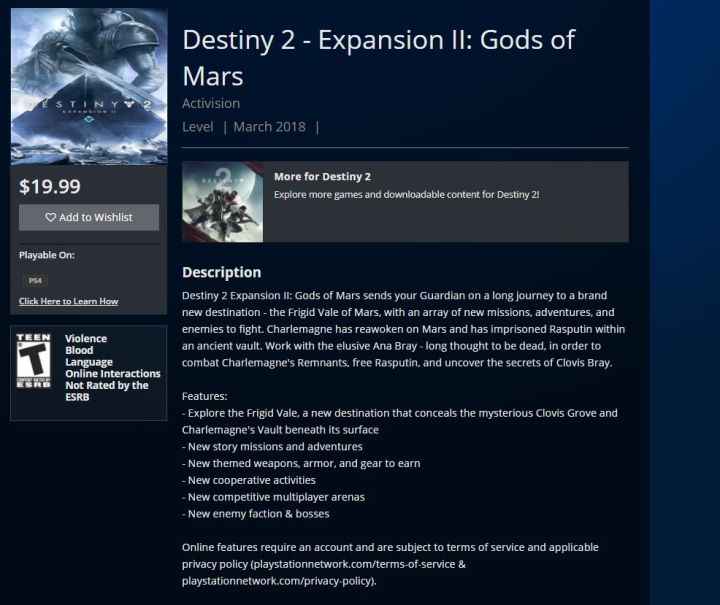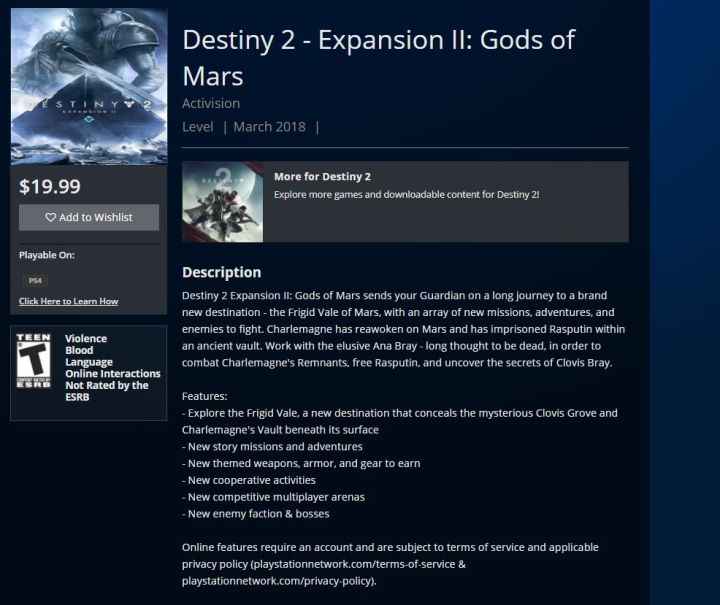 Is the Destiny 2 Gods of Mars expansion fake?
Okay, so let's examine the evidence as we believe this to be completely fake, though it may be dotted with some elements of truth.
The original source of the leak was a Reddit poster. This screenshot has since been removed and no-one else on the net has seen this page on the PlayStation Network.
Look at the image in the top left hand corner. It doesn't even fit the box, and has no mention of the words Gods of Mars. It's just the expansion pass icon expanded in a rather crude way.
The details contained in the description appear to be nothing more than a re-hashed version of a this Reddit post, which was posted before Destiny 2 even released. Did the hoaxer simply look at this and decide to be a little creative?
One Reddit user tears apart the rumor of the Destiny 2 Gods of War expansion:
Batwitdada1337 says:
It's also the same OP in both leaks. In this one he explains why the Japanese version was taken down LOL

It's literally the exact post that was translated to Japanese via google translate, and was torn apart by Japanese guardians for being completely fake.

If that's not enough he came here to raidsecrets and to r/Destiny2 instead of r/Destinythegame

It's very obvious in every way that this is fake, if it was on the PlayStation store for any amount of time there would be many other posts confirming this. The odds of 1 person finding this on two different PlayStation stores first is impossible.

It's also not even a good fake, Bungie already confirmed a raid lair being shipped with DLC2 which isn't mentioned in this post at all. When have you ever seen Bungie exclude the mention of a raid or raid activity in DLC information, it's one of their main selling points…
So, it looks like the poster of the leak was also the same person that recently leaked a Japanese image of the apparent Gods of War expansion, which was proven to be fake.
Here's the description below, which apparently appeared on the Japanese PlayStation Store. This has been torn apart by Japanese-speakers who say that it looks like someone has literally thrown English words into Google translate. Consequently, this apparently makes zero sense.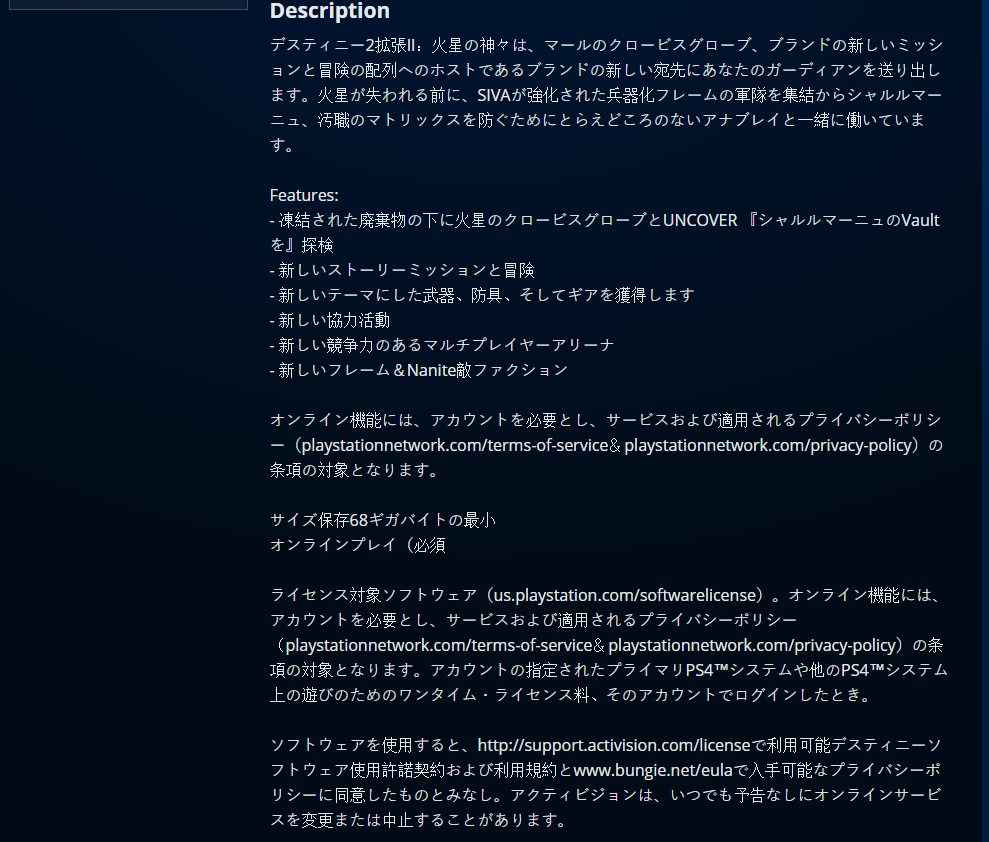 There's no doubt that some of these details could actually come to fruition, but there's absolutely zero basis to believe this leak. Let's wait until we hear more from Bungie!