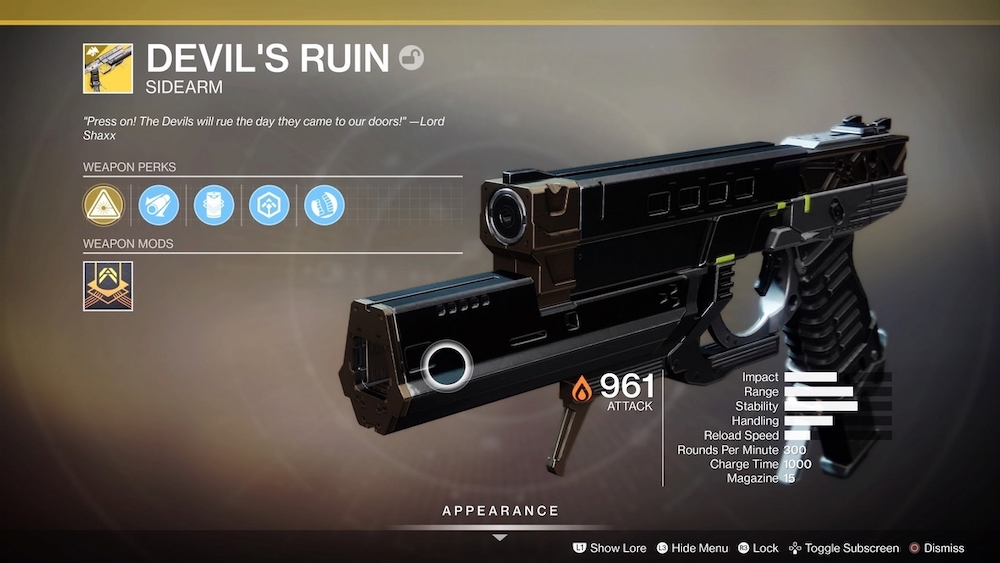 Devil's Ruin may be the shortest Exotic Quest Bungie has ever made. From acquiring the quest, the weapon will be yours in just a few minutes. Nevertheless, the gun packs a major punch. It's not often I can get behind a Sidearm. They just aren't my style, but Devil's Ruin is different. Its a super steady, one-shot sidearm that has a hidden attack when you hold down R2. For how little effort is needed to contain Devil's Ruin, there should be no reason you don't get one.
---
Step 1:
Complete a Sundial run
Head up to Mercury and complete either the Normal or Heroic run of Sundial. Upon completion, Osiris will offer you a new frame.
Step 2:
Talk to Saint-14
Head to the tower and talk to Saint to advance to the third and final step.
Step 3:
Go to Twilight Gap
If you are a veteran of the original Destiny or play Crucible in Destiny 2, then you are familiar with the Twilight Gap map. Here, there are no enemies. You are tasked with finding 10 Redrix Frame parts all while Saint-14 and Osiris talk and give you history on not only Twilight Gap but also how they see you as a Guardian.
*Stay in the mission until the timer hits 0. There is more after the mission is complete.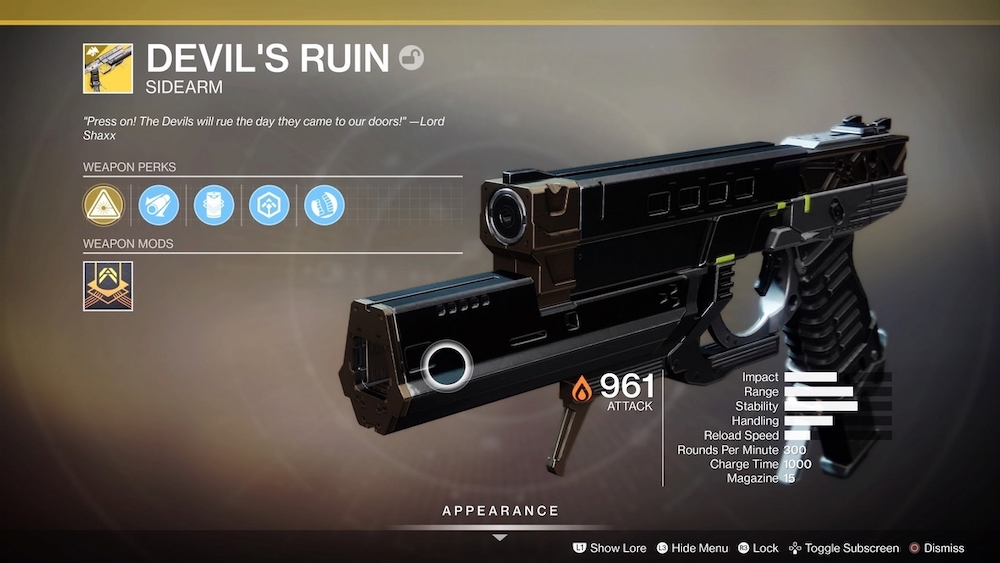 ---
As you can see, Devil's Ruin is a pretty simple get, especially when compared to weapons like Outbreak Perfected, Divinity, or Thorn. All of which we have guides for and links for them at the bottom.
Along with Devil's Ruin, Season pass owners will also be getting another Exotic Quest later in the season, as well as the 2020 Crimson Days. This is an exciting time to be fans of Destiny and for all of your Destiny needs keep your eyes up to PSU, Guardian.
How to get: