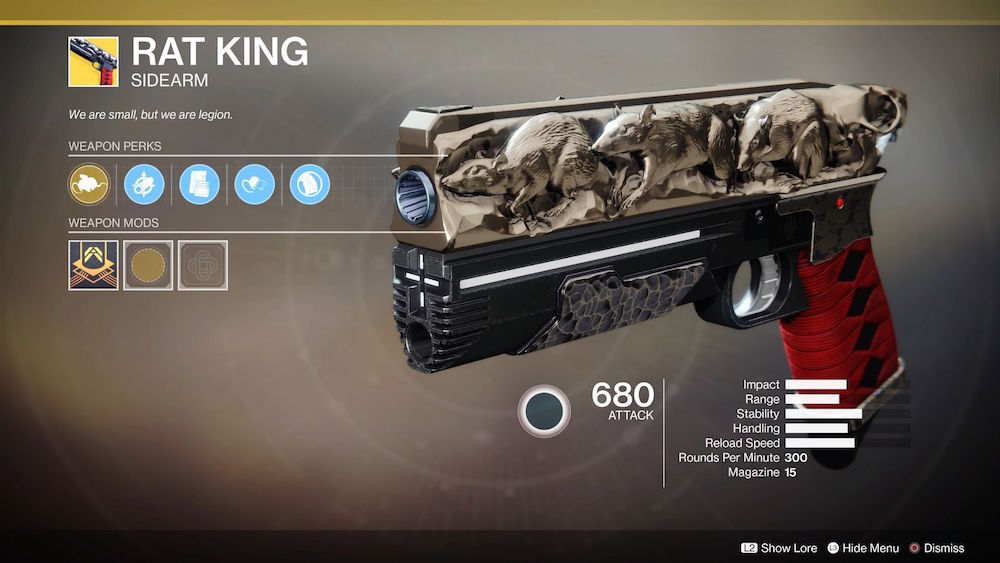 Once the Rat King was almost impossible to get. If it wasn't for another writer here at PSU and a very close friend of mine, Tim Nunes, I may still not have gotten it. However, with one second left on the timer, he delivered the final blow to get us all this crazy sidearm.
The gun has become slightly easier to obtain, but only just. The quest to get Rat King is long and requires a fair amount of skill. Topping it all off with a timed Nightfall. I'm not sure about you, but I can't handle being timed. This guide will hopefully make your quest a simpler one.
---
Step 1
Complete the "Enemy of my Enemy" quest on Titan.
Step 2
Complete all four rat puzzles with a Fire Team partner.
Riddle 1
Question – "The Rat King's crew/ Runs to and fro/ Good girls and boys/ Know where to go/ Pick up your toys and dorn your socks/ On errand of woe, on errand we walk."
Answer – Do patrols with a teammate.
Riddle 2
Question – The Rat King's Crew/ Goes arm in arm/ To fight as one/ To do no harm/ So have your fun and run outside/ Rally the flag and we'll never die
Answer – Do Public Events with teammates.
Riddle 3
Question – "The Rat King's Crew/ Goes four and four/ With good good fights/They learn to score/ Then three as one they stand upright/ Return from past the wall and wanting more."
Answer – Play Crucible with Teammates.
Riddle 4
Question – "The Rat King's Crew/ Stands three as one/ They see Nightfall/ And fear it none/ But watch the dark as you scale the wall/ Last five remain hope come for none."
Answer- Complete the Nightfall with 5 minutes left on the clock with a Fireteam member.
**This was the answer when the Nightfalls were timed. However, this requirement is gone. Nevertheless, you will still need to complete the special "The Arms Dealer" quest, which is still timed. For it to count, you must run it with a teammate that owns, and is using, Rat King.
Step 4
Aquire gun.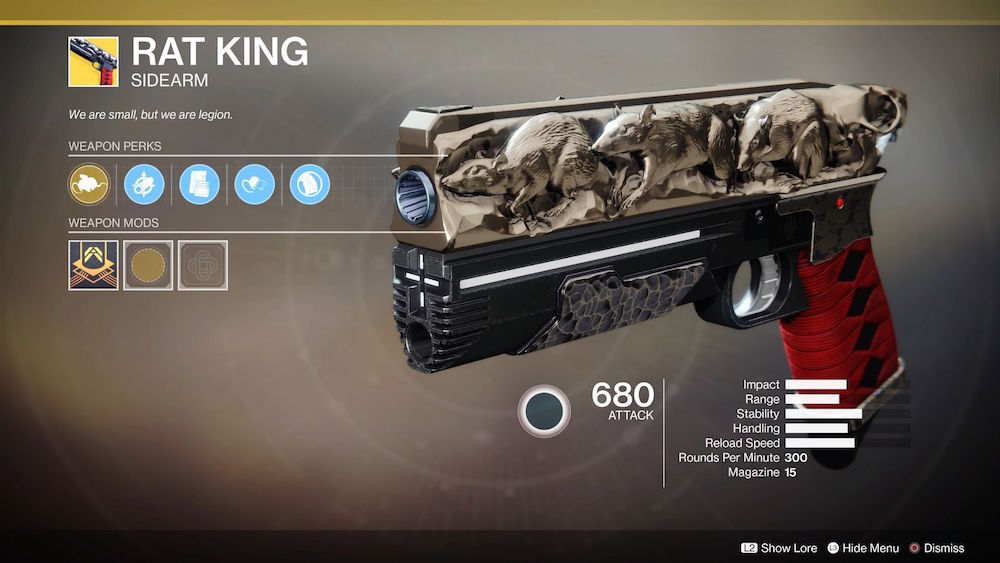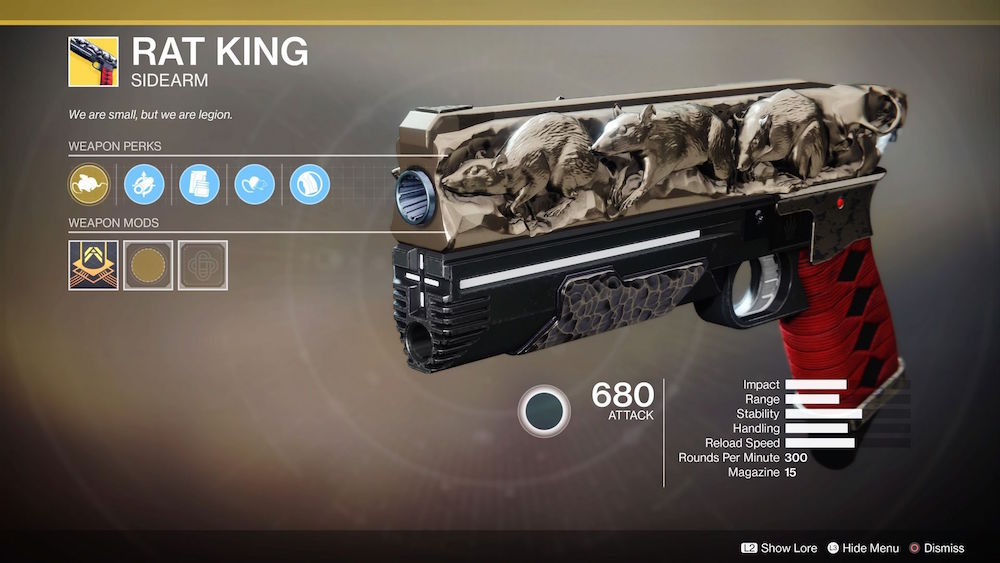 ---
The Rat King is annoying to obtain but can be worth it in the right Fireteam. We are almost complete in our promise to write guides for every Exotic weapon in Destiny 2. Below are a few others we have already completed. For everything you need to know about Destiny, keep your eyes up, Guardian, to PSU!
How to Get: