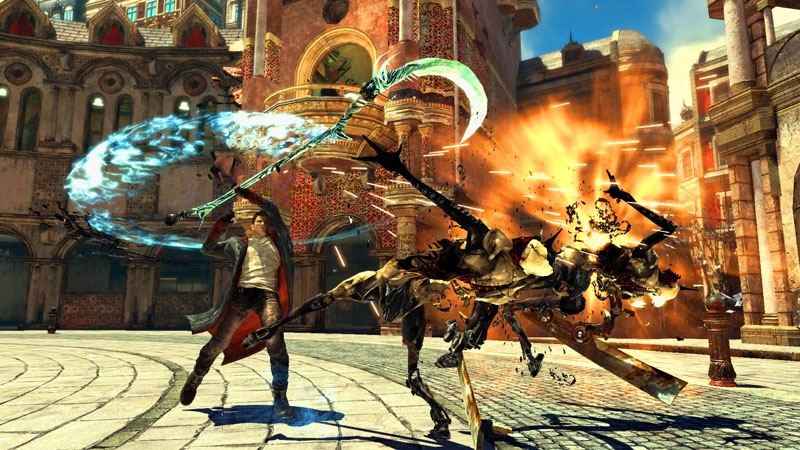 Following a huge leak, we discuss everything we know so far about Capcom's action-adventure, including the Devil May Cry 5 release date, gameplay rumours and latest news.
Devil May Cry 5 is coming to PS4, and we've gathered all the details we know so far about the new DMC game.
Yet to be officially announced, the next game in the Devil May Cry series was leaked in a recent forum thread on Resetera.
Devil May Cry 5 release date
We believe Capcom is holding off with an official announcement until the New Year, due to the release of the Devil May Cry HD Collection, which includes Devil May Cry, Devil May Cry 2 and Devil May Cry 3: Dante's Awakening Special Edition. Consequently, the Devil May Cry 5 release date won't be confirmed until 2018.
According to the leak, however, it's estimated to launch some time during the FY19 financial year which runs from April 2018 to March 2019.
Devil May Cry 5 gameplay
At this point we can only speculate, but there are some details doing the rounds. It's rumoured that Capcom will switch things up in the series by making Devil May Cry 5's level design similar to that in Bayonetta, which was full of cinematic, action-packed set-pieces.
Other rumors include:
More open-world level design
Dynamic camera angles
Multiplayer
Epic boss battles
No Stamina Bar
Playable Dante, Nero and Vergil
The rumors of the return of Dante and Nero came directly from the actors. Earlier this year, Johnny Yong Bosch and Reuben Langdon posted photos of himself on Facebook wearing motion-capture suits.
Devil May Cry 5 trailer
Capcom has yet to reveal the trailer, despite its rumored appearance at PSX 2017, but an insider claims to have the lowdown on what is about to be shown. Rumoured to be set after the events in DMC4, the trailer is rumoured to be set in a city and will feature Dante, Vergil and Nero.
Devil May Cry 5 Limited Edition
Like DMC4, we'd expect to see a Devil May Cry 5 Limited Edition. Details have yet to be released, but the previous game included an artbook and steel tin. Whether we'll also see a special Devil May Cry 5 Collector's Edition remains to be seen.
Devil May Cry 5 PS4 exclusive?
Platforms have yet to be announced. DMC4 was released on PlayStation and Xbox platforms, as well as Windows. There's rumors however that Devil May Cry 5 may be a PS4 exclusive.
The leaker wrote:
"There is some form of Playstation exclusivity involved. Sony is paying for some of the funding for the game but the extent of it is not known. Could be completely PS4 exclusive, console exclusive or timed exclusive. If the game is announced publicly then it will be at a Sony event, which is why many people thought that it was going to be at PSX."
All of details above are rumors. We're expecting Capcom to officially announce the new Devil May Cry game in 2018. Check back for more details as we get them.