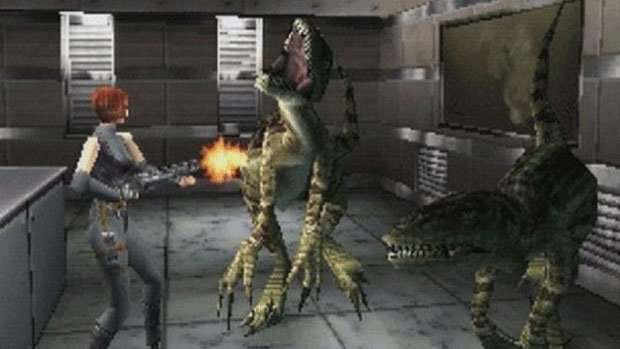 Fans have been clamouring for a Dino Crisis PS4 remake for the series 20th anniversary, and while Capcom has yet to confirm it's working on such a project, a fan remake using the Unreal Engine 4 has at least offered what a potential remake could look like.
The results are pretty impressive to say the least, and give us hope that someday we might get an official remake, or at least a series revival.
Dino Crisis Fan Remake Hints At What An Official PS4 Version Could Look Like
The Unreal-powered Dino Crisis remake is the result of Team Arklay (presumably named after the Arklay mountains in Resident Evil), and utilises a first-person viewpoint that takes us through some familiar locations from Capcom's PSOne dinosaur-slaying classic, such as the military complex.
The team hasn't implemented any dinosaurs yet, but hopefully that will come in time — preferably before Capcom slaps them with a DMCA notice.
Anyway, it's the nearest we're going to get to a Dino Crisis PS4 remake, so have a gander at the video below.
https://youtu.be/qad627M0-ns
Dino Crisis was released for the PSOne back in 1999, and is the brainchild of Resident Evil creator Shinji Mikami. The game doffs its cap to Capcom's survival horror series in many ways, only it replaces zombies with dinosaurs and features 3D backgrounds instead of Resi's pre-rendered backdrops.
The game was followed by 2000's Dino Crisis 2, which adopted a more action-oriented direction and plumped for static backgrounds similar to the classic Resi games. Dino Crisis 3 followed as an Xbox-exclusive in 2003, although it was set hundreds of years in the future and didn't share much narrative connection with its predecessors.
Sadly, the Dino Crisis franchise has been on hiatus ever since, save for the rail shooter spin-off Dino Stalker, aka Gun Survivor 3: Dino Crisis, which hit PlayStation 2 in 2002.
Hopefully Capcom will see fit to resurrect the series at some point down the line, as it's clear the franchise still has its fans.
Source: Kotaku