Dragon Quest XI: Echoes Of An Elusive Age has a very addictive crafting system that is both easy to use and challenging to master. A lot of time passes between the beginning and the end of the game, and a fair amount of that time resides with the Fun-Size Forge. With that in mind, we have taken the time to put together a little Fun-Size Forge guide to help you get better acquainted with what this side of the game has to offer.
---
Getting Started With Dragon Quest XI
First and foremost, all crafting requires materials. As mentioned in our beginner's guide to Dragon Quest XI, explore everywhere and pick up everything. This is the best, most efficient way to obtain enough materials for crafting and enhancing your gear.
Reading books is also fundamental. Books sprinkled throughout the game can offer specific schematics for creating new equipment you cannot find anywhere else. So again, explore everywhere and pick up everything.
Dragon Quest XI Fun-Size Forge
The Fun-Size Forge is where you create and enhance your equipment. A great deal of the process is straightforward, but important fundamentals enhance the items you create.
Both creating and enhancing equipment follow the same process of hammering materials into shape. What's great about the Fun-Size Forge is it presents itself like a lot of crafting systems found in games like Final Fantasy XIV. Here, however, it feels more like a mini-game, since the crafting itself is more interactive.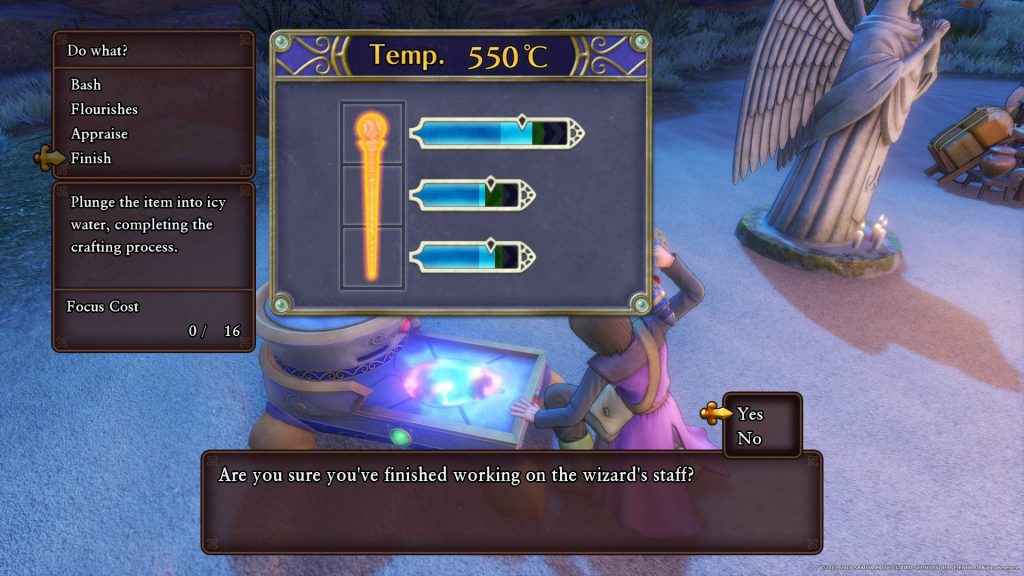 Crafting
Forge temperature is highly important. When it runs hotter, each of your strikes will move the progress bars more. With each Bash, the temperature reduces. As you progress in the game, you will learn skills, called Flourishes, that offer plenty of benefits like raising forge temperature or striking multiple points simultaneously.
The forge levels up with you as your character levels. In this, you gain more Focus that you use to perform Flourishes. With this in mind, you will not create the best gear you can simply because you will have to depend more on luck to land as close to center as possible. Later on, you will have the Focus needed to truly create the best gear.
Enhancing
The premise to enhancing your gear runs parallel to crafting: Bash it until each slot is as close to center as possible. One big difference is that you need Perfection Orbs in order to do any enhancements. Each piece of gear requires a different amount of these orbs as well. The best rule of thumb to this is: the stronger the equipment, the more orbs that are required. Apart from that, you will have access to the same Flourishes you have with standard crafting.
Personally, I spent a lot of time practicing with my materials and equipment, even early on. I went through a great deal of resources this way, but I was never hurting for weapons and armor. Semi-equivalent gear is available from any vendor in the world. The distinct advantage of creating and enhancing your own gear is in the bonuses that come with them. Purchased equipment will never have these bonuses.
Depending on how perfectly you create your equipment, they will have increased quality up to +3. +3 is hard to achieve because you must have over half of the slots perfectly centered. It takes a great deal of practice, and having access to more Flourishes later in the game makes achieving +3 much easier.
---
Do not be discouraged by this early on. Resources are everywhere for the taking. All you have to do is find them. As mentioned before, explore everywhere and fight everything. You will have what you need to continue bettering your gear and strengthening your party as you progress naturally. We hope this Fun-Size Forge guide has made things a little easier in the early goings!
We hope this guide was helpful in your adventures, check out the rest of our guides for Dragon Quest XI: Echoes of an Elusive Age
Dragon Quest XI: Monster Mount Locations Guide
Dragon Quest XI: Red Magic Door Locations Guide
Dragon Quest XI: Mini Medals Locations 1-20
Dragon Quest XI: Mini Medal Locations 21-40
Dragon Quest XI: Crossbow Target Locations Guide