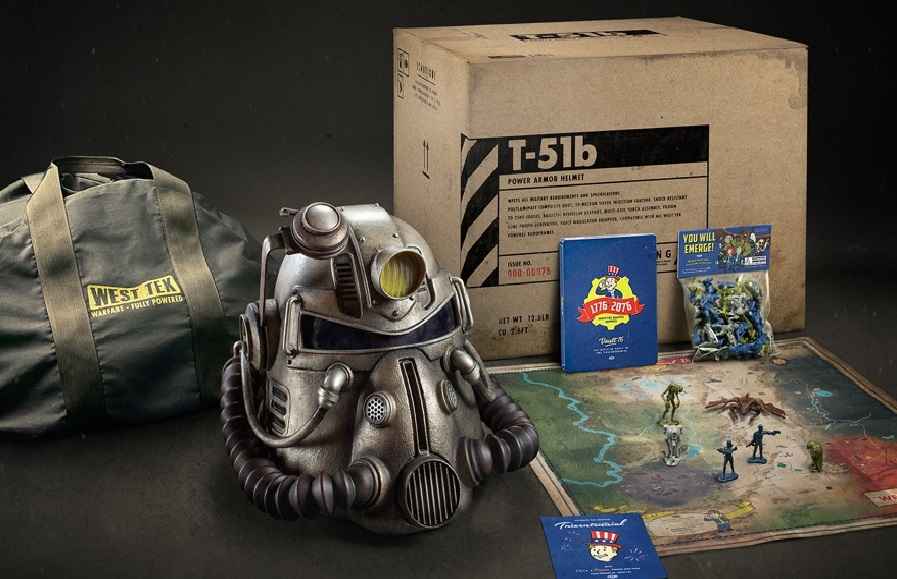 Update 04/12/2018 @ 10:11 – In an effort to make amends for last week's Fallout 76 Power Armour Edition canvas bag debacle, Bethesda will be sending out replacement bags to anyone who purchased the CE and submits a ticket on the official Bethesda website support page by the 31st January 2019.
Manufacturing plans are still being finalised, so it might be a while before the replacement bags arrive. However, it's nice to see Bethesda taking steps to rectify its initial mistake; even if it's one that should never have been made in the first place.
We are finalizing manufacturing plans for replacement canvas bags for the Fallout 76: Power Armor Edition. If you purchased the CE, please visit https://t.co/S5ClEZuQrx and submit a ticket by Jan. 31, 2019. We'll arrange to send you a replacement as soon as the bags are ready.

— Bethesda Support (@BethesdaSupport) December 3, 2018
Original Story 29/11/2018 @ 14:32 – Bethesda has taken to Twitter today to issue an apology, along with a cache 500 Atoms, to those who purchased the Fallout 76 Power Armour Edition and were left less than thrilled by one particular aspect of it.
That being the Canvas Bag that Bethesda replaced, without warning or explanation, with an inferior nylon substitute.
Fallout 76 Power Armour Edition Snafu the Latest in a Long Line of Issues
We understand and respect that there is disappointment with the bag in the Power Armor Edition. We are sorry. Please contact Bethesda Support to provide proof of your CE purchase. They will assist in granting your account 500 Atoms.

Please visit: https://t.co/TJBMjYaph0

— Fallout (@Fallout) November 29, 2018
This in and of itself angered fans who felt cheated by the sudden change; as well they might. Firstly, Bethesda simply didn't deliver what was promised and secondly, at £174.99, the Power Armour Edition is hardly cheap.
However, to make matters worse, players have received some rather dismissive replies when raising their concerns with customer service.
One particularly bad example of which reads:
Hello,

We are sorry that you aren't happy with the bag. The bag shown in the media was a prototype and was too expensive to make.

We aren't planning on doing anything about it.

Bethesda Gear Store Support – North America
Bethesda Responds
Now, Bethesda has dismissed the reasons given in the above response as incorrect; the switch from canvas to nylon was due to a lack of availability of materials. And explained that the customer service representative responsible for the above message was a temporary employee "not directly employed by Bethesda or Bethesda Game Studios."
Nevertheless, it doesn't make up for the fact that Bethesda made a significant change to an expensive product without informing its customers, and hasn't been handling the resulting complaints in a satisfactory manner.
Combined with the disappointment and anger many fans already feel for the game itself, it's safe to say Bethesda has a fair amount of ground to make up with its fanbase between now and the release of its next big title.