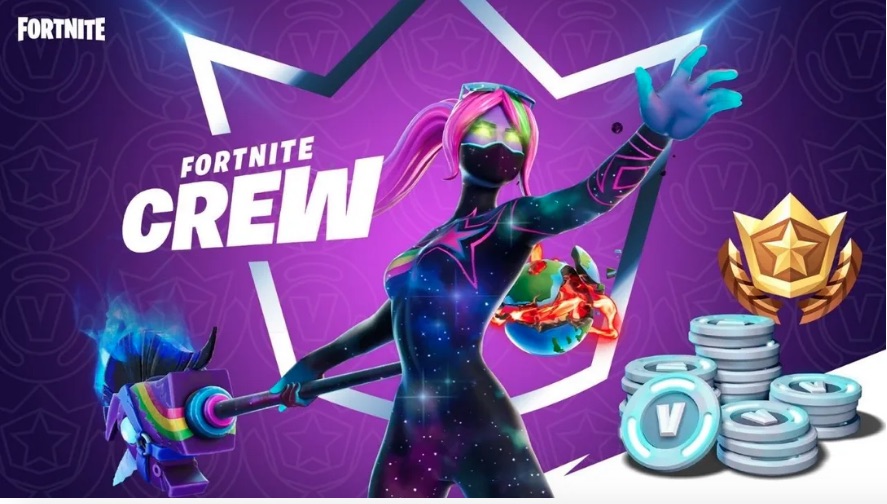 Developer Epic Games has lifted the lid on a new monthly subscription plan for Fortnite, known as Fortnite Crew.
Related Content: Fortnite PS5 Review
Fortnite's Crew Announced By Epic Games
Fortnite Crew is aimed at those who flocks to the seasonal Battle Pass as well as adding new items to your Locker, and is described as 'particularly practical.' The service launches alongside Chapter 2 – Season 5 on December 2, and will set you back $11.99/€11.99 per month.
This ensures players will always have access to the current Battle Pass doing the rounds, and even if you've already got one and subscribe to Fortnite Crew anyway, you'll be refunded 950 V-Bucks. Furthermore, a Season Battle Pass will remain even if your subscription ends during the season.
Elsewhere, Fortnite Crew also gives you 1,000 Bonus V-Bucks every month, and what's more, these are in addition to the V-Bucks you can unlock with your included Battle Pass. Members also receive a monthly Fortnite Crew Pack, which features a new Outfit and at least one matching accessory such as a Glider, Pickaxe, or Emote.
Interested? Then pop over to the Fortnite in-game Item Shop or Battle Pass purchase screen at the start of Chapter 2 – Season 5, and you can easily cancel anytime you want.
[Source – PlayStation Blog]