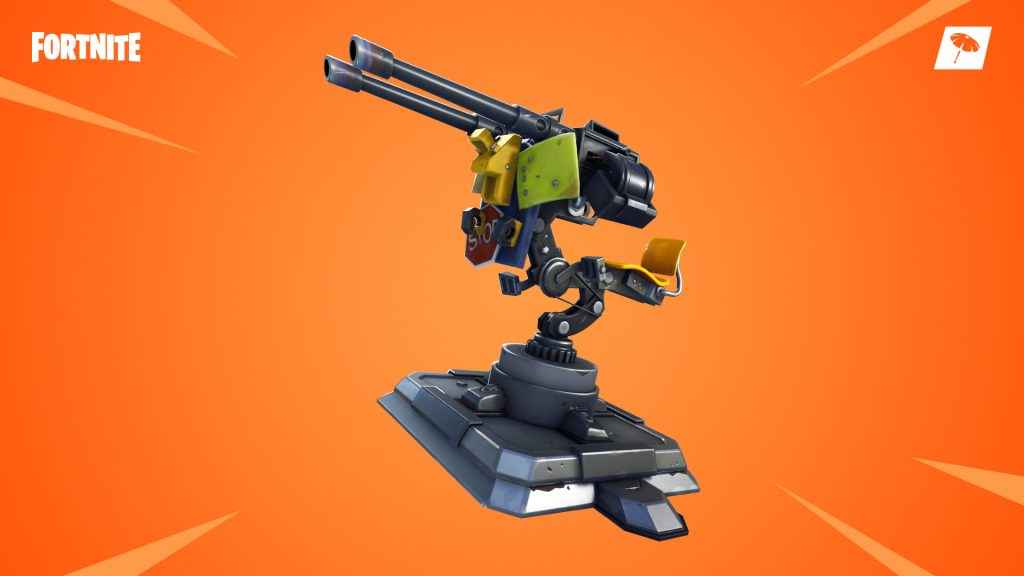 Fortnite patch 6.30 has arrived on PS4.
Originally revealed a couple of days ago on the in-game message board, the latest update has two main features. The first adds a bit of extra spice to the Fortnite recipe with the introduction of Mounted Turrets, while the second provides players with yet another way to duke it out in the form of a tasty new limited-time game mode, Food Fight.
Fortnite Patch 6.30 – Are you Team Burger or Team Pizza?
First off, Mounted Turrets fall, perhaps surprisingly, within the category of traps, not weapons.
Obtained via supply drops, vending machines, and as standard floor loot, these legendary traps can be placed anywhere on the map and used by any player once installed.
Boasting an infinite supply of ammunition, they might seem rather overpowered. But be warned, subjecting them to a prolonged period of fire will cause them to overheat. Leaving the player dangerously exposed.
The signature feature of the patch, however, is Food Fight. A team-based LTM that tasks players with defending their assigned mascot from enemy players whilst simultaneously trying to destroy their opponent's. Here's the official blurb:
The battle of Durrr Burger versus Pizza Pit has begun. Two teams on either side of the map. A huge barrier runs down the middle. Build a fort to protect your restaurant mascot. When the Barrier lowers, destroy the enemy's mascot to win the match!
Glider Redeploy Disabled and Other Changes
As always, numerous bug fixes and gameplay changes have also been implemented as part of the most recent patch.
Some of the more noteworthy include an increase in standard pickaxe damage from 10-20, an increase in Quadcrasher spawn rates from 50-100, and a 10-second increase in the "Down But Not Out" state (from 50-60 seconds).
The most significant change, however, sees Glider redeploy disabled across all default game modes. Although, Epic Games has confirmed it will "remain active in the larger team modes (e.g. Soaring 50s, Disco Domination etc.) and Playground to allow ongoing experimentation with this feature".
A detailed description of this and the various other changes made in patch 6.30, can be found on the game's official website.