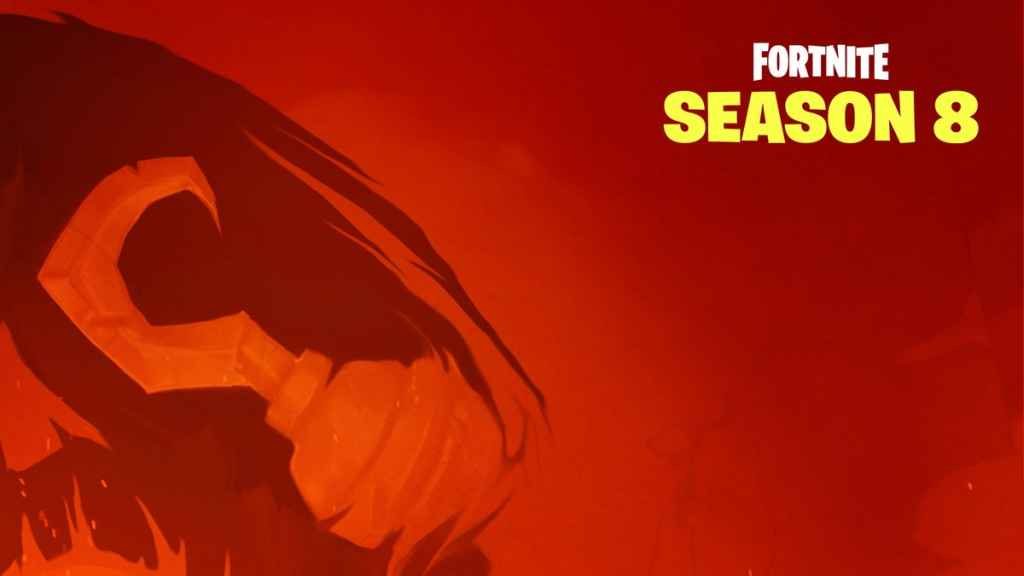 Update 28/02/2019 @ 10:57 – Having initially been teased on Twitter a couple of days ago, Fortnite Season 8 is now officially underway. And, as we already guessed, it features pirates and pirate-themed items, among other things.
Here's the official blurb:
Season 8 has arrived and a monstrous volcano has appeared! Freed from the Ice King's castle, the now-powerful Prisoner has brought fire and flame to Fortnite and its islands.

Pirates, Ninjas and a ship load of new fighters will tussle over treasure, battle with Pirate Cannons and uncover legendary loot. For those daring enough to explore, the new Lazy Lagoon and Sunny Steps locations are just a jump away with the help of Volcanic Vents. There are tons of new areas to explore and secrets to uncover. This season, X marks the spot!
Players who managed to complete the prescribed 13 Overtime Challenges before today will be able to claim the Season 8 Battle Pass for free. Otherwise, they'll have to pay the standard 950 V-Bucks for the privilege.
Season 8 at a Glance
As always, Fortnite Season 8 brings sweeping changes to all three of the game's core modes.
First and foremost, alongside the usual raft of supplementary weapons and cosmetics, Battle Royale receives a new Party Assist feature that lets players team up with their friends to complete a variety of daily and weekly challenges.
Fortnite Creative gets a brand-new prefab in the form of the Jungle Temple, while the Hero Loadout improvements Epic detailed in a separate blog post published earlier this week arrive in Save the World.
Play your way with the new Hero Loadout overhaul!

Customize your playstyle by mixing-and-matching new and unique perks for each Hero. Choose a Commander, five Support Team members, and one team perk to tailor the way you play.

Eight new, unique quests have also been added to the game, each unlocking a new Hero to add to your roster! More Heroes, more combos. Build your customized team, save your favorite presets, and prepare to Save the World.
Original article 25/02/2019 @ 11:34 – Epic Games has given fans their clearest indication yet as to what they can expect from Fortnite Season 8 when it launches at the end of this month. Via a post on the game's official Twitter account over the weekend end.
The post in question was relatively short and sweet, but telling nonetheless. It read:
'X' Marks The Spot
Treasure abound
Loot that has been lost
Can always be found
4 days to Season 8
If that wasn't conclusive enough, the accompanying image (the same one that heads this article) depicts the archetypal pirate's hook.
Hopefully, this means we'll see various piratical LTM's arrive as part of Season 8, alongside thematically appropriate weapons, such as cutlasses, blunderbusses, cannons, and perhaps the odd Kraken.
Let's just hope Epic steers clear of any kind of Pirates of the Caribbean crossover: there are more than enough sub-par impressions of Keira Knightley, Orlando Bloom, Bill Nighy, and Geoffrey Rush in Kingdom Hearts III without Fortnite adding to the problem.
Earning the Fortnite Season 8 Battle Pass
Accessing the forthcoming season of content, meanwhile, is slightly different this time around.
Players will still be able to purchase the Season 8 Battle Pass with V-Bucks if they prefer. However, those who manage to complete 13 Overtime challenges between now and the 27th February will also gain access to Season 8 (along with two exclusive outfits) free of charge.
Assuming you're not already knee deep in Apex Legends like the rest of us, will you be participating in Fortnite Season 8? Let us know down in the comments.
Source: Epic Games (Twitter)