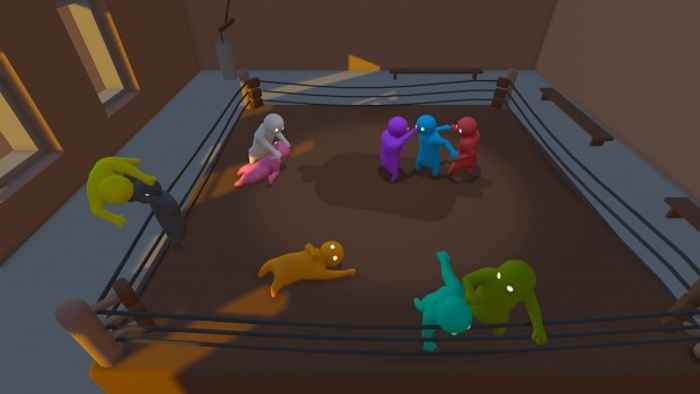 The Gang Beasts PS4 version will be getting a free update post-launch that will make it compatible with PlayStation VR.
In addition to confirming PSVR support, Double Fine Productions also confirmed that the game will retail at $19.99 and will include a mass of customization options.
Gang Beasts will launch with a whole glut of customization options, and with several new modes, including clumsy-yet-brutal 2 vs. 2 soccer matches, and a cooperative mode where up to 4 players battle against waves of thugs.
A release date for PlayStation VR support has yet to be confirmed.
The multiplayer party game has been in early access on Steam since 2014. Gameplay involves melee combat across some hazardous environments which can be used to take out your opponents. As a Beef City thug, you'll be able to toss your foes from moving trains and punch and kick them into submission in the guise of colorful and wobby warrior.
A Gang Beasts PS4 release date has been confirmed via a crazy new trailer which prepares us for the madness that awaits.
Boneloaf's wacky beat' em up party game, which is published by Double Fine Presents, will launch on PlayStation 4 on December 12.
Prepare to scream with horror and delight as gangs of saggy, pugnacious thugs from Beef City punch, kick and slapstick their way across your screen hurling their foes into hazardous machinery or mercilessly head-butting them into flaming incinerator pits, reads the blurb under the trailer.
Watch the Gang Beasts PS4 gameplay trailer
So, it looks like the Gang Beasts PS4 version will be getting some previously unnaounced features, including
2 vs 2 co-op matches
Four player battles against waves of thungs
Are you ready for battle? Who's in?
For more information, check out the official Gang Beasts website, where you can also subscribe to the mailing list for future updates.