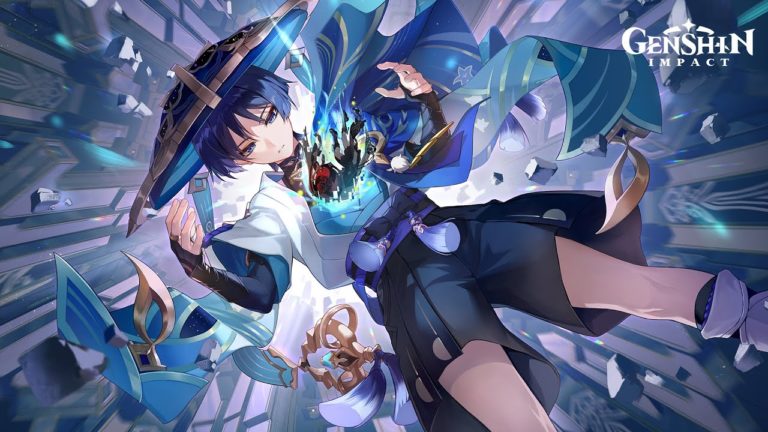 A brand new Anemo character is finally coming to Genshin Impact. The Wanderer is a great DPS catalyst user. This Wanderer Best Build Guide explains how to get The Wanderer's Ascension Materials and what his best weapons are.
As with new characters, you'll need the correct ascension materials, Talent books and Artifacts to get the best use out of The Wanderer. With Semeru now fully unlocked, players can farm all of His materials and build him to be one of the hardest-hitting Anemo characters on your team.
The Wanderer Ascension Materials Level 1-90
Wayuda Turquoise Shard x 1 (Anemo Hypostasis and Muguu Kenki)
Wayuda Turquoise Fragment x 9 (Anemo Hypostasis and Muguu Kenki)
Piece of Vayuda Turquoise x 9 (Anemo Hypostasis and Muguu Kenki)
Precious Turquoise Wayuda x 6 (Anemo Hypostasis and Muguu Kenki)
Perpetual Mechanism x 46(Boss: Dendro Hypostasis)
Rukkhashava Mushrooms x 168
Old Guard x 18
Garda Kageuchi x 30
Illustrious Guard x 36
The Wanderer is an Anemo DPS character, and most of his damage comes from Elemental Attacks as is the case with all catalyst users in Genshin Impact. As a DPS it's important to build The Wanderer with as much Critical Damage/Rate and Attack % as possible.
The Wanderer's Best Weapon
As with all new 5-Star characters, a new weapon is released that best suits that character. In this case, the 5-star "Tullaytullah's Remembrance" is The Wanderer's signature weapon and is best for him. Another good 5-Star weapon is the "Lost Prayer to the Sacred Winds" along with "The Skyward Atlas".Regarding 4-Star weapons, The Wanderer has a couple of options: "Widsith and the Solar Pearl.
The Wanderer's 5-Star Weapons
Tullaytullah's Remembrance
Normal Attack SPD is increased by 10%. After the wielder unleashes an Elemental Skill, Normal Attack DMG will increase by 4.8% every second for 14s. After this character hits an opponent with a Normal Attack during this duration, Normal Attack DMG will be increased by 9.6%. This increase can be triggered once every 0.3s. The maximum Normal Attack DMG increase per single duration of the overall effect is 48%. The effect will be removed when the wielder leaves the field, and using the Elemental Skill again will reset all DMG buffs.
Lost Prayer To the Sacred Winds
Increases Movement SPD by 10%. When in battle, gain an 8% Elemental DMG Bonus every 4s. Max 4 stacks. Lasts until the character falls or leaves combat.
Skyward Atlas
Increases Elemental DMG Bonus by 12%. Normal Attack hits have a 50% chance to earn the favor of the clouds. which actively seek out nearby opponents to attack for 15s, dealing 160% ATK DMG. Can only occur once every 30s.
The Wanderer's 4-Star Weapons
The Widsith
When a character takes the field, they will gain a random theme song for 10s. This can only occur once every 30s.
Recitative: ATK is increased by 60%.
Aria: Increases all Elemental DMG by 48%.
Interlude: Elemental Mastery is increased by 240.
Solar Pearl
Normal Attack hits increase Elemental Skill and Elemental Burst DMG by 20% for 6s. Likewise, Elemental Skill or Elemental Burst hits increase Normal Attack DMG by 20% for 6s.
The Wanderer's Best Artifact Stat Priority
For secondary stats, you always want to prioritize in order Crit Rate/Damage and ATK%. His best artifact set is a new one released with version 3.3. The 4-piece Desert Pavilion Chronicle. A couple of other options include a 4-piece Shimenawa's Reminiscence, 4-Piece Wanderer's Troupe, or a 2-piece Desert Pavilion Chronicle and 2-piece Viridescent Venerer.
Flower (Always HP)
Feather: (Always ATK)
Time Piece: ATK%
Goblet: Anemo Damage or ATK%
Circuit: Crit Rate/Damage or ATK%
The Wanderer's Talent Ascension Materials
Nahida's Talent books come from the Steeple of Ignorance Doman. Players can obtain the Teachings of Praxis Talent-level materials on Wednesday, Saturday and Sunday
9 Teachings of Praxis
63 Guide to Praxis
114 Philosophies of Praxis
Old Handguard x 18
Kageuchi Handguard x 66
Famed Handguard x 93
Trounce Domain: Joururi Workshop The Balladeer Weekly Boss Fight (Daka's Bell)
We hope this guide helps you prepare for The Wanderer's release with the Genshin Impact 3.3 Update. If you find additional builds For The Wanderer, please let us know in the comments below.