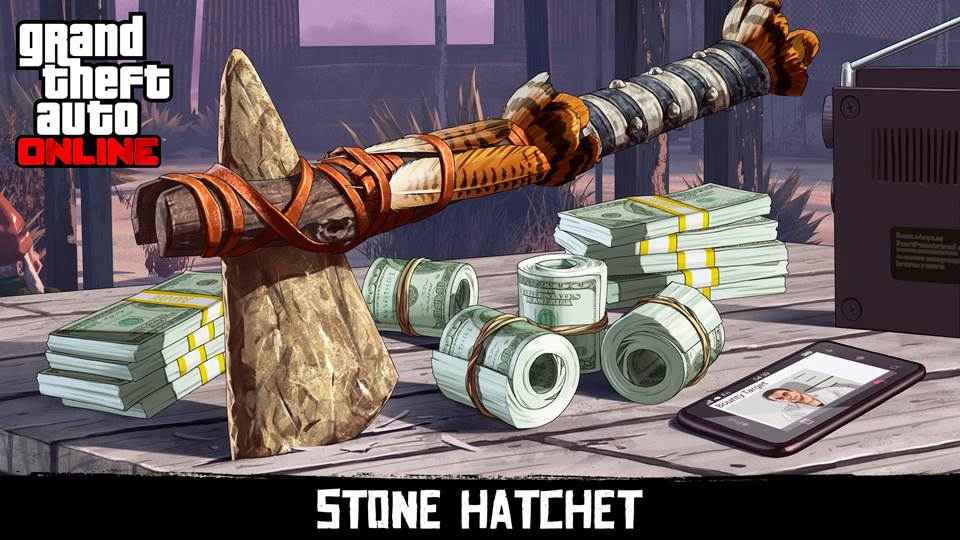 In addition to the recent GTA Online Nightclub DLC, players are on the hunt to unlock the GTA Online Stone Hatchet. This new weapon can be gained by completing certain objectives, and we'll show you exactly what you need to do.
Complete this challenge, and the Stone Hatchet will be available if you purchase Red Dead Redemption 2 later this year, and you'll earn a juicy GTA$250,000 bonus!
How To Get The Stone Hatchet For Red Dead Redemption 2
The Stone Hatchet can be unlocked by participating in the Maude Eccles bounty challenges. There are five bounties that you need to hunt down to get the weapon and the bucks.
Rockstar explains:
With no shortage of reprobates across Los Santos and Blaine County, Maude Eccles has put the dream of a white-picket fence, a husband, and a dog named Skip on hold to reignite her burning passion for justice.

Keep an eye out for a text message from Maude for bounties.
So, you begin the hunt by simply logging into a server on GTA Online. You'll get a text message from Maude. Capture a bounty and you'll get $10,000, or kill them and receive $5,000. Maude will send you the co-ordinates, along with a mugshot of your target.
Head to the coordinates, and listen out for the sound of bells, which reveals that you are close to your bounty.
Check out the GTA Online and Red Dead Redemption 2 stone hatchet challenge walkthrough in full below.