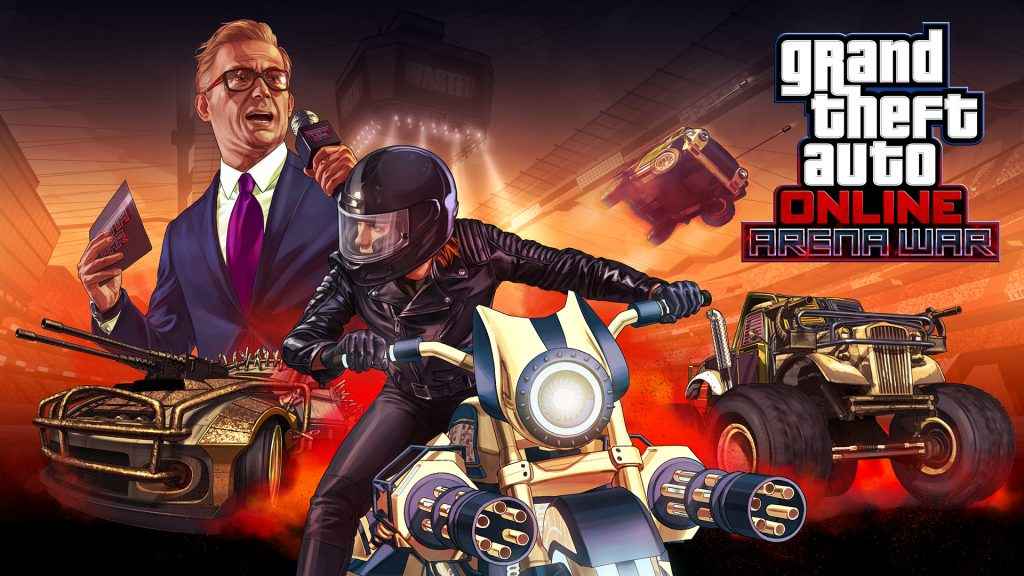 A new update for the multiplayer portion of Rockstar's hugely popular crime simulator (no, not Red Dead Redemption 2), titled GTA Online Arena War, releases later today.
Revealed during a recent post on the GTA Online website, Arena War expands the game even further with a new form of gladiatorial, Mad Max-style vehicular combat.
Enter Arena War, where ruthless gladiatorial combat meets the bleeding-edge of vehicular modification technology in one spectacular – and highly combustible – competition.

Sign up and embark on an entirely new career under the stratospheric dome of the Maze Bank Arena, one that involves turning your opponent's brains into pulp on the steering wheel in the name of entertainment, courtesy of Alan Jerome Productions.
GTA Online Arena War Features "Seven Explosive New Modes"
Arena War features a total of "seven explosive new modes", according to Rockstar. Although exact details as to what these disparate modes entail have yet to be provided. What we do know, however, is that Arena War will introduce an entirely new type of vehicle designed specifically for its unique brand of automotive destruction.
It also sounds like Arena War will boast its very own progression system, with the Arena Points earned through play being used to acquire "even more toys to take into the Arena or out onto the streets". By toys, Rockstar, of course, means deadly weapons and homicidal vehicle mods.
Will you be trying out Arena War later today? Or are you still up to your fetlocks in Red Dead Online? Be sure to let us know in the comments.