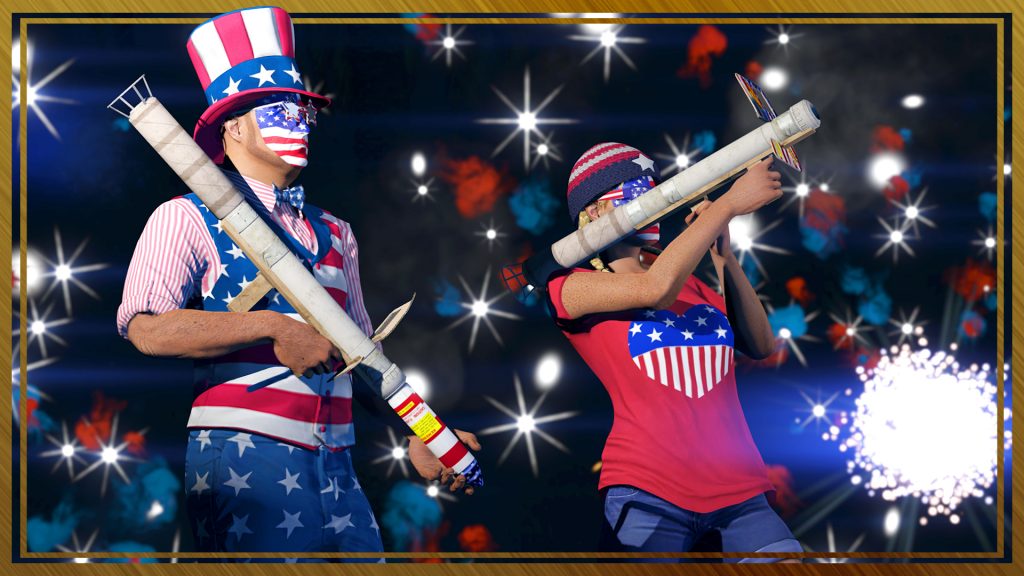 It's July 4, which means Rockstar Games has launched its annual batch of GTA Online Independence Day festivities for the multiplayer crime caper. Players will be able to take advantage of a number of huge discounts on various properties and items in Grand Theft Auto V's online companion, so be sure to log-in and find out what's on offer.
GTA Online Independence Day Bonus Content Detailed
For starters, theres 40% off the following items:
Vapid Liberator
Western Sovereign
The Musket
Firework Launcher and Firework Ammo
Mk II Weapon Independence Day Liveries
Mobile Operations Center Independence Day Liveries
Star Spangled Banner Horns
Patriotic Tire Smoke
Independence Day Clothing, Masks and Outfits
Independence Day Haircuts
Elsewhere, Smugglers Sell Missions are offering Triple GTA$, while you can net double cash for taking part in Biker Sell Missions, Gunrunning Sell Missions and Special Cargo Sell Missions.
"You can also rack up Double Rewards by playing Client Jobs and the Missile Base Series or set it and forget it with passive benefits like Gunrunning Research and Nightclub Income running at double speed all week long," the studio wrote.
If that wasn't enough, Rockstar is offering 75% off all ammunition, including Mk II rounds, as well as 40% off the following items:
Armored Boxville
Nagasaki Blazer Aqua
JoBuilt Phantom Wedge
Ramp Buggy
Coil Rocket Voltic
Imponte Ruiner 2000
Karin Technical Aqua
MTL Wastelander
Mammoth Tula
Atomic Blimp
Vapid Festival Bus
Declasse Scramjet
Benefactor Schlagen GT
Mammoth Patriot
Mobile Operations Center Cabs, Renovations and Add-ons
Mammoth Avenger, Renovations & Add-ons
Benefactor Terrorbyte
Yachts
Facilities
Hangars
Executive Offices
Special Cargo Warehouses
Bunkers
Biker Clubhouses
Biker Businesses
Nightclubs & Renovations
Nightclub Garages
GTA Online is still a huge money-maker for publisher Take-Two Interactive, which is probably why we haven't seen any single-player DLC for GTA 5. Chances are we're not going to see a GTA 6 soon, either.
Source: Rockstar