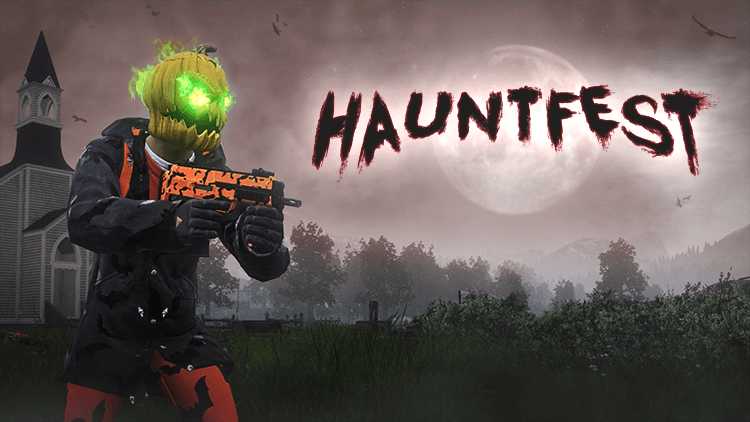 There's a brand-new H1Z1 PS4 update available today. Daybreak Games has detailed all the changes coming to the free-to-play Battle Royale shooter, including the brand-new Hauntfest!
There's been some server downtime today in North America from 8am PDT and Europe from 3pm PDT, to prepare for the latest patch. Servers are expected to be down for a couple of hours, while H1Z1 prepares its Halloween spectacular.
H1Z1 PS4 Update – Hauntfest Is Live
Hauntfest should now be live. You get a free Hauntfest event pass for a limited time, new skins and a new Arcade mode. The event pass is free up until November 6, and you can continue as normal to earn points towards your Season Level just by playing. However, you'll now get treat crates containing a host of ghoulish goodies when you hit each tier.
These treat crates can be found randomly too or when you complete challenges, and can contain some spooky skins!
H1Z1 Hauntfest Arcade Mode
The new Hauntfest mode can be played solo, with each match taking place during the night time. Look around for candy which increases your speed and boosts your health. Eat too much and see how the candy affects you! There's also treat crates to find, and look out for supply drops. These drops can yield you the Dead Man's Chest.
These can contain tactical masks, with 10 to collect in total. Complete the Green Bone set by collecting the Green Bone Skull Mask, Hoodie, Work Boots, Baggy Pants, Body Armor, and Magnum.
Dropping on H1Z1 Battle Royale on PS4 this weekend, following some server downtime earlier today, is the brand-new weapon, the Desert Eagle. There's also lobby leaderboards and the ability to spy on the player who shot you down in spectate mode.
Alongside bug fixes, there's also the arrival of a new event challenge. The H1Z1 event challenge begins right now and tasks you with getting 15 Battle Pass Medals while killing 10 players in any of the three game modes.
H1Z1 PS4 Update Patch Notes
Hauntfest is now live as detailed above

You are now able to spectate your killer after an Arcade Mode match.

The Desert Eagle's aim assist has been adjusted for balance.
Bug Fixes
Improved performance during a certain airdrop phase.

Fixed the Offroader Jungle Camo skin preview.

Fixed the Offroader windshield tint resolution.
The Battle Royale game has received numerous updates since launch, including weapon balancing tweaks, HUD optimizations and the removal of some frustrating bugs.
H1Z1 is available to download now, free from the PlayStation Store. For more, check out the H1Z1 Battle Royale hub and review.