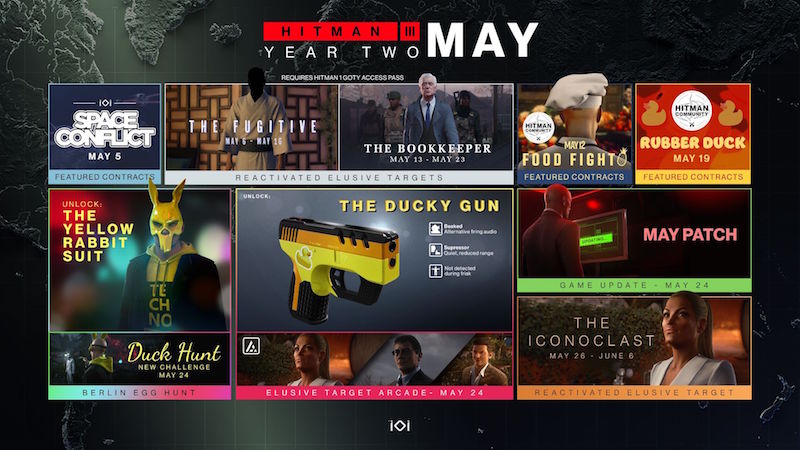 IO Interactive has unboxed the Hitman 3 – Year 2 roadmap, which features content for May 2022 and beyond. This includes a new Freelancer update, an extra map, and heaps more to tuck into. Check out full details below.
The Freelancer Update is among the biggest additions coming to Hitman 3, which will launch in the second quarter of the year. Here's the full lowdown from IO Interactive:
HITMAN 3: Freelancer is the next evolution of Hitman and an entirely new way to engage with the world and characters that IO Interactive built into the World of Assassination over the last 7 years. The team is now aiming to release the Freelancer in the second half of 2022, to help support further development in this truly expansive and involving game mode.
Before that however, there's tons of new content to tuck into for the month ahead. Things kick off today with the Space Conflict Featured Contact, and will be followed by reactivated Elusive Targets The Fugitive (May 6-16) and The Bookkeeper (May 13-23). May 12 adds the Foot Fight Featured Contact, with the community-based Rubber Duck dropping on May 19.
Related Content – Sony PS5 Complete Guide – Everything Explained On PlayStation 5 For New Users
Meanwhile, May 24 will see the release of a new Hitman 3 update, which will be joined by Elusive Target Arcade and the Berlin Egg Hunt. Following this will be the Elusive Target The Iconoclast, which runs May 26 – June 6. New unlocks for May include the Yellow Rabbit Suit and the Ducky Gun.
Finally, July 2022 will see the release of a new map:
A New Map – Ambrose Island


IO Interactive is bringing forward the release date of the 'Rocky' map that was first revealed in January. This is now scheduled for a July 2022 release. This new map will have an intriguing narrative for Hitman fans, as it takes place before the events of HITMAN 3 and fills in a few gaps from the World of Assassination.
Hitman 3 is now available for PS5, PS4, PC, Xbox Series X/S, and Xbox One.