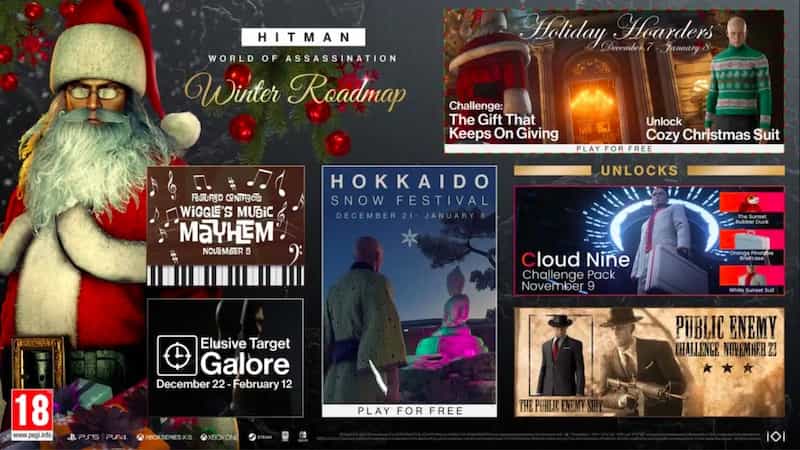 IO Interactive has emerged from the shadows with a detailed Hitman World of Assassination Winter Roadmap, as the studio continues to pour new content into Agent 47's long-running series.
The Challenge Pack: Cloud Nine launched yesterday on November 9, and allows players to unlock, the Sunset Rubber Duck, Orange Pinstripe Briefcase, and White Sunset Suit. Also available now is the Wiggles Music Mayhem as a Featured Contract, which is a music-themed effort including he likes of Hit Me Bangkok One More Time, Thunderstruck, White Noise and more.
November 23 meanwhile will offer up the Public Enemy Challenge:
Absolve in this stylish black suit, with black driving gloves and an elegant black stetson to match. Sure to pack a punch with anyone who refuses.
Make sure your SMG or Assault Rifle skills are up to snuff before taking on the Public Enemy Challenge.
Related Content — Sony PS5 Complete Guide — Everything Explained About PlayStation 5 For New Owners In 2023
Following this on December 7 will be Challenge: The Gift That Keeps On Giving:
Christmas sweaters get a famously bad rap. Itchy? Yes. Ugly? Depends on who you ask. But these festive garments do have at least one positive quality to consider: They mask suspicious red stains very well.
Return to Holiday Hoarders on December 7th and compete this brand-new event to unlock this festive Cozy Christmas Suit.
December 21 will see the return of the Hokkaido Snow Festival for al players, and if it's your first time playing it, you'll be able to unlock the Snow Festival suit. The following day will see the Elusive Target Galore, which basically brings a whole host of returning Elusive Targets ripe for picking off!