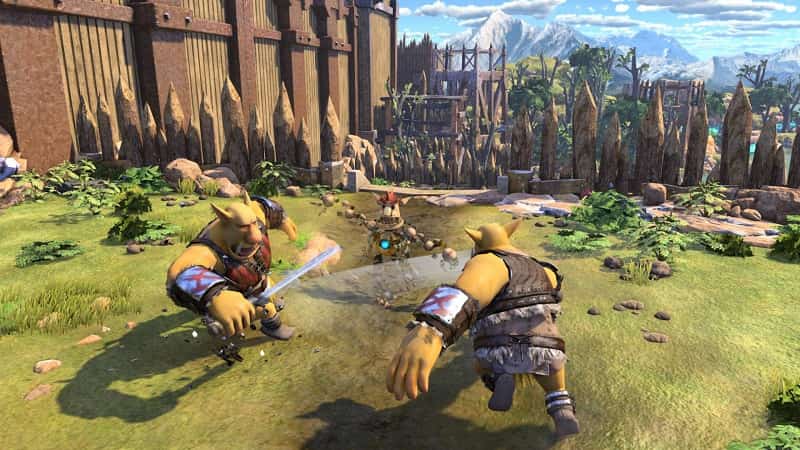 In case you missed it, Sony has very kindly decided to make some rather excellent PlayStation 4 titles downloadable for free, from now until May 5, in a bid to keep folks at home and playing games during the coronavirus pandemic.
However what's interesting is that while the UK and other regions received Journey and Uncharted: The Nathan Drake Collection as freebies, Germany did not. In place of the latter, German folks received Knack 2 for free instead.
Not living in Germany wanting to know how to get Knack 2 for free? Yeah, we can help you with that.
How To Get Knack 2 For Free
The first thing that you need to do is create a German PSN profile, as this will allow you to access the German PlayStation Store in order to download Knack 2. Here's how you do that:
1) First, create a new user and then create a new PSN profile. Proceed through until you are confronted with a screen that asks you to choose your country/region.
2) Make sure that you choose "Deutschland" (Germany).
3) In the next field you can specify language – but we'll assume for now that you'll be wanting to have the profile in German (you can always change it later).
4) Next, you need to put in your date of birth. The format of this data entry is dd-mm-yyyy.
5) Once completed, select "Weiter" (next).
6) At this point you need to pick out the "Ort" (town) in Germany, where this profile resides. Simply google 'German towns' and put in one of your choice. For this example, we used 'Bernau'.
7) Next up, you must specify "Bundesland/Provinz" which is broaadly equivalent to states in the US or counties in the UK. Here, just put down the province that ties in with the town you selected in point 6). Again, Google is your friend here if your contemporary German geography isn't so hot.
8) Next is "Postleitzahl" which is the German version of Postal Code. Again, a quick peek onto Google will allow you to find one in seconds.
9) Once completed, click on "Weiter" to proceed.
10) Next is entering an e-mail address. Any e-mail address you enter here should be fine so long as it isn't already linked to another PSN profile elsewhere.
11) Then it's time to enter your 'Passwort' which if you couldn't guess is your password.
12) Next, you'll see some checkboxes. Just leave them empty as they are to do marketing then click on "Weiter" to carry on.
13) Now, you'll have to create your Online ID, which is fairly self-explanatory.
14) Once completed you'll be required to enter your "Vorname" (first name).
15) Followed by your "Nachname" (surname).
16) Once past that, you'll be asked to specify"Aktivitäten" (activities). As you've probably seen on your main PSN profile, this just specifies who can see your PSN activity and who can't. Just move past it.
17) Again with"Trophäen" (trophies), you can press on pass this too.
18) Select "Weiter" (next) to continue.
19) Ignore the next batch of checkboxes as well, as these are just PSN social settings.
20) Then, click on "Weiter" (next).
21) Once again some more non-essential settings will appear, so just hit."Weiter" (next).
22) Next you'll come across the "Nutzungsbedingungen" (terms of use) page. From here, select "Akzeptieren" (accept), in order to continue.
23) Open the e-mail inbox associated with this profile and click on the link "Jetzt verifizieren" (prove now) in order to prove that your e-mail address is correctly tied to the German PSN account you have created.
24) Then select the option which reads "Bereits bestätigt" (already proven).
25) Select "Fortfahren" (Go on) in order to proceed
26) Next you'll be asked if you want to connect to other social services. Instead choose the option which reads "Führe dies später durch" (do it later)
27) When it comes to PS Plus just skip past it by selecting "Weiter" (next), then "Überspringen" (skip)
28) Crucially, you will then be asked if this PS4 is your primary PS4 – as it will use this to attach the Knack 2 download license to this console and its master user. Here, you must select "Aktivieren" (activate).
29) If successful, it says your information has been saved to this PS4. Select "Ok" in order to continue.
30) Access the PlayStation Store icon
31) Click on "Suche" (search) in order to search for Knack 2.
32) Once found, 'buy' the game (it's free and you haven't entered any payment details so you can't be charged).
33) Then click on the arrow which allows you to download the game
34) Log out of your German PSN profile and login with your main profile.
Knack 2 is now yours to own and play forever! Enjoy!