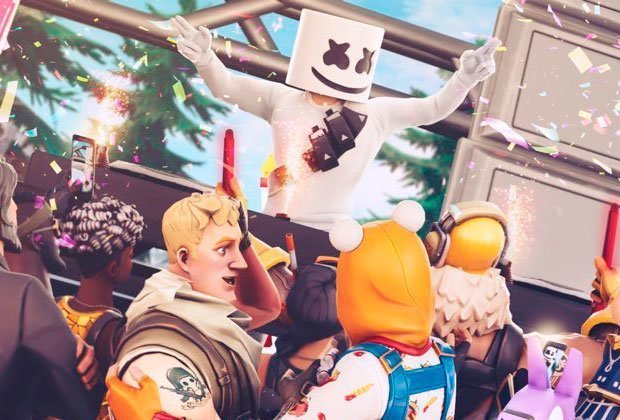 Fortnite has made gaming history over the weekend with the hosting of a live DJ event by American DJ Marshmello. The concert, held at Pleasant Park, was reported to attract over 10 million viewers in-game and through various streaming channels, making it one of the most watched virtual concerts of all-time.
Marshmello Fortnite Show Makes History
Epic Games' free-to-play Battle Royale shooter is going from strength to strength. Having already racked up an annual turnover over $2.4 billion in 2018, the latest stunt is sure to bring in even more fans. Judging by the reaction on social media to the Marshmello concert is was a resounding success.
You can watch the concert in full below.
The show was streamed for free as thousands brought their avatars to the virtual dancefloor to showcase some of the game's most popular dance moves. As well as Fortnite receiving massive media attention, Marshmello has also gained a new army of fans.
What makes me happiest about today is that so many people got to experience their first concert ever. All the videos I keep seeing of people laughing and smiling throughout the set are amazing. Man I'm still so pumped

— marshmello (@marshmellomusic) February 3, 2019
However, some were quick to point out that this wasn't the first ever live virtual videogame concert. This was something that Marshmello claimed in a now-deleted Tweet. Some players were quick to point out that other games, including Minecraft, which hosted a live concert featuring Aluna George.
PC online virtual world Second Life has also hosted concerts, spoken word, stand-up comedy and much more.
Nevertheless, the Marshmello concert was a spectacular feat with an unprecedented amount of viewers and Fortnite continues to be much more than a video game phenomenon, capturing the imagination of millions of young gamers like no game before.
Who Is Marshmello?
Marshmello is a DJ and American electronic music producer from Pennsylvania. Real name Christopher Comstock, the 26-year old hides behing a marshmellow helmet and released his first album in 2016. In 2018, he was awarded Best Electronic Award at the MTV Europe Music Awards.