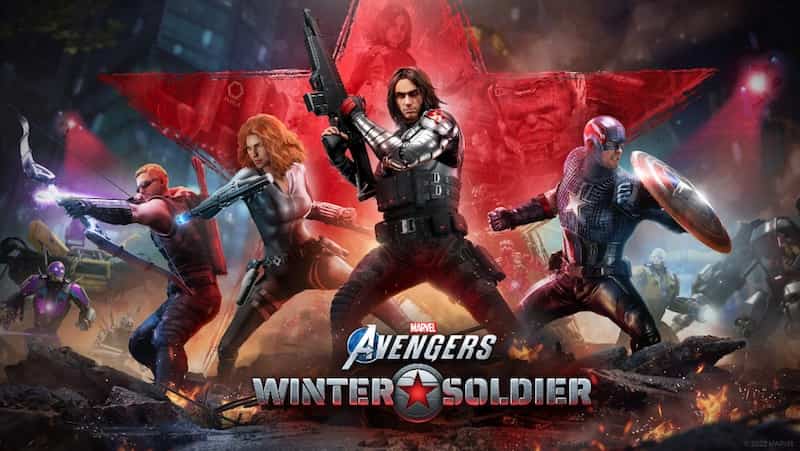 Crystal Dynamics has announced details on the Marvel's Avengers update 2.7, which will be adding a new playable character in the form of The Winter Soldier, aka Bucky Barnes, as well as the Cloning Lab Omega-Level Threat.
The Winter Soldier will be played by Scott Porter, who is best known for his work on Lego Marvel's Avengers (where he played this same character), as well as Friday Night Lights, Hart of Dixie, Ultimate Spider-Man, and Avengers Assemble. Bucky will launch with his own heroic mission chain which sees the Avengers aid him in regaining his confidence and capacity for good.
Here's some more details via the blog post:
While echoes of Bucky's past training partners like Captain America and Black Widow can be seen in some of his move-set, he has made them his own and combined them with skills that flow from his Winter Soldier indoctrination and his cybernetic enhancements. Players will find all new animations, a new full skill tree, and heroic abilities all his own when they enter a mission as the Winter Soldier.
Related Content – Sony PS5 Complete Guide – Everything Explained About PlayStation 5 For New Owners In 2022
Meanwhile, the Omega Level Threat for Cloning Lab is described as a fresh end-game challenged that fish headlined by a climatic encounter with the deranged genius. Players will have to navigate a challenging AIM base before squaring off against MODOK for a massive fight, although he's developed new tactics since his last encounter in San Francisco.
Crystal Dynamics also revealed that the next update beyond 2.7 will continue "ongoing revisions and tuning to Heroes that were started in 2.6 and continue in 2.7.
Marvel's Avengers is now available on PS4, PS5, PC, Xbox Series X/S and Xbox One. The update 2.7 will arrive on November 29.
[Source – Square Enix]