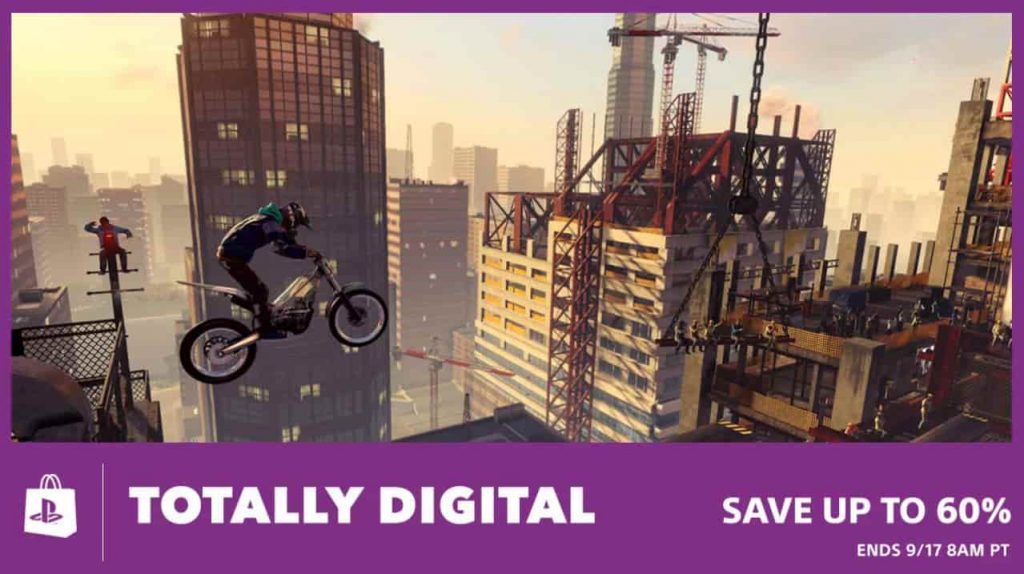 Prime your wallets – a massive Totally Digital sale has gone live over on the North American PlayStation Store. Boasting some huge discounts on some great games such as 11-11: Memories Retold and PS4 indie games too such as Human Fall Flat and Effie.
Also – ICYMI, a huge 'Big in Japan' sale has also launched on the North American store, showcasing a massive range of discounts across a range of Japanese developed titles.
Totally Digital PlayStation Store Sale – All Games, Prices, Discounts
So without further ado, you can catch the full list of discounts across PS4, PS3 and PS Vita below.
This two week sale is set to conclude on September 17 at 8AM PT.
PS4 Games On Sale
Title
$Sale
$Original
11-11: MEMORIES RETOLD
$7.49
$29.99
18 FLOORS (VR)
$10.49
$14.99
A BASTARD'S TALE
$1.99
$4.99
A HAT IN TIME
$14.99
$29.99
ABYSS ODYSSEY: EXTENDED DREAM EDITION
$4.49
$14.99
ABZÛ
$8.00
$19.99
ADVENTURES OF PIP
$10.49
$14.99
AGES OF MAGES : THE LAST KEEPER
$8.39
$11.99
ALCHEMIC JOUSTS
$2.69
$8.99
ANGERFORCE: RELOADED
$6.99
$9.99
APOCALYPSE RIDER (VR)
$2.99
$4.99
ARCADE GAME SERIES 3-IN-1 PACK
$3.99
$7.99
ARCADE GAME SERIES: DIG DUG
$1.99
$3.99
ARCADE GAME SERIES: GALAGA
$1.99
$3.99
ARCADE GAME SERIES: MS. PAC-MAN
$1.99
$3.99
ARCADE GAME SERIES: PAC-MAN
$1.99
$3.99
ARMELLO
$9.99
$19.99
ARMELLO – DELUXE BUNDLE
$17.99
$44.99
ARMIKROG
$2.49
$9.99
ASEMBLANCE BUNDLE
$4.93
$12.99
AT SUNDOWN: SHOTS IN THE DARK
$9.99
$19.99
ATTACK OF THE EARTHLINGS
$13.99
$19.99
ATTRACTIO
$4.99
$19.99
BANNER SAGA 1
$4.99
$24.99
BANNER SAGA 2
$4.99
$24.99
BANNER SAGA 3
$12.49
$24.99
BANNER SAGA TRILOGY
$19.99
$49.99
BARD'S GOLD
$1.49
$4.99
Batman: The Enemy Within – Season Pass
$7.49
$14.99
BATMAN: THE TELLTALE SERIES SEASON PASS
$7.49
$14.99
BEACH BUGGY RACING
$4.99
$9.99
BLACK THE FALL
$5.99
$14.99
BLACKHOLE: COMPLETE EDITION
$3.74
$14.99
BOMBER CREW
$11.24
$14.99
BOMBER CREW DELUXE EDITION
$17.49
$24.99
BUGSBOX VR
$11.89
$16.99
BURLY MEN AT SEA
$5.99
$9.99
BURLY MEN AT SEA – ORIGINAL SOUNDTRACK
$4.79
$7.99
BURLY MEN AT SEA MAESTRO BEARD EDITION
$8.99
$14.99
CALL OF DUTY: BLACK OPS 4 – PASS
$24.99
$49.99
CALL OF DUTY: BLACK OPS III: ZOMBIES CHRONICLES
$14.99
$29.99
CALL OF DUTY: MODERN WARFARE REMASTERED – VARIETY MAP PACK
$7.49
$14.99
CALL OF DUTY: WWII – SEASON PASS
$24.99
$49.99
CANNON BRAWL
$4.99
$9.99
CAPCOM BEAT 'EM UP BUNDLE
$11.99
$19.99
CARNIVAL GAMES VR
$4.99
$19.99
CARNIVAL GAMES VR: ALLEY ADVENTURE
$3.99
$7.99
CARTOON NETWORK: BATTLE CRASHERS
$7.99
$19.99
CHAOS ON DEPONIA
$4.93
$12.99
CHASM
$12.99
$19.99
CHICKEN ASSASSIN: RELOADED
$3.99
$7.99
CHILDREN OF ZODIARCS
$7.19
$17.99
CHRONICLES OF TEDDY: HARMONY OF EXIDUS
$4.49
$14.99
CIRCUIT BREAKERS
$2.49
$9.99
CITIES: SKYLINES – MASS TRANSIT
$7.79
$12.99
CITIES: SKYLINES – Natural Disasters
$8.99
$14.99
CITIES: SKYLINES – SNOWFALL
$7.79
$12.99
CITIZENS OF EARTH
$4.49
$14.99
CITIZENS OF SPACE
$10.49
$14.99
CLAYBOOK
$4.49
$14.99
COFFIN DODGERS
$4.79
$11.99
COLD IRON (VR)
$6.99
$13.99
CREED: RISE TO GLORY (VR)
$17.99
$29.99
CRUZ BROTHERS – CAMPS EDITION
$7.79
$12.99
DARKNET (VR)
$8.99
$14.99
DAYDREAMER: AWAKENED EDITION
$3.99
$9.99
DAYLIGHT
$2.99
$9.99
DEAR ESTHER: LANDMARK EDITION
$6.49
$9.99
DEER SIMULATOR
$4.99
$9.99
DEFIANCE 2050: STARTER CLASS PACK
$11.99
$19.99
DEFIANCE 2050: ULTIMATE CLASS PACK
$29.99
$49.99
DEPONIA
$4.93
$12.99
DEPONIA COLLECTION
$17.99
$39.99
DEPONIA DOOMSDAY
$4.93
$12.99
DEUS EX: MANKIND DIVIDED – A CRIMINAL PAST
$2.39
$11.99
DEUS EX: MANKIND DIVIDED – ASSAULT PACK
$1.24
$4.99
DEUS EX: MANKIND DIVIDED – DIGITAL DELUXE EDITION
$6.74
$44.99
DEUS EX: MANKIND DIVIDED – SEASON PASS
$2.99
$14.99
DEUS EX: MANKIND DIVIDED – SYSTEM RIFT
$2.39
$11.99
DEUS EX: MANKIND DIVIDED – TACTICAL PACK
$1.24
$4.99
DIABLO III: RISE OF THE NECROMANCER
$7.49
$14.99
DIE FOR VALHALLA!
$8.03
$11.99
DIE FOR VALHALLA! – SPECIAL EDITION
$10.04
$14.99
DISC JAM
$3.74
$14.99
DISCOVERY (VR)
$5.99
$11.99
DIVINITY ORIGINAL SIN 2 DEFINITIVE EDITION
$35.99
$59.99
DON'T STARVE MEGA PACK
$13.49
$26.99
DON'T STARVE TOGETHER: CONSOLE EDITION
$7.49
$14.99
DRONE STRIKER (VR)
$6.99
$9.99
DUCATI – 90TH ANNIVERSARY
$1.99
$9.99
EFFIE
$13.99
$19.99
ELECTRONAUTS (VR)
$9.99
$19.99
ELIOSI'S HUNT
$4.49
$9.99
ELK SIMULATOR
$4.99
$9.99
ETERNITY: THE LAST UNICORN
$9.99
$19.99
FAST STRIKER
$4.19
$6.99
FEAR EFFECT SEDNA
$1.99
$19.99
FIBBAGE: THE HILARIOUS BLUFFING PARTY GAME
$2.79
$6.99
FORGOTTON ANNE
$9.99
$19.99
FURI
$9.99
$19.99
FURI – DEFINITIVE EDITION
$10.99
$21.99
FURI: ONE MORE FIGHT
$1.99
$3.99
FUTURE TONE BUNDLE
$23.99
$39.99
FUTURE UNFOLDING
$9.99
$19.99
GABBUCHI
$3.99
$7.99
GET EVEN
$7.49
$29.99
GOODBYE DEPONIA
$4.93
$12.99
GOOSEBUMPS: THE GAME
$5.99
$14.99
GRAND THEFT AUTO V: GRAND THEFT AUTO ONLINE MEGALODON SHARK CASH CARD
$84.99
$99.99
GRAVEL SEASON PASS
$7.99
$19.99
GRIP DIGITAL DELUXE
$24.99
$49.99
GUACAMELEE 2
$6.79
$19.99
GUACAMELEE 2 – HENCHPERSON COSTUME PACK
$1.01
$2.99
GUACAMELEE! 2 – THE PROVING GROUNDS (CHALLENGE LEVEL)
$1.35
$3.99
GUACAMELEE! 2 COMPLETE
$7.81
$22.99
GUN CLUB VR
$14.49
$24.99
GUNS GORE AND CANNOLI 2
$9.09
$12.99
GUNS'N'STORIES: BULLETPROOF VR (VR)
$9.99
$19.99
HAIMRIK
$4.99
$19.99
HAMMERWATCH
$5.99
$9.99
HATSUNE MIKU: PROJECT DIVA FUTURE TONE 1ST ENCORE PACK
$4.79
$7.99
HATSUNE MIKU: PROJECT DIVA FUTURE TONE COLORFUL TONE
$14.99
$24.99
HATSUNE MIKU: PROJECT DIVA FUTURE TONE EXTRA ENCORE PACK
$4.79
$7.99
HATSUNE MIKU: PROJECT DIVA FUTURE TONE FUTURE SOUND
$14.99
$24.99
HATSUNE MIKU: PROJECT DIVA FUTURE TONE SEASON PASS
$11.99
$19.99
HATSUNE MIKU: PROJECT DIVA FUTURE TONE SNOW MIKU 2018-2019 PACK
$4.19
$6.99
HATSUNE MIKU: PROJECT DIVA FUTURE TONE UNLOCK KEY
$7.79
$12.99
HATSUNE MIKU: VR FUTURE LIVE – 1ST STAGE
$7.49
$14.99
HATSUNE MIKU: VR FUTURE LIVE SEASON PASS
$19.99
$39.99
HELL WARDERS
$10.04
$14.99
HEROES OF THE MONKEY TAVERN
$4.99
$9.99
HITMAN GO: DEFINITIVE EDITION
$1.59
$7.99
HORIZON SHIFT 81
$3.59
$8.99
HUE
$8.99
$14.99
HUMAN FALL FLAT
$7.49
$14.99
I AM BREAD
$5.19
$12.99
I ZOMBIE
$2.24
$4.49
IMPACT WINTER
$4.99
$19.99
INFINITY RUNNER
$2.79
$6.99
INSANE ROBOTS
$11.99
$19.99
INSANE ROBOTS – DELUXE EDITION
$16.49
$32.99
INSANE ROBOTS – ROBOT PACK 1
$1.79
$2.99
INSANE ROBOTS – ROBOT PACK 2
$1.79
$2.99
INSANE ROBOTS – ROBOT PACK 3
$1.79
$2.99
INSANE ROBOTS – ROBOT PACK 4
$1.79
$2.99
INSANE ROBOTS – ROBOT PACK 5
$1.79
$2.99
INSANE ROBOTS – ROBOT PACK 6
$1.79
$2.99
INSANE ROBOTS – SEASON PASS
$7.49
$14.99
INTRUDERS: HIDE AND SEEK
$9.99
$19.99
INVERSUS
$4.49
$14.99
JUST CAUSE 3 – CAPSTONE BLOODHOUND RPG
$0.74
$2.49
JUST CAUSE 3 – COMBAT BUGGY
$0.59
$1.99
JUST CAUSE 3 – FINAL ARGUMENT SNIPER RIFLE
$0.74
$2.49
JUST CAUSE 3 – KOUSAVÁ RIFLE
$0.74
$2.49
JUST CAUSE 3 – MINI-GUN RACING BOAT
$0.59
$1.99
JUST CAUSE 3 – ROCKET LAUNCHER SPORTS CAR
$0.59
$1.99
JUST CAUSE 3: AIR, LAND & SEA EXPANSION PASS
$3.74
$14.99
JUST CAUSE 3: BAVARIUM SEA HEIST
$1.79
$5.99
JUST CAUSE 3: EXPLOSIVE WEAPON PACK
$1.19
$3.99
JUST CAUSE 3: MECH LAND ASSAULT
$3.59
$11.99
JUST CAUSE 3: REAPER MISSILE MECH
$1.49
$4.99
JUST CAUSE 3: SKY FORTRESS
$3.59
$11.99
JUST CAUSE 3: WEAPONIZED VEHICLE PACK
$1.19
$3.99
JUST CAUSE 3: XXL EDITION
$7.49
$29.99
KERBAL SPACE PROGRAM: HISTORY AND PARTS PACK
$6.99
$9.99
KNEE DEEP
$5.99
$14.99
LARA CROFT AND THE TEMPLE OF OSIRIS & SEASON PASS PACK
$4.34
$28.99
LARA CROFT AND THE TEMPLE OF OSIRIS SEASON PASS
$1.49
$9.99
LARA CROFT GO
$1.99
$9.99
LASERLIFE
$1.99
$9.99
LAST DAY OF JUNE
$8.00
$19.99
LET THEM COME
$3.19
$7.99
LIFE IS STRANGE EPISODE 2
$0.99
$4.99
LIFE IS STRANGE EPISODE 3
$0.99
$4.99
LIFE IS STRANGE EPISODE 4
$0.99
$4.99
LIFE IS STRANGE EPISODE 5
$0.99
$4.99
LIFE IS STRANGE: BEFORE THE STORM DELUXE EDITION
$7.49
$24.99
LIFE IS STRANGE: BEFORE THE STORM DELUXE UPGRADE
$2.99
$9.99
MAFIA III SEASON PASS
$11.99
$29.99
MAGICKA 2
$4.49
$14.99
MAGICKA 2 SPECIAL EDITION
$5.99
$19.99
MAIZE
$7.99
$19.99
MANUAL SAMUEL
$5.99
$9.99
MARK OF THE NINJA: REMASTERED
$11.99
$19.99
MERVILS: A VR ADVENTURE (VR)
$7.99
$19.99
MONSTER ENERGY SUPERCROSS – SPECIAL EDITION
$19.99
$49.99
MONSTER ENERGY SUPERCROSS 2 – SEASON PASS
$9.99
$24.99
MONSTER ENERGY SUPERCROSS SEASON PASS
$5.99
$14.99
MOTOGP LEGENDARY BIKES
$1.99
$4.99
MOUNT & BLADE: WARBAND
$11.99
$19.99
MOVE OR DIE
$10.49
$14.99
MXGP2 – AGUEDA AND BASTOGNE TRACKS
$1.99
$4.99
MXGP2 – BETO CARRERO TRACK
$1.19
$2.99
MXGP2 – CAIROLI REPLICA EQUIPMENT
$0.49
$0.99
MXGP2 – VILLOPOTO REPLICA EQUIPMENT
$0.49
$0.99
NBA 2K PLAYGROUNDS 2 ALL-STAR PACK 16000 VC
$13.99
$19.99
NBA 2K PLAYGROUNDS 2 MVP PACK 7500 VC
$7.49
$9.99
NBA 2K PLAYGROUNDS 2 ROOKIE PACK 3000 VC
$3.99
$4.99
NBA 2KVR EXPERIENCE (VR)
$7.49
$14.99
NECROPOLIS
$7.49
$29.99
NEONWALL (VR)
$5.99
$9.99
OBDUCTION
$20.99
$29.99
OCEANHORN – MONSTER OF UNCHARTED SEAS
$7.49
$14.99
OCTAHEDRON
$5.19
$12.99
OCTODAD: DADLIEST CATCH
$7.49
$14.99
OH MY GODHEADS
$3.74
$14.99
OLD MAN'S JOURNEY
$5.99
$9.99
OUT OF AMMO (VR)
$5.99
$14.99
OUT OF THE BOX
$8.99
$14.99
PAC-MAN 256
$2.49
$4.99
PAC-MAN CHAMPION EDITION 2
$3.89
$12.99
PARTY CRASHERS
$3.74
$14.99
PARTY CRASHERS AND PARTY GOLF BUNDLE
$5.99
$23.99
PARTY GOLF
$3.74
$14.99
PERFECT UNIVERSE PLAY WITH GRAVITY
$2.49
$9.99
PERSONA 5 PERSONA BUNDLE
$11.99
$19.99
PERSONA COSTUME & BGM BUNDLE
$29.99
$59.99
PINBALL FX2 VR
$5.99
$14.99
PINBALL FX3 – BETHESDA PINBALL
$5.49
$10.99
PINBALL FX3 – IRON & STEEL PACK
$1.24
$4.99
PINSTRIPE
$10.49
$14.99
PIXEL RIPPED 1989 (VR)
$14.99
$24.99
PLANET OF THE EYES
$5.99
$9.99
PODE
$17.49
$24.99
POI
$5.99
$9.99
PREMIUM ROSSI GAME POINTS
$1.59
$3.99
PRISON BOSS VR
$13.39
$19.99
PROJECT ROOT
$5.99
$9.99
PUYO PUYO CHAMPIONS
$4.99
$9.99
RADIO CONTROLLED CARS MODE
$1.19
$2.99
RAINBOW SKIES + RAINBOW MOON MEGA RPG BUNDLE
$15.99
$39.99
RAZED
$8.39
$11.99
REAL EVENTS 1: 2016 MOTOGP SEASON
$1.19
$2.99
REAL EVENTS 2: 2016 MOTOGP SEASON
$1.19
$2.99
REAL EVENTS: 2015 MOTOGP SEASON
$0.79
$1.99
RED MATTER (VR)
$17.49
$24.99
REVERIE
$6.49
$12.99
RIDE 2 SEASON PASS
$11.99
$29.99
RIVERBOND
$17.49
$24.99
ROCK OF AGES 2
$5.99
$14.99
ROCK OF AGES 2 CLASSIC BUNDLE
$9.99
$19.99
ROGUE ACES
$8.44
$12.99
ROLLERS OF THE REALM
$2.99
$9.99
ROSSI FORD FOCUS RALLY CAR 2009
$0.49
$0.99
RUSH VR
$12.49
$24.99
SÉBASTIEN LOEB RALLY EVO – CLASS S THE PROTOTYPES
$3.19
$7.99
SÉBASTIEN LOEB RALLY EVO – PIKES PEAK PACK PEUGEOT 405 T16 PP
$1.99
$4.99
SÉBASTIEN LOEB RALLY EVO – PIKES PEAK PACK RENAULT 5 TURBO
$1.99
$4.99
SÉBASTIEN LOEB RALLY EVO – PIKES PEAK PACK SUZUKI ESCUDO PP
$1.99
$4.99
SÉBASTIEN LOEB RALLY EVO – RALLYCROSS PACK
$3.19
$7.99
SERIAL CLEANER
$8.99
$14.99
SHADOW BLADE: RELOAD
$2.99
$9.99
SHIFT QUANTUM – CYBER-NOIRE EDITION
$10.79
$26.99
SILENCE
$8.99
$29.99
SKYFORGE: ALCHEMIST QUICKPLAY PACK
$7.79
$12.99
SKYFORGE: GUNNER QUICKPLAY PACK
$7.79
$12.99
SKYFORGE: NEW HORIZONS – COLLECTOR'S PACK
$17.49
$24.99
SKYFORGE: OUTLAW QUICKPLAY PACK
$7.79
$12.99
SKYFORGE: PIONEER PACK
$13.99
$19.99
SKYFORGE: REVENANT QUICKPLAY PACK
$8.99
$14.99
SMOKE AND SACRIFICE
$13.99
$19.99
SOLSERAPH
$10.49
$14.99
SONIC MANIA
$14.99
$19.99
SOUL AXIOM
$4.79
$11.99
SQUISHIES (VR)
$14.99
$24.99
STARDUST GALAXY WARRIORS: STELLAR CLIMAX
$6.99
$9.99
STATE OF MIND
$15.99
$39.99
STAY
$5.99
$11.99
STEEL RATS
$9.99
$19.99
STEEL RATS DELUXE EDITION
$11.99
$23.99
STELLARIS: CONSOLE EDITION – DELUXE UPGRADE PACK
$17.49
$24.99
SUPER DARYL DELUXE
$11.99
$19.99
SUPER PIXEL RACERS
$10.04
$14.99
SUPER STREET: THE GAME
$19.99
$39.99
SUPERHOT
$14.99
$24.99
SUPERHOT MIND IS SOFTWARE BUNDLE
$25.99
$39.99
SUPERHOT VR
$17.49
$24.99
SURGEON SIMULATOR A&E + I AM BREAD
$7.99
$19.99
SURGEON SIMULATOR: A&E ANNIVERSARY EDITION
$5.19
$12.99
SURGEON SIMULATOR: EXPERIENCE REALITY (VR)
$9.99
$19.99
SURVIVING MARS: SURVIVING MARS – SEASON PASS
$24.49
$34.99
SWORD & FAIRY 6
$18.89
$26.99
TEMBO THE BADASS ELEPHANT
$4.49
$14.99
TETSUMO PARTY
$3.34
$4.99
THE ADVENTURE PALS
$10.49
$14.99
THE AMERICAN DREAM
$9.99
$19.99
THE DEADLY TOWER OF MONSTERS
$4.49
$14.99
THE DISNEY AFTERNOON COLLECTION
$4.99
$19.99
THE FALL
$2.99
$9.99
THE FALL PART 2: UNBOUND
$5.94
$16.99
THE FLAME IN THE FLOOD: COMPLETE EDITION
$9.74
$14.99
The Golf Club 2019 feat. PGA TOUR – 14,300 Currency
$15.39
$21.99
The Golf Club 2019 feat. PGA TOUR – 28,275 Currency
$23.39
$38.99
The Golf Club 2019 feat. PGA TOUR – 6,000 Currency
$7.99
$9.99
THE JACKBOX PARTY PACK
$12.49
$24.99
THE JACKBOX PARTY PACK 2
$12.49
$24.99
THE LITTLE ACRE
$7.79
$12.99
THE LONG JOURNEY HOME
$15.99
$39.99
THE METRONOMICON: SLAY THE DANCE FLOOR
$9.99
$19.99
THE MONSTER COUCH PARTY PACK
$10.71
$15.99
THE PILLARS OF THE EARTH
$11.99
$39.99
THE RABBIT HOLE (VR)
$2.99
$4.99
THE STATION
$7.49
$14.99
THE WALKER. (VR)
$6.99
$9.99
THE WOLF AMONG US
$7.49
$14.99
THESEUS VR
$3.99
$9.99
THROUGH THE WOODS
$4.99
$19.99
TINY TROOPERS JOINT OPS COMPLETE BUNDLE
$3.19
$7.99
TOEJAM & EARL: BACK IN THE GROOVE
$13.99
$19.99
TOREN
$2.49
$9.99
TOUHOU DOUBLE FOCUS
$2.99
$9.99
TOUHOU GENSO WANDERER
$14.99
$29.99
TOUHOU: SCARLET CURIOSITY
$7.99
$19.99
TRIALS RISING
$12.49
$24.99
TRIALS RISING
$9.99
$19.99
TRIALS RISING GOLD EDITION
$19.99
$39.99
TRIALS RISING GOLD EDITION
$16.25
$32.49
TRICKY TOWERS
$7.49
$14.99
TROVE : TROVE – DOUBLE DRAGON PACK
$7.99
$19.99
TUMBLESTONE
$4.99
$24.99
ULTIMATE CHICKEN HORSE
$8.99
$14.99
ULTRAWINGS (VR)
$7.49
$14.99
UMBRELLA CORPS
$4.99
$19.99
UMBRELLA CORPS DELUXE EDITION
$6.24
$24.99
UNEARTHING MARS (VR)
$8.99
$14.99
UNEARTHING MARS 2: THE ANCIENT WAR (VR)
$13.99
$19.99
UNRULY HEROES
$13.99
$19.99
USE YOUR WORDS
$7.49
$14.99
VALENTINO ROSSI HISTORICAL EVENTS
$1.19
$2.99
VALLEY
$6.99
$19.99
VERDUN
$13.99
$19.99
VICTOR VRAN OVERKILL EDITION
$19.99
$39.99
VIKING DAYS (VR)
$2.99
$4.99
VIRGINIA
$1.00
$9.99
VIRRY VR
$3.99
$9.99
VIRRY VR: WILD BUNDLE
$9.99
$24.99
VIRRY VR: WILD ENCOUNTERS
$7.99
$19.99
WADDLE HOME (VR)
$2.99
$4.99
WAILING HEIGHTS
$8.39
$11.99
WANDERSONG
$11.99
$19.99
WAR OF THE CHOSEN
$15.99
$39.99
WARLOCKS VS SHADOWS
$6.99
$13.99
WARPARTY
$12.49
$24.99
WE ARE THE DWARVES
$5.99
$14.99
WE. THE REVOLUTION
$13.99
$19.99
WELCOME TO HANWELL
$5.99
$14.99
WHISPERING WILLOWS (GAME AND THEME)
$3.74
$12.49
WILD TURKEY HUNTER
$4.99
$9.99
WILD TURKEY HUNTER VR
$4.99
$9.99
WIZARD OF LEGEND
$9.59
$15.99
WORLD OF WARSHIPS: LEGENDS: TEXAS XL
$19.49
$29.99
WORLDS OF MAGIC: PLANAR CONQUEST
$14.49
$28.99
WWE 2K19 ACCELERATOR
$2.49
$4.99
WWE 2K19 SEASON PASS
$14.99
$29.99
XCOM 2 REINFORCEMENT PACK
$9.99
$19.99
YAKUZA KIWAMI 2 CLAN CREATOR BUNDLE
$13.99
$19.99
YOUTUBERS LIFE OMG
$17.99
$29.99
PS3 Games On Sale
Title
$Sale
$Original
1942: JOINT STRIKE
$2.99
$9.99
ABYSS ODYSSEY
$4.49
$14.99
BATTLE PRINCESS OF ARCADIAS
$9.99
$19.99
BIONIC COMMANDO REARMED 2
$2.99
$9.99
BIONIC COMMANDO: REARMED
$2.99
$9.99
BIOSHOCK INFINITE SEASON PASS
$7.99
$19.99
BORDERLANDS 2 – SEASON PASS
$8.99
$29.99
BORDERLANDS 2 ULTIMATE VAULT HUNTER UPGRADE PACK 2
$1.64
$4.99
BORDERLANDS 2: ULTIMATE VAULT HUNTER UPGRADE PACK
$1.64
$4.99
BORDERLANDS: BORDERLANDS ADD-ON EXTRAVASPLOSION BUNDLE
$7.99
$19.99
BORDERLANDS: THE PRE-SEQUEL: SEASON PASS
$8.99
$29.99
DC UNIVERSE ONLINE – EPISODE PACK I
$10.49
$14.99
DC UNIVERSE ONLINE – EPISODE PACK II
$10.49
$14.99
DC UNIVERSE ONLINE: EPISODE PACK III
$27.99
$39.99
DC UNIVERSE ONLINE: EPISODE PACK IV
$27.99
$39.99
DC UNIVERSE ONLINE: POWER BUNDLE (2016)
$24.49
$34.99
FINAL FIGHT/DOUBLE IMPACT
$2.99
$9.99
FLOCK TRIAL
$2.99
$9.99
GUACAMELEE!
$3.74
$14.99
GUACAMELEE! – EL DIABLO'S DOMAIN
$1.79
$2.99
GUACAMELEE! AVATARS BUNDLE – HEROES 1
$1.19
$1.99
GUACAMELEE! COSTUME PACK 1
$1.19
$1.99
HELL YEAH!
$5.99
$14.99
JUST CAUSE 2
$1.99
$19.99
KANE & LYNCH 2: DOG DAYS ALLIANCE WEAPON PACK
$0.59
$2.99
KANE & LYNCH 2: DOG DAYS MULTIPLAYER MASKS PACK
$0.49
$1.99
KANE & LYNCH 2: DOG DAYS THE DOGGIE BAG
$1.49
$5.99
KANE & LYNCH: DEAD MEN
$2.99
$14.99
L.A. NOIRE ROCKSTAR PASS
$5.99
$11.99
LARA CROFT AND THE GUARDIAN OF LIGHT CHALLENGE PACK 1
$0.69
$3.49
LARA CROFT AND THE GUARDIAN OF LIGHT CHALLENGE PACK 2
$0.69
$3.49
LARA CROFT AND THE GUARDIAN OF LIGHT CHALLENGE PACK 3
$0.69
$3.49
LARA CROFT AND THE GUARDIAN OF LIGHT TRIAL
$2.99
$14.99
LEGASISTA
$4.99
$9.99
MASTER REBOOT
$2.79
$6.99
MAX PAYNE 3 ROCKSTAR PASS
$7.49
$14.99
PERSONA 5 PS3 PERSONA BUNDLE
$11.99
$19.99
PERSONA COSTUME & BGM BUNDLE
$29.99
$59.99
RED DEAD REDEMPTION UNDEAD NIGHTMARE PACK
$4.99
$9.99
RED DEAD REDEMPTION: UNDEAD NIGHTMARE
$7.49
$14.99
ROCK OF AGES
$2.99
$9.99
SLEEPING DOGS DIGITAL EDITION
$2.99
$19.99
SUPER PUZZLE FIGHTER II TURBO HD REMIX
$2.99
$9.99
SUPER STREET FIGHTER II TURBO HD REMIX
$2.99
$9.99
URBAN TRIAL FREESTYLE
$3.49
$6.99
Wolf of the Battlefield: Commando 3
$2.99
$4.99
WORLD HUNTER SPORTSMAN BUNDLE
$3.99
$7.99
ZENO CLASH 2
$4.49
$14.99
PS Vita Games On Sale
Title
$Sale
$Original
AMNESIA: MEMORIES
$3.49
$9.99
BARD'S GOLD
$1.49
$4.99
BURLY MEN AT SEA
$5.99
$9.99
CITIZENS OF EARTH
$4.49
$14.99
CLADUN RETURNS: THIS IS SENGOKU!
$9.99
$19.99
FAST STRIKER
$4.19
$6.99
GRAVITY BADGERS
$0.59
$1.99
GUACAMELEE!
$3.74
$14.99
GUACAMELEE! COSTUME PACK 1
$1.19
$1.99
GUACAMELEE! VITA: EL DIABLO'S DOMAIN
$1.79
$2.99
HUE
$8.99
$14.99
MONSTER MONPIECE
$3.99
$9.99
NINJA USAGIMARU: TWO TAILS OF ADVENTURE
$3.59
$11.99
OCEANHORN – MONSTER OF UNCHARTED SEAS
$6.49
$12.99
OCTODAD: DADLIEST CATCH
$7.49
$14.99
REVERIE
$6.49
$12.99
ROGUE ACES DIGITAL
$8.44
$12.99
ROLLERS OF THE REALM
$2.99
$9.99
SEVERED
$3.74
$14.99
THE CALIGULA EFFECT: DELUXE DIGITAL BUNDLE
$11.99
$29.99
TOUHOU DOUBLE FOCUS
$2.99
$9.99
TOUHOU GENSO WANDERER
$14.99
$29.99
TOUHOU KOBUTO V: BURST BATTLE
$9.99
$19.99
URBAN TRIAL FREESTYLE
$5.49
$10.99
URBAN TRIAL FREESTYLE
$3.49
$6.99
Source: Official PlayStation Blog