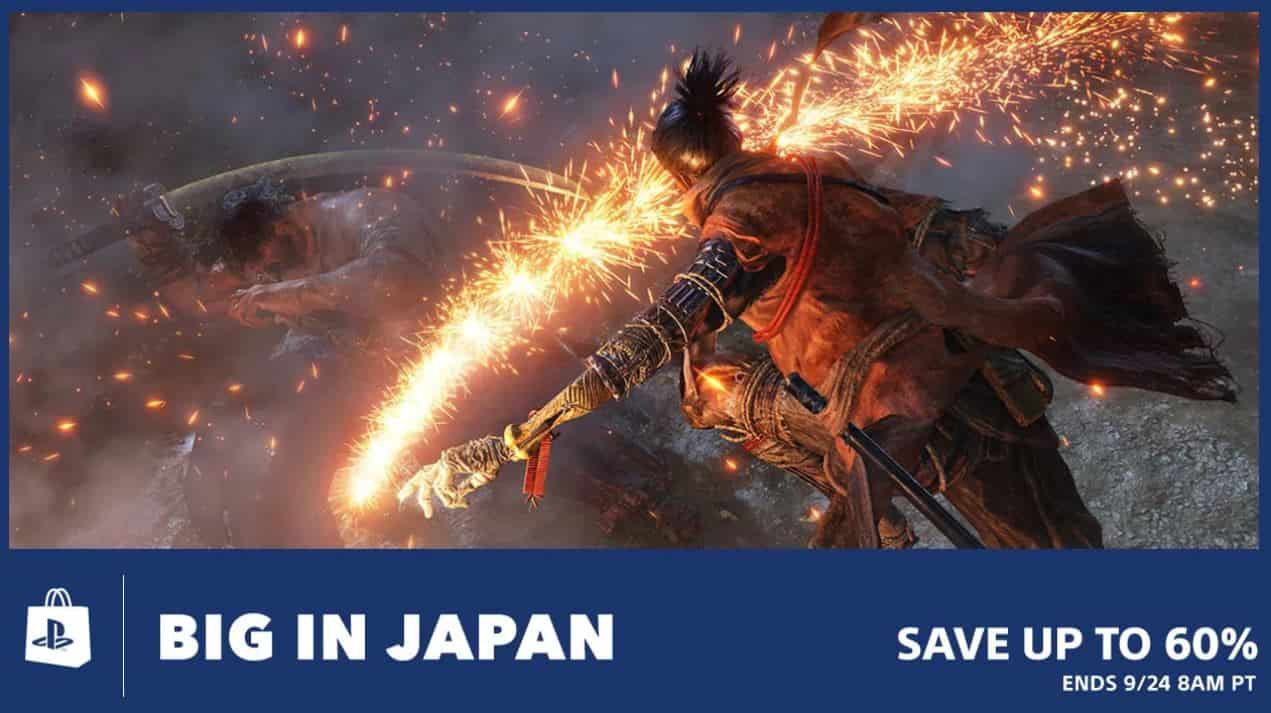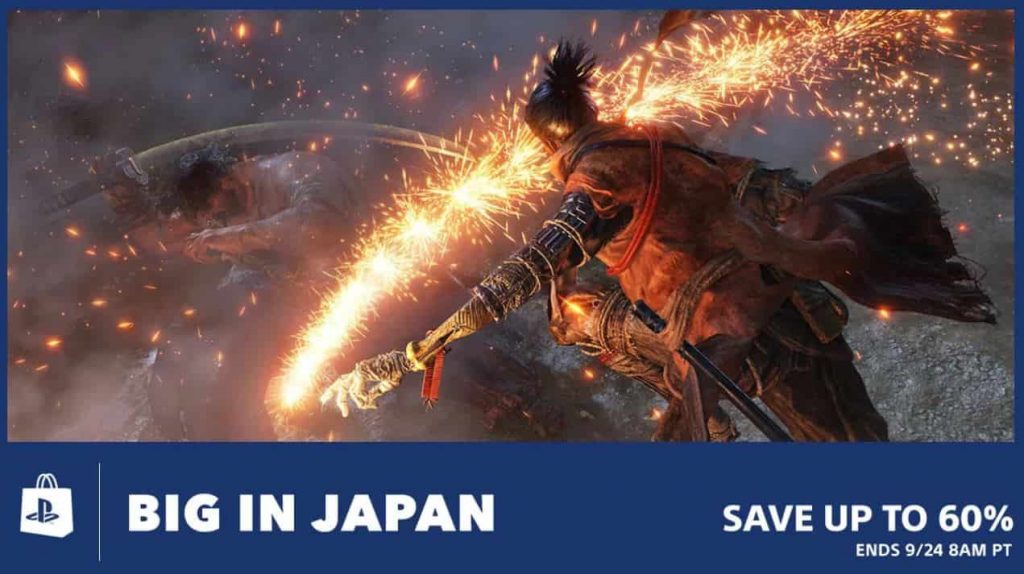 Prepare your wallets for a battering as the next batch of PSN weekly deals has appeared in the form of a massive sale that has just popped up over on the North American PlayStation Store. The 'Big in Japan' sale does pretty much what it says on the tin – offering discounts of up to 60% on a massive range of top-tier Japanese developed games, ranging from the excellent Yakuza series, to the likes of Devil May Cry 5, Sekiro, Jump Force and many, many more.
The Big in Japan sale covers PS4, PS3 and PS Vita and is set to end on September 24, 2019 at 8 AM PT.
Don't forget, this sale will be running concurrently with the previously revealed 'Totally Digital' sale which is due to end on September 17, 2019.
You can catch the full 'Big in Japan' sale listings and all discounts below!
PlayStation Store Big In Japan PS4, PS3, PS Vita Discounts
PS4 Games – All Lines, Prices & Discounts

Title
$Sale
$Original
2064: READ ONLY MEMORIES
9.99
19.99
428: SHIBUYA SCRAMBLE
14.99
49.99
ACE BANANA (VR)
5.99
14.99
ACE COMBAT7: SKIES UNKNOWN (DELUXE EDITION)
50.99
84.99
ACE COMBAT 7: SKIES UNKNOWN (STANDARD EDITION BUNDLE)
29.99
59.99
AEGIS OF EARTH: PROTONOVUS ASSAULT
11.99
39.99
ANIMAL FORCE (VR)
6.39
15.99
ANNIVERSARY COLLECTION ARCADE CLASSICS
9.99
19.99
ARSLAN: THE WARRIORS OF LEGEND
29.99
59.99
BIRTHDAYS THE BEGINNING
19.99
39.99
BLAZBLUE: CENTRAL FICTION
17.99
59.99
BLUE REFLECTION
35.99
59.99
CASTLEVANIA ANNIVERSARY COLLECTION
9.99
19.99
CASTLEVANIA REQUIEM SYMPHONY OF THE NIGHT & RONDO
9.99
19.99
CHOCOBO'S MYSTERY DUNGEON EVERY BUDDY! BUNDLE
27.99
39.99
CLADUN RETURNS: THIS IS SENGOKU!
9.99
19.99
CODE: REALIZE ~BOUQUET OF RAINBOWS~
14.99
49.99
CODE: REALIZE ~WINTERTIDE MIRACLES~
19.99
49.99
CONTRA ANNIVERSARY COLLECTION
9.99
19.99
CRYPT OF THE NECRODANCER
8.99
14.99
DARK SOULSIII
14.99
59.99
DARK SOULS 2: SCHOLAR OF THE FIRST SIN
9.99
39.99
DARK SOULS III – DELUXE EDITION
21.24
84.99
DARK SOULS III: DARK SOULS III – SEASON PASS
12.49
24.99
DARK SOULS REMASTERED
19.99
39.99
DEAD BY DAYLIGHT
14.99
29.99
DEAD BY DAYLIGHT: DEAD BY DAYLIGHT – Ghostface
2.99
4.99
DEAD BY DAYLIGHT: DEAD BY DAYLIGHT THE SAW CHAPTER
3.99
7.99
DEAD BY DAYLIGHT: DEAD BY DAYLIGHT: A NIGHTMARE ON ELM STREET CHAPTER
3.99
7.99
DEAD BY DAYLIGHT: DEAD BY DAYLIGHT: ASH VS EVIL DEAD
2.99
4.99
DEAD BY DAYLIGHT: DEAD BY DAYLIGHT: CURTAIN CALL
3.99
7.99
DEAD BY DAYLIGHT: DEAD BY DAYLIGHT: DARKNESS AMONG US
3.99
7.99
DEAD BY DAYLIGHT: DEAD BY DAYLIGHT: DEMISE OF THE FAITHFUL
3.99
7.99
DEAD BY DAYLIGHT: DEAD BY DAYLIGHT: HEAD CASE
1.99
3.99
DEAD BY DAYLIGHT: DEAD BY DAYLIGHT: LEATHERFACE
2.99
4.99
DEAD BY DAYLIGHT: DEAD BY DAYLIGHT: SHATTERED BLOODLINE
3.99
7.99
DEAD BY DAYLIGHT: DEAD BY DAYLIGHT: THE HALLOWEEN CHAPTER
3.99
7.99
DEAD OR ALIVE 6
47.99
59.99
DEAD OR ALIVE 6 DIGITAL DELUXE EDITION
63.99
79.99
DEATH COMING
4.89
6.99
DEATH MARK
19.99
49.99
DEVIL MAY CRY 4 SPECIAL EDITION
7.49
24.99
DEVIL MAY CRY 5
35.99
59.99
DEVIL MAY CRY 5 – IN-GAME UNLOCK BUNDLE
7.99
9.99
DEVIL MAY CRY 5 DELUXE EDITION
41.99
69.99
DEVIL MAY CRY 5 DELUXE UPGRADE
11.99
14.99
DEVIL MAY CRY 5: ALT STYLE RANK ANNOUNCERS
0.79
0.99
DEVIL MAY CRY 5: ALT TITLE CALLS
0.79
0.99
DEVIL MAY CRY 5: CAVALIERE R
2.39
2.99
DEVIL MAY CRY 5: DEVIL MAY CRY 5 – 1 BLUE ORB
0.79
0.99
DEVIL MAY CRY 5: DEVIL MAY CRY 5 – 100000 RED ORBS
0.99
1.99
DEVIL MAY CRY 5: DEVIL MAY CRY 5 – 3 BLUE ORBS
1.59
1.99
DEVIL MAY CRY 5: DEVIL MAY CRY 5 – 5 BLUE ORBS
2.39
2.99
DEVIL MAY CRY 5: DEVIL MAY CRY 5 – ALT HERO COLORS
1.59
1.99
DEVIL MAY CRY 5: DEVIL MAY CRY 5 – ALT HEROINE COLORS
2.39
2.99
DEVIL MAY CRY 5: DMC1 BATTLE TRACK 3-PACK
1.59
1.99
DEVIL MAY CRY 5: DMC2 BATTLE TRACK 3-PACK
1.59
1.99
DEVIL MAY CRY 5: DMC3 BATTLE TRACK 3-PACK
1.59
1.99
DEVIL MAY CRY 5: DMC4 BATTLE TRACK 3-PACK
1.59
1.99
DEVIL MAY CRY 5: GERBERA GP01
0.79
0.99
DEVIL MAY CRY 5: LIVE ACTION CUTSCENES
3.19
3.99
DEVIL MAY CRY 5: MEGA BUSTER
2.39
2.99
DEVIL MAY CRY 5: PASTA BREAKER
0.79
0.99
DEVIL MAY CRY 5: SUPER CHARACTER 3-PACK
6.39
7.99
DEVIL MAY CRY 5: SWEET SURRENDER
2.39
2.99
DEVIL MAY CRY 5: TAUNT TRIO
5.59
6.99
DEVIL MAY CRY 5: V & VERGIL ALT COLORS
1.59
1.99
DEVIL MAY CRY HD COLLECTION
17.99
29.99
DEVIL MAY CRY HD COLLECTION & 4SE BUNDLE
24.74
44.99
DISSIDIA FINAL FANTASY NT
14.99
29.99
DISSIDIA FINAL FANTASY NT DIGITAL DELUXE EDITION
22.49
44.99
DISSIDIA FINAL FANTASY NT: DISSIDIA FINAL FANTASY NT SEASON PASS
14.99
29.99
DMC DEVIL MAY CRY: DEFINITIVE EDITION
13.99
39.99
DRAGON BALL FIGHTERZ
14.99
59.99
DRAGON BALL FIGHTERZ – FIGHTERZ EDITION
28.49
94.99
DRAGON BALL FIGHTERZ – ULTIMATE EDITION
32.99
109.99
DRAGON BALL FIGHTERZ: DRAGON BALL FIGHTERZ – FIGHTERZ PASS
17.49
34.99
DRAGON BALL FIGHTERZ: DRAGON BALL FIGHTERZ – FIGHTERZ PASS 2
12.49
24.99
DRAGON BALL XENOVERSE 2
14.99
59.99
DRAGON BALL XENOVERSE 2 – EXTRA PASS
14.99
29.99
DRAGON BALL XENOVERSE 2: DRAGON BALL XENOVERSE 2: SEASON PASS
14.99
29.99
DRAGON BALL XENOVERSE 2: TP MEDAL 1000
4.89
6.99
DRAGON BALL XENOVERSE 2: TP MEDAL 200
1.39
1.99
DRAGON BALL XENOVERSE 2: TP MEDAL 2000
9.09
12.99
DRAGON BALL XENOVERSE 2: TP MEDAL 500
2.79
3.99
DRAGON BALL XENOVERSE 2: TP MEDAL 5000
20.99
29.99
DRAGON BALL XENOVERSE SUPER BUNDLE
21.24
84.99
DRAGON QUEST BUILDERS
29.99
59.99
DRAGON QUEST BUILDERS 2 – DIGITAL DELUXE EDITION
63.99
79.99
DRAGON QUEST BUILDERS 2 – DIGITAL EDITION
47.99
59.99
DRAGON QUEST HEROES II EXPLORERS EDITION
29.99
59.99
DRAGON QUEST HEROES: DIGITAL SLIME BUNDLE
2.49
4.99
DRAGON QUEST HEROES: THE WORLD TREE'S WOE AND THE BLIGHT BELOW
19.99
39.99
DYING : REBORN STANDARD (S)
7.99
19.99
DYING : REBORN VR (VR)
3.99
9.99
DYING: REBORN ULTIMATE BUNDLE
9.99
24.99
EARTH DEFENSE FORCE 4.1: THE SHADOW OF NEW DESPAIR
13.99
19.99
EXIST ARCHIVE: THE OTHER SIDE OF THE SKY
17.99
59.99
FAIRY FENCER F: ADVENT DARK FORCE
8.99
29.99
FATE EXTELLA: THE UMBRAL STAR
17.99
29.99
FIGHTING EX LAYER (STANDARD VERSION)
23.99
39.99
FINAL FANTASY IX DIGITAL EDITION
14.69
20.99
FINAL FANTASY TYPE-0 HD
9.99
19.99
FINAL FANTASY VII
11.19
15.99
FINAL FANTASY X/X-2 HD REMASTER
14.99
24.99
FINAL FANTASY XII THE ZODIAC AGE
29.99
49.99
FINAL FANTASY XV MULTIPLAYER: COMRADES
4.99
9.99
FINAL FANTASY XV POCKET EDITION HD
14.99
29.99
FINAL FANTASY XV ROYAL EDITION
24.99
49.99
FINAL FANTASY XV: FFXV EPISODE ARDYN
4.99
9.99
FINAL FANTASY XV: FFXV EPISODE PROMPTO
2.49
4.99
FINAL FANTASY XV: FINAL FANTASY XV ROYAL PACK
7.49
14.99
FINAL FANTASY XV: FINAL FANTASY XV SEASON PASS
7.49
14.99
FINAL FANTASY XV: FINAL FANTASY XV: EPISODE GLADIOLUS
2.49
4.99
FINAL FANTASY XV: FINAL FANTASY XV: EPISODE IGNIS
2.49
4.99
FIRE PRO WRESTLING WORLD
24.99
49.99
FIRE PRO WRESTLING WORLD DELUXE EDITION
35.99
89.99
FIRE PRO WRESTLING WORLD FIRE PROMOTER DLC
9.99
19.99
FIRE PRO WRESTLING WORLD NJPW 2018 Wrestler Pack
3.99
7.99
FIRE PRO WRESTLING WORLD: NJPW 2017 JUNIOR HEAVYWEIGHT
7.49
14.99
GOD EATER 2: RAGE BURST
14.99
59.99
GOD EATER 3
29.99
59.99
GRADIUS COLLECTION
5.99
19.99
GUILTY GEAR XRD -REVELATOR-
9.99
19.99
GUILTY GEAR XRD REV 2
11.99
39.99
GUNDAM VERSUS
14.99
59.99
HATSUNE MIKU: PROJECT DIVA X (VR)
17.99
29.99
HEROINE ANTHEM ZERO EPISODE 1
6.49
12.99
HIDDEN DRAGON LEGEND
7.99
19.99
I AM SETSUNA
27.99
39.99
JUDGMENT
38.99
59.99
JUMP FORCE
29.99
59.99
JUMP FORCE – DELUXE EDITION
53.99
89.99
JUMP FORCE – ULTIMATE EDITION
59.99
99.99
JUST CAUSE 4 – EXPANSION PASS
17.99
29.99
JUST CAUSE 4 – GOLD EDITION
29.69
89.99
JUST CAUSE 4 – STANDARD EDITION
19.79
59.99
KINGDOM HEARTS ALL-IN-ONE PACKAGE
49.99
99.99
KINGDOM HEARTS HD 1.5 +2.5 REMIX
24.99
49.99
KINGDOM HEARTS HD 2.8 FINAL CHAPTER PROLOGUE
29.99
59.99
KINGDOM HEARTS III
29.99
59.99
KOI: GAME AND EXCLUSIVE THEME BUNDLE
3.99
9.99
LEFT ALIVE DAY ONE EDITION
29.99
59.99
LET IT DIE – 10 D METALS + 7,000 KILL COINS
2.49
4.99
LET IT DIE – 160 D METALS + 90,000 KILL COINS
30.49
60.99
LET IT DIE – 280 D METALS + 150,000 KILL COINS
49.99
99.99
LET IT DIE – 30 D METALS + 20,000 KILL COINS
6.99
13.99
LET IT DIE – 80 D METALS + 50,000 K COINS
16.49
32.99
LET IT DIE – STARTER PACK
6.99
13.99
LET IT DIE – UNCAPPING PACK: BRONZE
16.49
32.99
LET IT DIE – UNCAPPING PACK: GOLD
49.99
99.99
LET IT DIE – UNCAPPING PACK: SILVER
30.49
60.99
LET IT DIE – UNCLE PRIME SPECIAL EDITION PACK
29.99
59.99
LET IT DIE: 10 DEATH METALS
2.49
4.99
LET IT DIE: 160 DEATH METALS
30.49
60.99
LET IT DIE: 280 DEATH METALS
49.99
99.99
LET IT DIE: 30 DEATH METALS
6.99
13.99
LET IT DIE: 80 DEATH METALS
16.49
32.99
LIFE IS STRANGE 2 – EPISODE 1
3.99
7.99
LIFE IS STRANGE 2 COMPLETE SEASON
26.79
39.99
LIGHT TRACER (VR)
5.99
14.99
LITTLE DRAGONS CAFÉ
17.99
59.99
LOST SPHEAR
29.99
49.99
MARBLE DUEL
10.49
14.99
MEGA MAN 30TH ANNIVERSARY BUNDLE
40.19
59.99
MEGA MAN LEGACY COLLECTION
5.99
14.99
MEGA MAN LEGACY COLLECTION 1 & 2 COMBO PACK
14.99
29.99
MEGA MAN LEGACY COLLECTION 2
9.99
19.99
MEGA MAN X LEGACY COLLECTION
11.99
19.99
MEGA MAN X LEGACY COLLECTION 1+2
23.99
39.99
MEGA MAN X LEGACY COLLECTION 2
11.99
19.99
MEGADIMENSION NEPTUNIA VII
5.99
29.99
MEGADIMENSION NEPTUNIA VIIR
13.99
39.99
MEGAMAN 11
20.09
29.99
METAL GEAR SOLID V: GROUND ZEROES
3.99
19.99
METAL GEAR SOLID V: THE DEFINITIVE EXPERIENCE
9.99
19.99
METAL GEAR SOLID V: THE PHANTOM PAIN
4.99
19.99
METAL GEAR SOLID VR MISSIONS (PSONE CLASSIC)
2.99
5.99
METAL GEAR SURVIVE
11.99
29.99
MONSTER HUNTER: WORLD – COMPLETE GESTURE PACK
20.99
24.99
MONSTER HUNTER: WORLD – COMPLETE HANDLER COSTUME PACK
11.99
14.99
MONSTER HUNTER: WORLD – COMPLETE STICKER PACK
7.99
9.99
MONSTER HUNTER: WORLD – DLC COLLECTION
34.79
39.99
MONSTER OF THE DEEP: FINAL FANTASY XV
14.99
29.99
MORTAL BLITZ (VR)
13.99
19.99
MY HERO ONE'S JUSTICE
23.99
59.99
NARUTO SHIPPUDEN: ULTIMATE NINJA STORM 2
9.99
19.99
NARUTO SHIPPUDEN: ULTIMATE NINJA STORM 3 FULL BURST
9.99
19.99
NARUTO SHIPPUDEN: ULTIMATE NINJA STORM 4
14.99
59.99
NARUTO SHIPPUDEN: ULTIMATE NINJA STORM 4 – DELUXE EDITION
19.99
79.99
NARUTO SHIPPUDEN: ULTIMATE NINJA STORM 4 ROAD TO BORUTO
14.99
49.99
NARUTO SHIPPUDEN: ULTIMATE NINJA STORM LEGACY
20.99
69.99
NARUTO SHIPPUDEN: ULTIMATE NINJA STORM TRILOGY
19.99
39.99
NARUTO TO BORUTO SHINOBI STRIKER
14.99
59.99
NARUTO TO BORUTO: SHINOBI STRIKER DELUXE EDITION
22.49
89.99
NARUTO: ULTIMATE NINJA STORM
9.99
19.99
NI NO KUNI II: REVENANT KINGDOM
20.39
59.99
NI NO KUNI II: REVENANT KINGDOM – DELUXE EDITION
27.19
79.99
NI NO KUNI II: REVENANT KINGDOM – LAIR OF THE LOST LORD
4.99
9.99
NI NO KUNI II: REVENANT KINGDOM – SEASON PASS
9.99
19.99
NI NO KUNI II: REVENANT KINGDOM – TALE OF TIMELESS TOME
7.49
14.99
NOBUNAGA'S AMBITION: TAISHI
41.99
59.99
NOBUNAGA'S AMBITION: TAISHI DELUXE EDITION
62.99
89.99
OASIS GAMES HORROR VR BUNDLE
7.99
19.99
OASIS GAMES SHOOTER VR BUNDLE
9.99
24.99
ODIN SPHERE LEIFTHRASIR
23.99
59.99
OMEGA QUINTET
5.99
19.99
ONE PIECE BURNING BLOOD
14.99
59.99
ONE PIECE BURNING BLOOD – GOLD EDITION
21.12
84.49
ONE PIECE GRAND CRUISE (VR)
4.99
9.99
ONE PIECE WORLD SEEKER
29.99
59.99
ONE PIECE WORLD SEEKER DELUXE EDITION
53.99
89.99
ONE PIECE: PIRATE WARRIORS 3
14.99
59.99
OVERRIDE: MECH CITY BRAWL
11.99
29.99
OVERRIDE: MECH CITY BRAWL – SEASON PASS
5.99
14.99
OVERRIDE: MECH CITY BRAWL – SUPER CHARGED MEGA EDITION
15.99
39.99
PAPER DOLLS (VR)
11.89
16.99
PERSONA 5: ULTIMATE CORRECT
50.99
84.99
PIXEL GEAR (VR)
4.39
10.99
PIXELJUNK MONSTERS 2
5.99
14.99
PIXELJUNK MONSTERS 2 DELUXE EDITION
4.39
21.99
PSYCHO-PASS: MANDATORY HAPPINESS
14.99
29.99
R-TYPE DIMENSIONS EX
8.99
14.99
RAINBOW MOON
4.49
14.99
RAINBOW SKIES
11.99
29.99
RESIDENT EVIL (PS4 HD REMASTER)
7.99
19.99
RESIDENT EVIL 0
7.99
19.99
RESIDENT EVIL 2
35.99
59.99
RESIDENT EVIL 2 DELUXE EDITION
41.99
69.99
RESIDENT EVIL 4
7.99
19.99
RESIDENT EVIL 5
7.99
19.99
RESIDENT EVIL 6
7.99
19.99
RESIDENT EVIL 7 BIOHAZARD
14.99
19.99
RESIDENT EVIL 7 BIOHAZARD GOLD EDITION
24.99
49.99
RESIDENT EVIL REVELATIONS
4.99
19.99
RESIDENT EVIL REVELATIONS 1 & 2 BUNDLE
15.99
39.99
RESIDENT EVIL REVELATIONS 2 DELUXE EDITION
11.99
29.99
RESIDENT EVIL TRIPLE PACK
29.74
59.49
RESIDENT EVIL: DELUXE ORIGINS BUNDLE
15.99
39.99
ROMANCE OF THE THREE KINGDOMS 13
29.99
59.99
ROMANCING SAGA 2
18.74
24.99
RTK13: FAME AND STRATEGY EXPANSION PACK
20.99
34.99
RTK13: FAME AND STRATEGY EXPANSION PACK BUNDLE
41.99
69.99
SAINT SEIYA SOLDIERS' SOUL
14.99
59.99
SALARY MAN ESCAPE
6.39
15.99
SCHOOL GIRL/ZOMBIE HUNTER
11.99
39.99
SECRET OF MANA
19.99
39.99
SEKIRO
44.99
59.99
SENRAN KAGURA ESTIVAL VERSUS
17.99
29.99
SENRAN KAGURA PEACH BEACH SPLASH
17.99
29.99
SENRAN KAGURA PEACH BEACH SPLASH – SEXY SOAKER LIMITED EDITION
23.99
39.99
SFV: ARCADE DELUXE EDITION
20.29
69.99
SHADOW OF THE TOMB RAIDER
19.79
59.99
SHADOW OF THE TOMB RAIDER – CROFT EDITION
29.69
89.99
SHADOW OF THE TOMB RAIDER – DIGITAL DELUXE EDITION
23.09
69.99
SHENMUE I & II
17.99
29.99
SHINING RESONANCE REFRAIN
24.99
49.99
SOULCALIBUR VI
20.39
59.99
SOULCALIBUR VI – DLC1: TIRA
2.99
5.99
SOULCALIBUR VI – DLC2: 2B
2.99
5.99
SOULCALIBUR VI – DLC3: CREATION PARTS SET A
2.99
5.99
SOULCALIBUR VI – DLC4: AMY
2.99
5.99
SOULCALIBUR VI – DLC5: CREATION PARTS SET B
2.99
5.99
SOULCALIBUR VI DELUXE EDITION
30.59
89.99
SOULCALIBUR VI SEASON PASS
14.99
29.99
STAR OCEAN : INTEGRITY AND FAITHLESSNESS
11.99
29.99
STAR OCEAN: THE LAST HOPE – 4K AND FULL HD REMASTER
10.49
20.99
STAR OCEAN: TILL THE END OF TIME
10.49
20.99
STEINSGATE ELITE
23.99
59.99
STREET FIGHTER V
7.99
19.99
STREET FIGHTER V – ARCADE EDITION
15.19
39.99
STREET FIGHTER: 30TH ANNIVERSARY COLLECTION
19.99
39.99
SUPER BOMBERMAN R
13.59
39.99
SUPER NEPTUNIA RPG
24.99
49.99
SWORD ART ONLINE RE: HOLLOW FRAGMENT
4.99
19.99
SWORD ART ONLINE: FATAL BULLET
11.99
39.99
SWORD ART ONLINE: FATAL BULLET COMPLETE EDITION
27.99
69.99
SWORD ART ONLINE: FATAL BULLET COMPLETE UPGRADE
19.99
39.99
SWORD ART ONLINE: FATAL BULLET DISSONANCE OF THE NEXUS
9.99
19.99
SWORD ART ONLINE: HOLLOW REALIZATION
14.99
59.99
SWORD ART ONLINE: HOLLOW REALIZATION DELUXE EDITION
21.24
84.99
SWORD ART ONLINE: LOST SONG
14.99
59.99
TAIKO NO TATSUJIN: DRUM SESSION!
19.99
49.99
TALES OF BERSERIA
14.99
59.99
TALES OF VESPERIA: DEFINITIVE EDITION
24.99
49.99
TEKKEN 7
14.99
49.99
TEKKEN 7 – DLC1: ULTIMATE TEKKEN BOWL & ADDITIONAL COSTUMES
6.99
13.99
TEKKEN 7 – DLC2: GEESE HOWARD PACK
3.99
7.99
TEKKEN 7 – DLC3: NOCTIS LUCIS CAELUM PACK
3.99
7.99
TEKKEN 7 – DLC4: ANNA WILLIAMS
2.99
5.99
TEKKEN 7 – DLC5: LEI WULONG
2.99
5.99
TEKKEN 7 – DLC6: CRAIG MARDUK
2.99
5.99
TEKKEN 7 – DLC7: ARMOR KING
2.99
5.99
TEKKEN 7 – DLC8: JULIA CHANG
2.99
5.99
TEKKEN 7 – DLC9: NEGAN
3.99
7.99
TEKKEN 7 – ELIZA
2.49
4.99
TEKKEN 7 – REMATCH EDITION
31.99
79.99
TEKKEN 7 – SEASON PASS 1
12.49
24.99
TEKKEN 7 – SEASON PASS 2
14.99
29.99
TEKKEN 7 – ULTIMATE EDITION
39.99
99.99
THE 25TH WARD: THE SILVER CASE
14.99
29.99
THE DOOR (VR)
26.24
34.99
THE GIRL AND THE ROBOT
11.24
14.99
THE LAST REMNANT REMASTERED
15.99
19.99
THE LIAR PRINCESS AND THE BLIND PRINCE
13.99
19.99
THE LOST CHILD
24.99
49.99
THE QUIET MAN
7.49
14.99
THE SEVEN DEADLY SINS
14.99
59.99
THE SILVER CASE
9.99
19.99
THE WIZARDS (VR)
17.49
24.99
THUMPER (VR)
9.99
19.99
TOKYO TWILIGHT GHOST HUNTERS DAYBREAK: SPECIAL GIGS
14.99
49.99
TOKYO XANADU EX+
11.99
59.99
TOUHOU GENSO RONDO: BULLET BALLET
9.99
19.99
ULTRA STREET FIGHTER IV
12.49
24.99
UNDER NIGHT IN-BIRTH EXE:LATE[ST]
14.99
49.99
VALKYRIA CHRONICLES 4
20.99
29.99
VALKYRIA CHRONICLES 4: COMPLETE EDITION
34.99
49.99
VICTOR VRAN
11.99
19.99
WARFACE HANDGUN PACK
2.99
4.99
WARFACE: NUCLEAR PACK
5.99
9.99
WARFACE: STARTER EDITION
8.99
14.99
WARHAMMER 40000: SPACE WOLF
20.99
29.99
WEEPING DOLL (VR)
3.99
9.99
WINDJAMMERS
7.49
14.99
WONDER BOY: THE DRAGON'S TRAP
9.99
19.99
WORLD OF FINAL FANTASY
12.49
24.99
WORLD OF FINAL FANTASY MAXIMA UPGRADE DLC
7.99
15.99
YAKUZA 6: THE SONG OF LIFE
19.99
39.99
YAKUZA KIWAMI
9.99
19.99
YAKUZA KIWAMI 2
24.99
49.99
YS ORIGIN (S)
9.99
19.99
ZANKI ZERO: LAST BEGINNING
29.99
59.99
ZERO ESCAPE ZERO TIME DILEMMA
11.99
39.99
ZERO ESCAPE: THE NONARY GAMES
14.99
49.99
ZONE OF THE ENDERS: THE 2ND RUNNER – M∀RS (VR)
11.99
29.99
PS3 Games – All Lines, Prices & Discounts

Title
$Sale
$Original
CASTLEVANIA CHRONICLES (PSONE CLASSIC)
1.79
5.99
CASTLEVANIA: LAMENT OF INNOCENCE (PS2 CLASSIC)
2.99
9.99
CASTLEVANIA: SOTN (PSONE CLASSIC)
2.99
9.99
CHAMELEON
1.59
3.99
CONTRA: SHATTERED SOLDIER (PS2 CLASSIC)
2.99
9.99
CRYSTAL DEFENDERS
4.99
9.99
DEMON'S SOULS
7.99
19.99
DENGEKI BUNKO: FIGHTING CLIMAX
9.99
19.99
DRAGON'S CROWN
11.99
29.99
DRAKENGARD 3
7.49
14.99
ELEVATOR ACTION DELUXE
4.99
9.99
ELMINAGE ORIGINAL
5.99
14.99
FINAL FANTASY IX (PSONE CLASSIC)
4.99
9.99
FINAL FANTASY ORIGINS (PSONE CLASSIC)
4.99
9.99
Final Fantasy Tactics
4.99
9.99
FINAL FANTASY V (PSONE CLASSIC)
4.99
9.99
FINAL FANTASY VI (PSONE CLASSIC)
4.99
9.99
FINAL FANTASY VII (PSONE CLASSIC)
4.99
9.99
FINAL FANTASY VIII (PSONE CLASSIC)
4.99
9.99
FINAL FANTASY X/X-2 HD REMASTER
12.49
24.99
FINAL FANTASY XIII-2
7.49
14.99
FROGGER: HYPER ARCADE EDITION
2.99
9.99
FRONT MISSION 3
2.99
5.99
GRADIUS V (PS2 CLASSIC)
2.99
9.99
HARD CORPS: UPRISING
4.49
14.99
HATSUNE MIKU: PROJECT DIVA F 2ND
17.49
24.99
LEGEND OF MANA (PSONE CLASSIC)
2.99
5.99
LIGHTNING RETURNS: FINAL FANTASY XIII
9.99
19.99
LOST DIMENSION
7.99
19.99
MAMOROKUN CURSE!
1.99
4.99
MEGA MAN 8 (PSONE CLASSIC)
2.99
5.99
MEGA MAN 9 & 10 COMBO PACK
4.49
14.99
MEGA MAN LEGENDS (PSONE CLASSIC)
2.99
9.99
MEGA MAN LEGENDS 2 (PSONE CLASSIC)
2.99
9.99
MEGA MAN X4 (PSONE CLASSIC)
2.99
5.99
MEGA MAN X5 (PSONE CLASSIC)
2.99
5.99
MEGAMAN 10
2.99
9.99
MEGAMAN 9
2.99
9.99
METAL GEAR RISING: REVENGEANCE
4.99
19.99
METAL GEAR SOLID HD COLLECTION
9.99
39.99
METAL GEAR SOLID V: GROUND ZEROES
3.99
19.99
METAL GEAR SOLID V: THE PHANTOM PAIN
4.99
19.99
NEO CONTRA (PS2 CLASSIC)
2.99
9.99
NIGHTS INTO DREAMS…
4.99
9.99
ODIN SPHERE LEIFTHRASIR
19.99
49.99
PERSONA 4 ARENA
8.99
14.99
PERSONA 4 ARENA ULTIMATE EDITION
14.99
29.99
PERSONA 4 ARENA ULTIMAX
11.99
19.99
PERSONA 4 ARENA ULTIMAX ULTIMATE EDITION
39.99
79.99
PERSONA 5 ULTIMATE EDITION
50.99
84.99
RAIDEN IV: OVERKILL
5.99
14.99
RAINBOW MOON
4.49
14.99
RAINBOW SKIES
11.99
29.99
RESIDENT EVIL
5.99
19.99
RESIDENT EVIL 0
4.99
19.99
RESIDENT EVIL 2 (PSONE CLASSIC)
2.99
5.99
RESIDENT EVIL 3: NEMESIS (PSONE CLASSIC)
2.99
5.99
RESIDENT EVIL 4
4.99
19.99
RESIDENT EVIL 5 GOLD EDITION
10.49
29.99
RESIDENT EVIL 6
4.99
19.99
RESIDENT EVIL 6 ULTIMATE EDITION
9.79
27.99
RESIDENT EVIL CODE: VERONICA X
7.39
19.99
RESIDENT EVIL DIRECTOR'S CUT (PSONE CLASSIC)
2.99
9.99
RESIDENT EVIL FRANCHISE PACK
23.99
59.99
RESIDENT EVIL HD BUNDLE
8.99
29.99
RESIDENT EVIL OPERATION RACCOON CITY
3.99
19.99
RESIDENT EVIL REVELATIONS
4.99
19.99
RESIDENT EVIL REVELATIONS 2 DELUXE EDITION
8.99
29.99
RESIDENT EVIL: CHRONICLES HD COLLECTION
8.09
26.99
RESIDENT EVIL: DELUXE ORIGINS BUNDLE
9.99
39.99
RESIDENT EVIL: THE DARKSIDE CHRONICLES
2.99
14.99
RESIDENT EVIL: THE UMBRELLA CHRONICLES
2.99
14.99
RESONANCE OF FATE
7.99
19.99
SILENT HILL (PSONE CLASSIC)
1.79
5.99
SPACE INVADERS INFINITY GENE
4.99
9.99
SUIKODEN (PSONE CLASSIC)
1.79
5.99
SUIKODEN 3 (PS2 CLASSIC)
2.99
9.99
SUIKODEN IV (PS2 CLASSIC)
2.99
9.99
SUIKODENII (PSONE CLASSIC)
2.99
9.99
TEARS TO TIARA II: HEIR OF THE OVERLORD
5.99
19.99
THE AWAKENED FATE ULTIMATUM
9.99
19.99
THE GUIDED FATE PARADOX
7.49
14.99
UNDER NIGHT IN-BIRTH EXE:LATE[ST]
11.99
39.99
UNDERGARDEN
2.49
4.99
WARRIORS OF THE LOST EMPIRE
2.39
5.99
PS Vita Games – All Lines, Prices & Discounts

Title
$Sale
$Original
2064: READ ONLY MEMORIES
9.99
19.99
7'SCARLET
11.99
39.99
ADVENTURES OF MANA
4.99
9.99
AEGIS OF EARTH: PROTONOVUS ASSAULT
8.99
29.99
ARMY CORPS OF HELL
4.99
9.99
BAD APPLE WARS
11.99
39.99
CODE REALIZE FUTURE BLESSINGS
11.99
39.99
CODE: REALIZE ~GUARDIAN OF REBIRTH~
11.99
39.99
CODE: REALIZE ~WINTERTIDE MIRACLES~
15.99
39.99
COLLAR X MALICE
11.99
39.99
CONCEPTION II: CHILDREN OF THE SEVEN STARS
9.99
19.99
CRIMINAL GIRLS 2: PARTY FAVORS
9.99
19.99
CRIMINAL GIRLS: INVITE ONLY
9.99
19.99
CRYPT OF THE NECRODANCER
8.99
14.99
Crystal Defenders
4.99
9.99
DENGEKI BUNKO: FIGHTING CLIMAX
9.99
19.99
DISSIDIA 012 PROLOGUS FINAL FANTASY
7.49
14.99
DISSIDIA 012[DUODECIM] FINAL FANTASY
4.99
9.99
DISSIDIA FINAL FANTASY
4.99
9.99
DRAGON QUEST BUILDERS
19.99
39.99
DRAGON'S CROWN
11.99
29.99
DRIVE GIRLS
8.99
29.99
DUNGEON TRAVELERS 2: THE ROYAL LIBRARY & THE MONSTER SEAL
7.99
19.99
DYING : REBORN
5.99
14.99
EARTH DEFENSE FORCE 2: INVADERS FROM PLANET SPACE
7.99
19.99
EXIST ARCHIVE: THE OTHER SIDE OF THE SKY
11.99
39.99
FATE EXTELLA: THE UMBRAL STAR
11.99
19.99
FINAL FANTASY III
4.99
9.99
FINAL FANTASY IV: THE COMPLETE COLLECTION
7.49
14.99
FINAL FANTASY TACTICS: THE WAR FO THE LIONS
4.99
9.99
FINAL FANTASY X/X-2 HD REMASTER
12.49
24.99
HAKUOKI: EDO BLOSSOMS
2.99
9.99
HAKUOKI: KYOTO WINDS
2.99
9.99
HATSUNE MIKU PROJECT DIVA F 2ND
13.99
19.99
HATSUNE MIKU: PROJECT DIVA X
17.99
29.99
HYPERDIMENSION NEPTUNIA REBIRTH1
5.99
19.99
HYPERDIMENSION NEPTUNIA REBIRTH2
5.99
19.99
HYPERDIMENSION NEPTUNIA REBIRTH3: V GENERATION
5.99
19.99
JET SET RADIO
4.99
9.99
LORD OF ARCANA
4.99
9.99
LOST DIMENSION
7.99
19.99
MARY SKELTER: NIGHTMARES
3.99
9.99
MEGA MAN MAVERICK HUNTER X
2.99
9.99
MEGATAGMENSION BLANC + NEPTUNE VS ZOMBIES
5.99
19.99
MEIQ: LABYRINTH OF DEATH
3.99
9.99
MIND ZERO
7.49
24.99
MURAMASA REBIRTH COMPLETE COLLECTION
10.49
34.99
MURAMASA REBIRTH GENROKU LEGENDS COLLECTION
2.99
14.99
NORN9: VAR COMMONS
11.99
39.99
ODIN SPHERE LEIFTHRASIR
15.99
39.99
OPERATION ABYSS: NEW TOKYO LEGACY
13.99
19.99
OPERATION BABEL: NEW TOKYO LEGACY
13.99
19.99
PENNY-PUNCHING PRINCESS
19.99
39.99
PERIOD CUBE: SHACKLES OF AMADEUS
11.99
39.99
PERSONA 4: DANCING ALL NIGHT
12.49
24.99
PERSONA 4: GOLDEN
9.99
19.99
PSYCHEDELICA OF THE ASHEN HAWK
11.99
39.99
PSYCHEDELICA OF THE BLACK BUTTERFLY
11.99
39.99
PSYCHO-PASS: MANDATORY HAPPINESS
14.99
29.99
RAINBOW MOON
4.49
14.99
RAINBOW SKIES
11.99
29.99
RESIDENT EVIL REVELATIONS 2
5.99
29.99
ROMANCING SAGA 2
18.74
24.99
SECRET OF MANA
14.99
29.99
SENRAN KAGURA: ESTIVAL VERSUS
11.99
19.99
SHIREN THE WANDERER: THE TOWER OF FORTUNE AND THE DICE OF FATE
11.99
39.99
SORCERY SAGA: CURSE OF THE GREAT CURRY GOD
4.49
14.99
SPIRIT HUNTER: DEATH MARK
15.99
39.99
SPIRIT HUNTER: DEATH MARK ADDITIONAL CHAPTER RED RIDING HOOD
3.99
9.99
STRANGER OF SWORD CITY
9.99
19.99
TACTICS OGRE: LET US CLING TOGETHER
4.99
9.99
THE LONGEST FIVE MINUTES
19.99
39.99
THE LOST CHILD
24.99
49.99
TOKYO TATTOO GIRLS
9.99
19.99
TOKYO TWILIGHT GHOST HUNTERS DAYBREAK: SPECIAL GIGS
11.99
39.99
TOKYO XANADU
7.99
39.99
UNDER NIGHT IN-BIRTH EXE:LATE[ST]
11.99
39.99
UTAWARERUMONO: MASK OF DECEPTION
14.99
29.99
UTAWARERUMONO: MASK OF DECEPTION AND TRUTH BUNDLE
24.99
49.99
UTAWARERUMONO: MASK OF TRUTH
14.99
29.99
VALKYRIA REVOLUTION
11.99
29.99
WORLD OF FINAL FANTASY
19.99
39.99
YS ORIGIN
9.99
19.99
ZERO ESCAPE: THE NONARY GAMES
11.99
39.99
ZERO ESCAPE: ZERO TIME DILEMMA
11.99
39.99
Source: Official PlayStation Blog