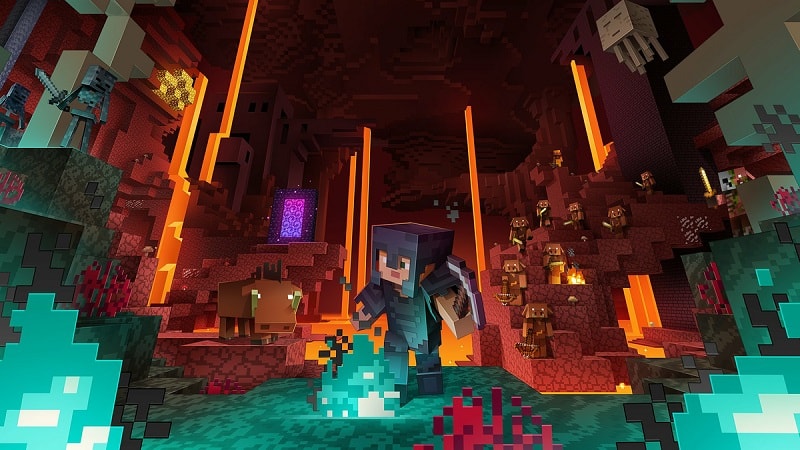 A new Minecraft 2.08 PS4 update has been released today, is available for download and clocks in at 188 MB in size. Seeking to fix some of the issues stemming from the massive Minecraft PS4 Nether Update which was released alongside patch 2.07, you can catch the full patch notes below:
Minecraft 2.08 PS4 Update Released – Full Patch Notes
Minor bug and crash fixes.
And that's it! Sadly, the Minecraft PS4 2.08 update seemingly just fixes some minor bugs and crashes and as such, it's quite common for a developer to release many of these smaller patches after a large update.
In case you missed it, the Minecraft PS4 Nether update brings in all manner of new features to the game as seen below in the official description and trailer:
Mining for gold? Be careful, because the Piglins are watching! These half-pig, half-who-knows-what beasts may attack on sight or barter with you – depending on whether you impress them. Think of them as the popular kids of the Nether, but with swords instead of iPhones.
Did you hear that? No, it's not a Zombified Piglin, it's my stomach. Forgetting to pack your lunch in the Nether can be a fatal mistake, but that's about to change – as long as you're tough enough to take on a Hoglin. As cruel fate has it, these creatures are both highly aggressive and the main source of food in the Nether. Not only do their tusks look intimidating, but they can also push you around quite a bit. It may sound relatively harmless, but remember: you're most likely surrounded by lava.
Want a change in scenery? No need to leave the Nether, because now you can explore the Soulsand Valleys, and the Crimson and Warped Forests. Each of these biomes comes with new blocks, plants, fungi, and items that you can discover and experiment with to your heart's desire.
Need an upgrade to survive in this significantly more hostile environment? Check out Netherite – the newest and toughest material in Minecraft. You're gonna lava it! Again, sorry. Deck yourself in Netherite armor, grab a matching sword, and you'll be A-okay. Maybe.
Source: Mojang