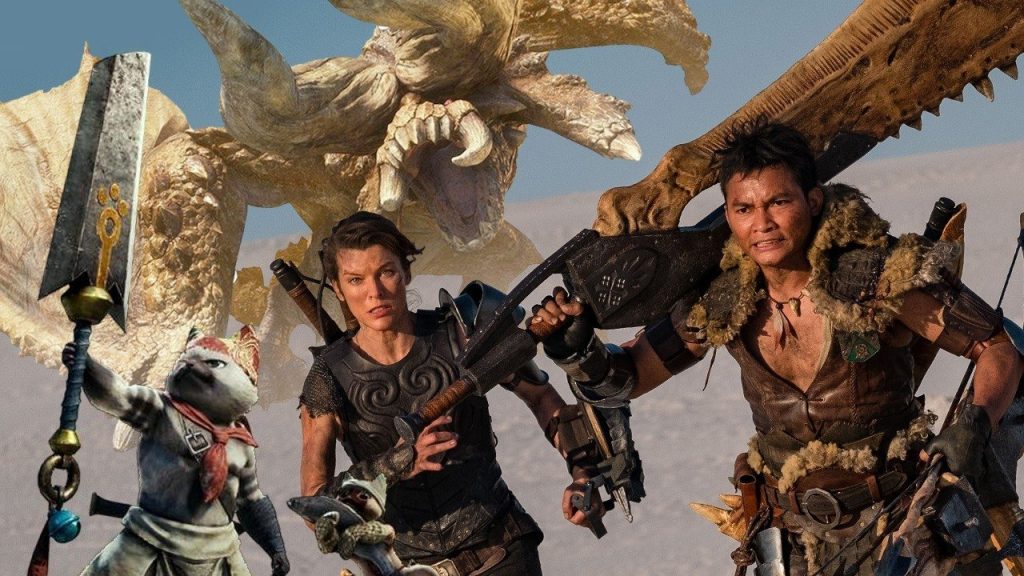 An upcoming teaser trailer for the Monster Hunter movie has leaked today. Thanks to Twitter user @AllGamesDelta_ , we've got our first real look at Capcom's beloved franchise on the big screen. The footage was shown recently at the Shanghai International Film Festival and film off-screen, so it's not the best of quality.
The movie has been dismissed previously on the Internet for some time due to fans of the game not being happy with what they have seen so far. Previous images shown have depicted soldiers in a desert-like setting, making it look somewhat generic in nature and not really identifiable as a Monster Hunter film.
As you can see from the brief footage above, we get our first look at a few monsters from the game series; Diablos and Rathalos are both shown briefly, and they don't look all that bad. As previously confirmed, the Monster Hunter movie will star Milla Jovovich and will be directed by Paul W.S. Anderson, who previously worked on the Resident Evil film franchise.
Films About Games
Let's be honest, you have to travel far and wide to find a film based on a video game that's any good. Silent Hill is probably the best example. Still, we're hoping that Monster Hunter bucks that trend, and a film about hunting massive beasts has every reason to be pretty decent. History tells us different though, many films in the past based on games have been below par when they could have been so good.
The Monster Hunter movie is due to release on September 4, 2020. We are hoping it will be great; however, due to past disappointments, we will temper our expectations accordingly.
The most recent entry in the video game series, Monster Hunter World, was released on PlayStation 4 and Xbox One back in January 2018. Capcom will launch an expansion for the game later this year.