One of the best examples of the Soulslike formula to appear in quite some time, it's certainly fair to say that I fell in love with the boundless, grim charm of Moonscars when it arrived back in September 2022. With Moonscars proudly wearing a range of notable influences on its digital sleeve, I sat down with Alexandru Romanciuc (Lead Programmer), Ștefan Semionov – (Art Director) and Andriy Moroz (Game Designer) from developer Black Mermaid to unearth the source of those influences and what might be next for the talented studio.
PSU: What were other inspirations for Moonscars outside of Dark Souls?
Black Mermaid: Outside of Dark Souls, no matter how many modern indie games we played and got inspired by, at the core of the inspiration there were always other soul-like titles, whether AAA or indies. We just can't go around that. It's what we love playing and what we love doing.
PSU: How did you come up with the gameplay mechanic, where you have to fight Grey Irma's past self before entering the mirror?
Black Mermaid: The topic of "cloning" and using many bodies for one soul was a central part of our lore for a long time, so we wanted to find and implement a mechanic reflecting that. It was something challenging, both from a technical and balancing side, especially considering the Doppelganger has to sometimes use the player's full arsenal, but after a quick prototype, it turned out to be possible, and also fun. The biggest difficulty was to tweak the difficulty of each class of individual Doppelgangers, which is something that we still do after launch.
PSU: Is balancing the level of challenge and difficulty a tricky process, given how each individual player finds challenge subjective?
Black Mermaid: Balancing was and still remains a big concern for us. As developers, we spend a ton of hours testing our own game, and thus are more proficient at combat than an average new player. That induced bias into how a new player would be able to exploit the combat mechanics and what would be their own play style. While the game was in development, we asked numerous friends to playtest the game, and the results were not conclusive: some were really adept at using all combat mechanics, while others preferred some mechanics to others. We had to attempt to make the combat challenging but fair to a wide range of combat styles, for example for players who never use spells, or players who never use the parry, or players who prefer not to Dash. On top of that, add the various effects of amulets, spite bonuses, and the Moonhunger. We are pretty happy with player feedback when the game got released, but we are still going to adjust the difficulty and many other systems. Our active community is really helpful with this.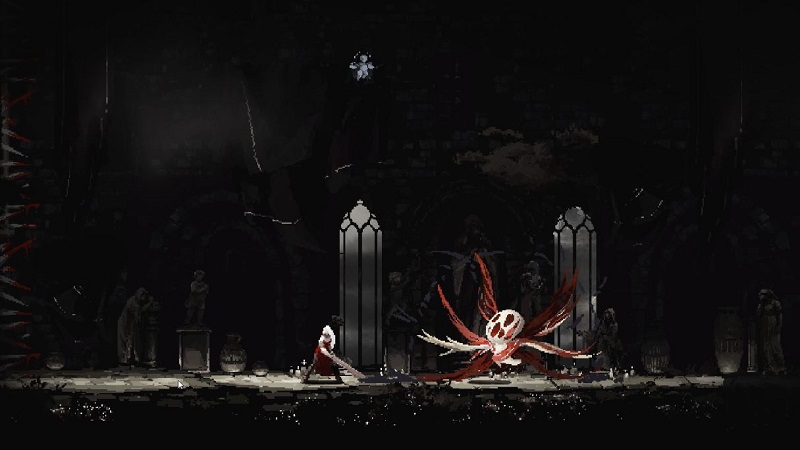 PSU: What was the inspiration for the story of Moonscars?
Black Mermaid: The base of the inspiration served the old legend about the Cypriot Pygmalion and his ivory statue Galatea, which tells the story of a sculptor who fell in love with his creation. We felt that a universe where this concept is explored more, with an added tone of darkness to it, would offer a lot of space to develop interesting ideas. Andriy, the game designer and writer, took the story a step further and added a layer of depth to the narrative in this direction, exploring transhumanism and identity concepts.
PSU: What was the inspiration for Grey Irma? How did you come up with the design for her?
Black Mermaid: The character of Grey Irma was carefully crafted to fit the story we wanted to tell. Interestingly, her visual design was concepted and set a long time ago, from a painting by the game's lead artist, from 2015 (see below). Also when transitioning to the pixel art style, things such as the long white hair, and the long hanging cloth were intentionally preserved as elements that added secondary motions to Irma's movements, adding a touch of realism and satisfying smoothness between animations transitions.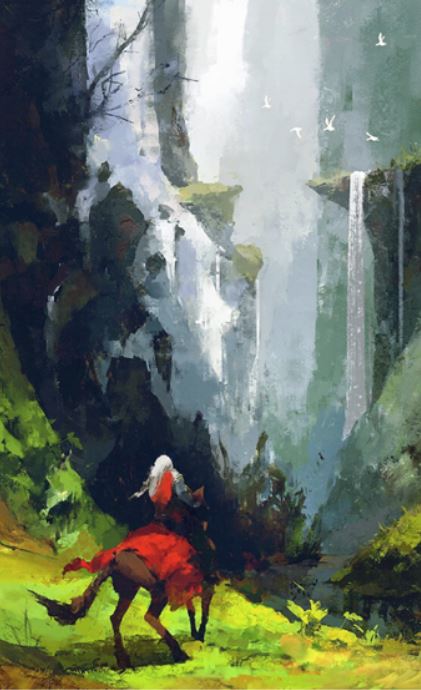 PSU: Are there any witcheries or other abilities that you wanted to add to the game but couldn't?
Black Mermaid: There are several. Some skills, special attacks and also other items that would complement and better the design systems overall. Ultimately we took the decision to stop and focus on the existing and essential ones, polish and balance them properly, especially now, having so much feedback from players, and we plan to add them in the future patches, little by little.
PSU: Which boss fight did you guys find the most difficult to design?
Black Mermaid: From a technical side, probably The Royal Infant- it was one of the most complex ones, having several different projectile attacks, 3 phases, lots of unique attacks. Tuning everything took some time. From a balancing side – Lajos and Red Irma probably were the most difficult. We were continuously tweaking them until the last moments before launch.
PSU: The animations in Moonscars are absolutely stunning. Out of the special attacks, what was your personal favourite?
Black Mermaid: I think across the team, it's the hammer. Personally, I enjoyed the spear a lot. But probably the absolute favourite will be in a future patch (we already have it sketched ;))
PSU: What's next for Black Mermaid? Will there be Moonscars DLC or a sequel perhaps?
Black Mermaid: For now, we'll be focusing on supporting the game until we feel satisfied with the state it's in. We'll see what plans the universe holds for us later. We definitely will work on something new where we could apply all the lessons and experience obtained after releasing this first game.
PSU: Thank you for your time!
Moonscars is out now on PS4 and PS5.
You can catch our Moonscars review here.