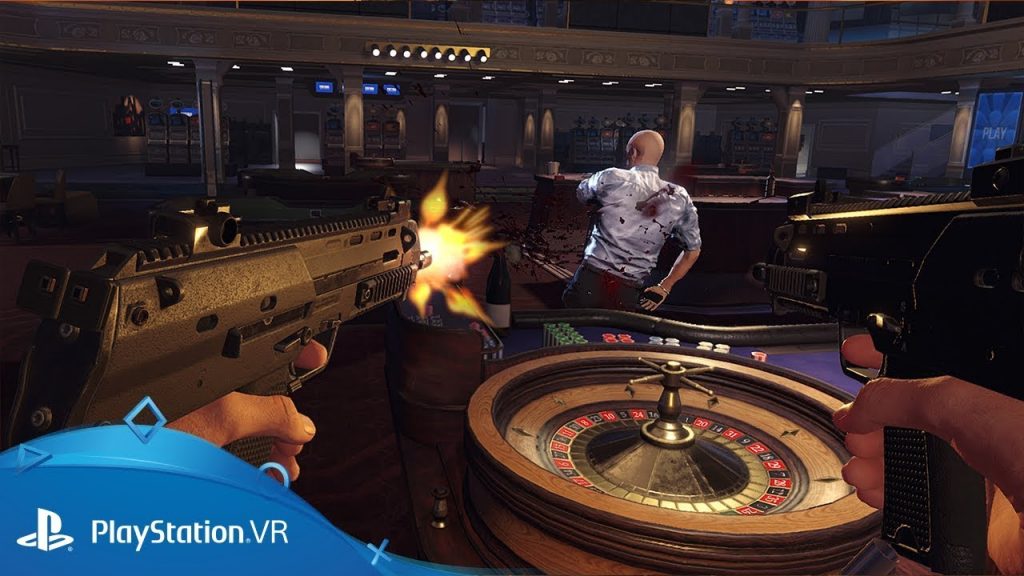 Foul-mouthed cockney shooter Blood & Truth has received a new update that adds a bunch of new content for the PlayStation VR title overnight, including a new Hard Mode for those seeking a bit more of a challenge.
New Blood & Truth Update Detailed
In addition to the new difficultly setting, Sony London Studio has also added five new challenges, as detailed below.
1. Authentic Skeet

In our Authentic Skeet experience, you move between eight stations shooting at high and low clays launched as singles or doubles. 25 is a perfect score but we'll be timing you to sort the hotshots from the wannabes.

2. Extreme Skeet

Move between eight stations on London's rooftops, shooting high and low clay launches as singles and doubles. Look out for additional targets between stations for extra points.

3. Endurance Skeet

Here, clays are launched from high towers. Lose a life for every clay you miss. You have three lives but can earn a lost life back with three consecutive hits. Hit as many clays as you can before you run out of lives.

4. Puzzle Skeet

Hit three targets to release a colored clay. Lights switch on with each hit target tell you which color clay you need to shoot next. Hit the Clay to move on to the next set of targets, miss and you need to hit the three targets again to relaunch the clay.

5. Action Skeet

This is our training challenge, which includes static and launched targets. You can polish your skills in here.
As for Hard Mode, players will have their work cut out for them, with less health to start out with and slower recovery, while your enemies are far more accurate too. As such, Sony has outlined a few handy tips on the PlayStation Blog:
Enemies are a lot more accurate, especially from a distance, so you have less time to peak out from cover to make your shots before you start taking damage – especially when facing multiple enemies.
Try to get in multiple shots before your enemies can react.
Don't forget to shoot enemies on your way into cover.
Prioritize taking out enemies you don't have cover from.
Remember, enemies are less accurate against moving targets…
Read our Blood & Truth review here.
Source: PlayStation Blog