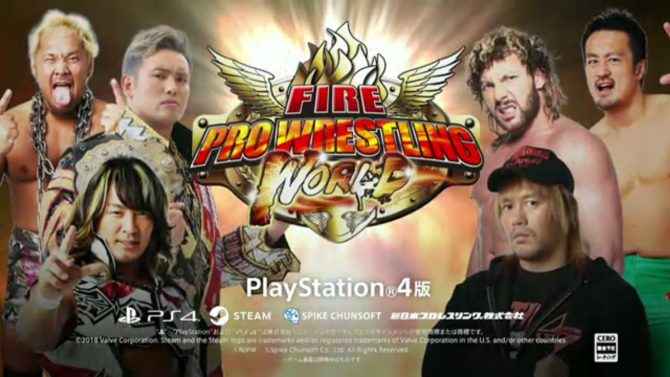 Just before last week's monumentous Wrestle Kingdom 12 event, New Japan Pro Wrestling announced a potentially lucrative deal with Spike Chunsoft. The NJPW roster will appear in Fire Pro Wrestling World, the latest in the cult hit wrestling video game series that hits PS4 this Summer.
Fire Pro Wrestling World comes to PS4 this Summer with NJPW roster.
Other details were scarce, but now the dust has settled from Okada vs. Naito, and Chris Jericho's brutal war with Kenny Omega, a whole bunch of new information has dropped.
A Spike Chunsoft Twitch stream yesterday saw plenty of discussion on Fire Pro Wrestling World and its deal with NJPW. Here's the juiciest details from the stream.
Fire Pro Wrestling World Details
PS4 version will essentially be the 'Game of the Year' edition, featuring all DLC.
Inclusion of NJPW license is to help attract a wider audience.
Despite that, Fire Pro Wrestling World will still be completely customisable as before.
That includes the NJPW roster.
NJPW roster size is undecided as yet.
Crossover overseas wrestlers (Cody Rhodes, Will Opsreay, Young Bucks) likely to feature.
The Story Mode has branching paths based on player choice.
Future DLC could expand Story Mode further to include more weight classes.
Spike Chunsoft aren't ruling out bringing in other wrestling promotions beyond NJPW.
There's still some 'huge news' to come!
Thanks to the lovely Chris Charlton on Twitter for the notes.
So plenty to chew on there then! It's good to see that collaborating with New Japan won't infringe on the depth of customisation that Fire Pro Wrestling has been so revered for. It will be interesting to see what the 'big news' teased in the stream turns out to be. Given the comments about being open to other wrestling promotions joining NJPW in the game, it's possible that Ring of Honor could be involved too.
The wait for Fire Pro Wrestling World's Summer PS4 release gets tougher and tougher.