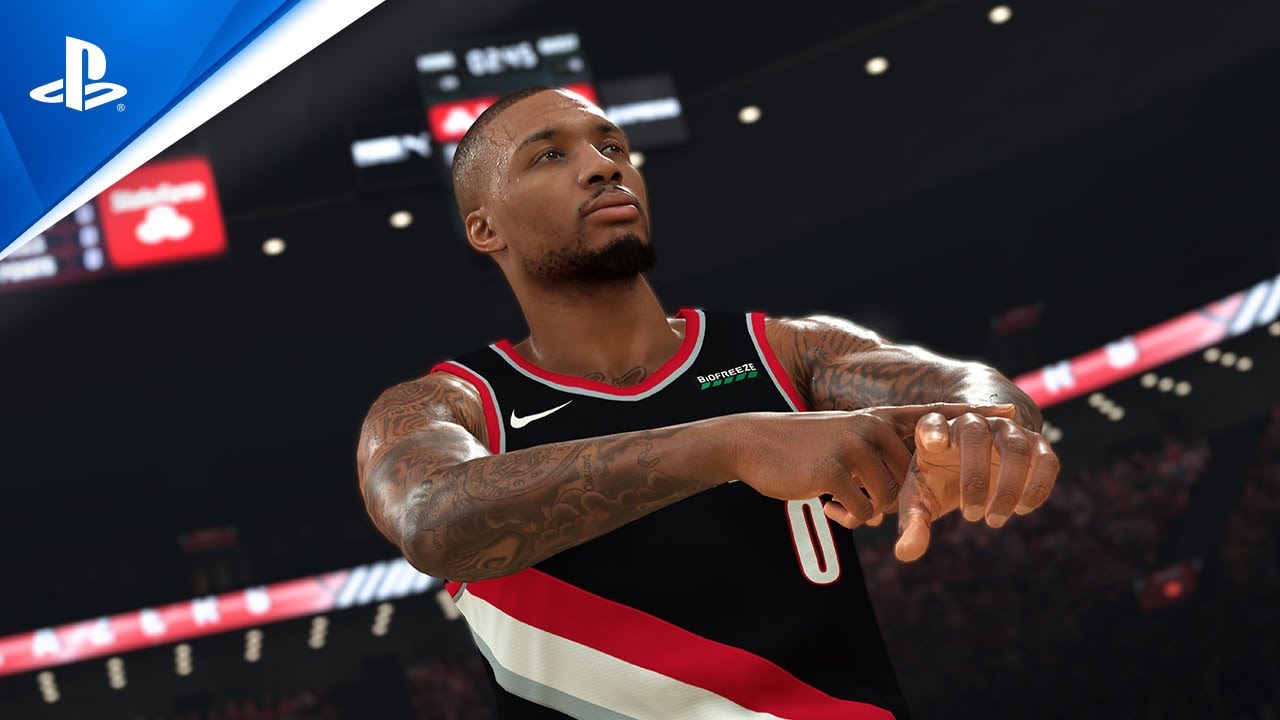 2K Games has unveiled the latest chapter in its NBA 2K21 Courtside Report, which looks at the game's myPLAYER and AI and how they are improved for PS5 and Xbox Series X/S versions of the basketball sequel.
NBA 2K21 PS5 Details Examine AI And MyPLAYER
First up is MyPLAYER Builder, which 2K says is all about customisation for next-generation consoles. Here, you no longer select from preset skill breakdown pie charts for PS5 and Xbox Series X/S, and instead are given control over setting individual rating to your preferred cap.
Meanwhile, Badges have been overhauled and there's many returning favourites, although a lot have experienced 'significant functionality changes.' Here's a list of of some of the Badges included:
Fearless Finisher – Boosts contact layups and decreases fatigue
● Heat Seeker – Boosts takeover progress on inside shots
● Highlight Film – Boosts teammate takeover progress on flashy dunks
● Hook Specialist – Boosts hook shot ability
● Revived Posterizer – Contact dunks!
● Rise Up – Boosts ability to do standing dunks in traffic
● Anti-Freeze – Harder to get cold and lose takeover meter progress
● Blinders – Less affected by peripheral defenders when shooting jumpers
● Circus Threes – Improved ability to hit pull-up and stepback 3's
● Fade Ace – Boosts all post fadeaways
● Hot Shot – Increases takeover meter faster when knocking down jumpers
● Deep Threes – Dame and Curry range 3 balls
● Rhythm Shooter – Boosts shot %'s out of size-ups as well as 1-step pull-ups
● Set Shooter – Shooting ability gets better the longer you set and wait before pulling
● Sniper – Boosts the ability to hit shots when using Pro Stick aiming
● Stop & Pop Three – for the JJ Redicks who want to pull-up for threes in transition
● Bullet Passer – Gives you the ability to throw laser dots like LeBron
● Relay Passer – Boosts the shooter on pass to assist situations
● Special Delivery – Boosts takeover progress for the passer and receiver off a flashy pass assist
● Ankle Braces – Makes it tougher for ball handlers to break your ankles
● Clutch Defender – Boosts your defensive ratings in clutch moments
● Hot Stopper – Boosts takeover meter for good defensive plays like steals, blocks, and good contests
Elsewhere, the Takeover feature has been further enhanced for next-gen platforms. Now, instead of simply featuring eight archetype-based takeovers, 2K has split them into 24 more specific takeover abilities, which are thought of as unique badges that 'you can fire off when you get hot.'
Finally, AI has been further enhanced. In terms of defense, on-ball and off-ball screen logic has been revamped and auto-switching logic refined to reduce bad switching instances. Adaptive Coaching Engine (ACE) now features the ability to recognise and adapt to different types of off-ball action, while improvements have also been made to transitional defense and Hedge defense to allow for improved screen positioning and angle targeting.
Over on the offensive side, 2K has introduced Next-Gen Game Planning, which is a new feature that allows players and AI to use more specific game plans for their respective teams.
There's a new game plan option in the pause menu. Here, players can select between 8 pre-selected game plans that they can access in game through the On-The-Fly-Coaching panel (OTFC). Each game plan has default options already set up for them, so the player can pick a single option and have all the important details for that game plan ready to go.
Other improvements for offense include double team counter intelligence, which sees the AI using less movement to create more spacing for its shooters spotting behind the three point line. The AI can also now time plays better with the shot clock, and and players can now set up one group of plays for their starting unit and another for bench units.
The PS5 and Xbox Series X/S versions of NBA 2K21 also benefit from improved play and freelance flow, while new spacing code affords improved pick and roll situations. Issues involving AI accidentally placing themselves out of bounds has also been remedied.
NBA 2K21 is due out for PS5 and Xbox Series X/S in November.