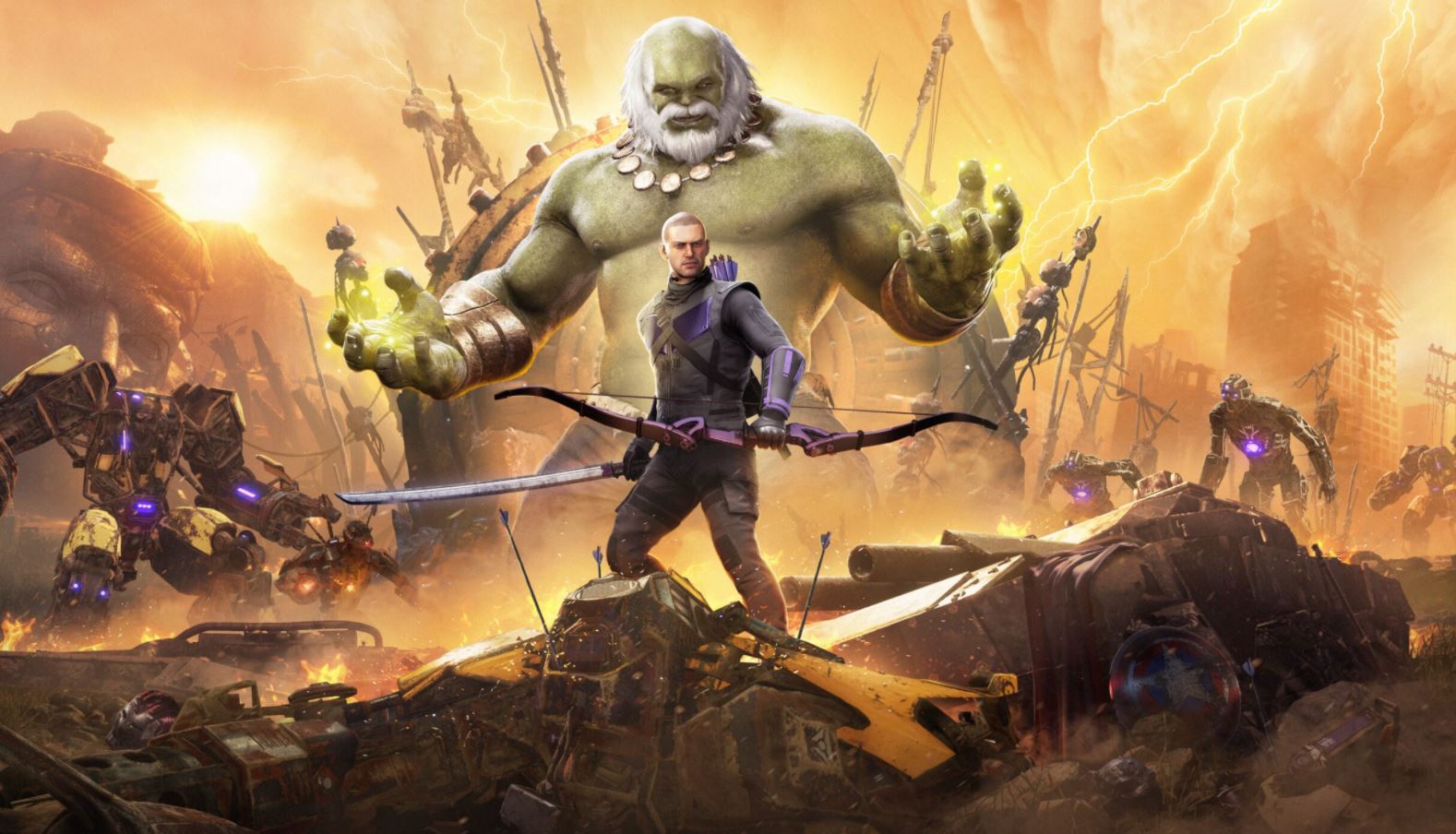 Square Enix has detailed the Operation: Hawkeye – Future Imperfect content for Marvel's Avengers, giving us all the details we have wanted to know about, such as the release date and gameplay abilities of Hawkeye himself.
Operation: Hawkeye – Future Imperfect will launch day-and-date with the PS5 version of the superhero title on March 18, and kicks off Chapter Two of Season One.
Future Imperfect's storyline sees Hawkeye — real name Clint Barton — as he embarks on a perilous journey to a future Earth to locate the missing Nick Fury, stepping foot into a new biome known as the Wasteland. Here, you'll come up against Maestro and eventually save the world. There's also an appearance by trusty canine companion, Lucky!
As expected, Clint's skills with a bow are unrivalled ind the Marvel Universe, with Crystal Dynamics taking inspiration from the Ronin period to create his sword abilities, meaning Clint is both a powerful melee and ranged character.Clint is a 'steadfast hunter,' neutralising enemies with powerful, precise hits one at a time.
Furthermore, his Quick Reflex Intrinsic Ability will allow Hawkeye to sidestep enemy attacks and parry with a fast-staggering bow shot. Meanwhile, Clint's Dead Eye Skill gives him the ability to focus his aim on a single foe, thus increasing the damage output and reaction with razor arrows.
Three arrow types make up Hawkeye's Heroics. First up, his Assault Heroic utilises the Nightstorm Arrows, which rain down projectiles on the battlefield. The Recovery Arrow Support Heroic meanwhile takes advantage of nanobots, which swarm any nearby allies and replenish their willpower.
Elsewhere, the Hunter's Arrow Ultimate Heroic features an AI-guided projectile that is capable of piercing through targets, and can be upgraded with a two-shot ability and explosive charges.
Related Content – Sony PS5 Complete Guide – A Total Resource On PlayStation 5
You can watch the latest Marvel's Avengers War Table live stream below and the story trailer for the character:
Marvel's Avengers is available now on PS4 and is coming to PS5 this year.