A brand-new batch of Overcooked 2 DLC, titled Surf 'n' Turf, has just been served to players on all platforms (PS4, Xbox One, Nintendo Switch, and PC.
It's a pretty meaty slice of content, too. As you can see from the reveal trailer embedded below.
Overcooked 2 DLC Adds New Levels, Chefs, and More
There are twelve new campaign levels to enjoy/become enraged at when you miss out on a three-star rating by a measly three quid for the 10th time in a row.
As well as the recently teased New Game+ mode which gives players another excuse to play through any and all previous completed levels thanks to the introduction of a prestigious (and probably elusive) four-star rating.
Joining them are a variety of new Versus and Kevin levels, a handful of theme-appropriate chefs, and some delicious-looking recipes. Including kebabs and smoothies.
Finally, publisher Team17 has revealed a seemingly innocuous new item: the water pistol. Something that "just might have functions beyond putting out fires or distracting your fellow chefs".
Although players will have to work out what these additional functions are for themselves.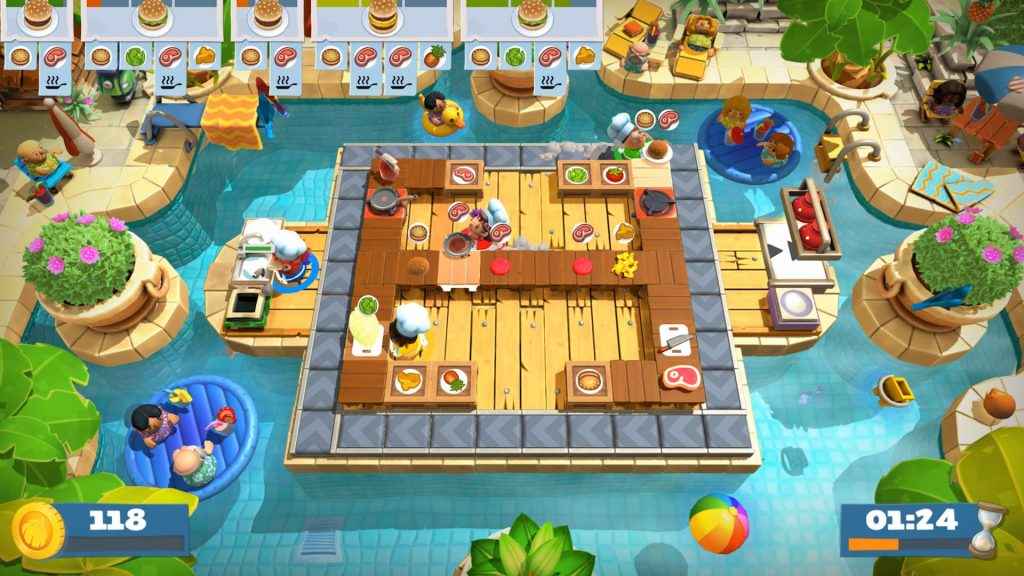 Vanilla Overcooked 2 is currently available for £19.99/$24.99 on the PlayStation Store. While the Surf 'n' Turf DLC will set you back £4.49 in the UK and $5.99 in the US.
However, if you want the full experience, you might consider purchasing the 'Too Many Cooks' pack. Which, for £2.49/$2.99, introduces another five anthropomorphised chefs to the culinary chaos.