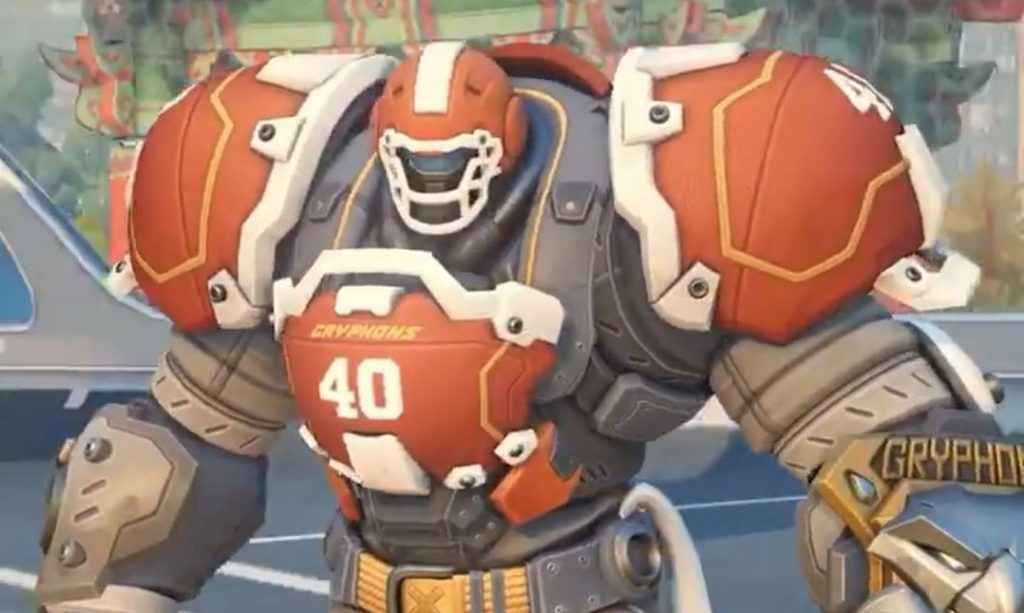 Just four days before the Overwatch Summer Games kicks off, Blizzard surprised fans with its second legendary skin release: the Overwatch new Reinhardt Skin.
Overwatch announced the Gridironhardt Reinhardt on their official Twitter on August 5. Summer Games events begin on August 9.
Blizzard revealed the first new skin just recently. It is called the Waveracer D.Va which was presented through a short video. The Overwatch Waveracer D.Va skin color is primarily pink combined with blue and white as secondary colors. It looks pretty classy yet sexy at the same time. No doubt many players are already working to get this Overwatch Summer Games Skin
Overwatch New Reinhardt Skin
In case you haven't seen it, the new Reinhardt Skin is the exact opposite of the Waveracer D.Va. This is because Gridironhardt Reinhardt is all about football. The skin radiates strength and power with the armored hero wearing a football helmet and shoulder pads. Not only that, fans would have surely noticed a weapon accessory replacement in this Summer Games skin. The hero holds a big trophy instead of his usual axe, completing the whole new sporty look.
Overwatch Summer Games
Overwatch fans would just have to wait for few days before they can fully see the whole Overwatch Summer Games. Summer Games starts on August 9 in Busan and will run through until August 30. Fans can expect loads of cosmetic skins to collect and different in-game activities in the event. They also announced in their Twitter that Lucioball is making a huge come back this year.
Blizzard did not give information yet on how much the Overwatch New Reinhardt Skin would cost players. Based on previous summer games, new event skins are about 3000 gold in 2017 but only 1000 gold back in 2016 Overwatch Summer Games. So based on the trends, the price could be higher than 3000 gold since it's a legendary skin.
Come back daily to get the latest news and updates on Overwatch Summer Games skin.