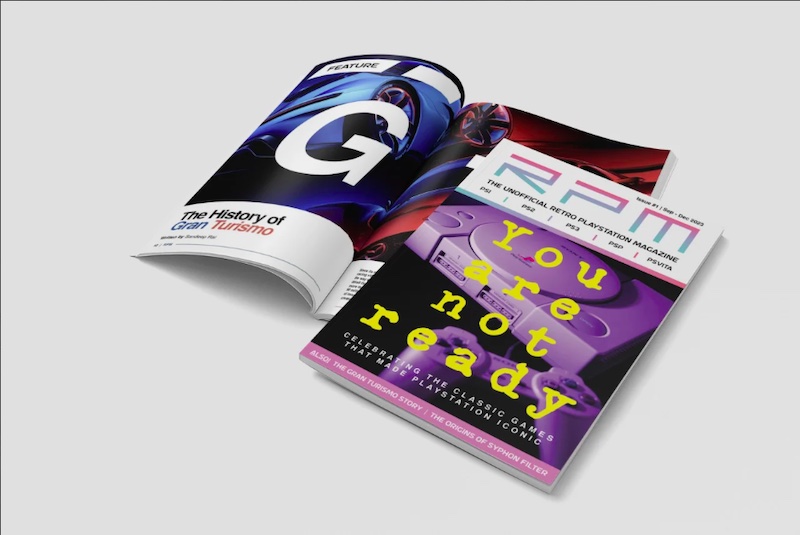 Author Sandeep Rai has taken to Kickstarter to fund another retro-themed PlayStation magazine following his previous efforts covering PS3 and PS Vita. This time around, he's working on a publication called RPM, which focuses on legacy Sony consoles dating back to the PSOne.
The good news is that RPM has already smashed its target in just eight hours of going live, and the first issue is already wrapped, with Rai working on the second instalment. According to the info available, RPM is will come in three 60-page, ad-free magazine releases per year.
As mentioned, RPM is designed around the history of PlayStation, and covers PSOne, PS2, PS3, PSP, and PS Vita formats, complete with interviews, features and reviews. The first issue features in-depth articles on Gran Turismo and Syphon Filter.
Related Content – Sony PS5 Complete Guide – Everything Explained About PlayStation 5 For New Owners In 2023
Each issue will include reviews of games from PlayStation Plus' Classic Catalogue and detailed retrospectives revisiting the history of one classic Sony franchise – for this issue that series is Gran Turismo. With the GT movie having just released in August, it felt like a good time to revisit the series and learn how it became Sony's best-selling gaming franchise. This issue also features an interview all about the origins of Syphon Filter with Richard Ham (the game's lead designer), a look back at all the Western launch titles of the PS1 and an interview with one of the devs behind Destination Home – an unofficial revival of PlayStation Home.
This sort of thing is right up my street, and will probably appeal to a lot of gamers of a certain age who, like myself, grew up reading classic magazines such as PLAY, OPM, Games Master, Mean Machines PlayStation, and PlayStation Power among others.
[Source – RPM Kickstarter]