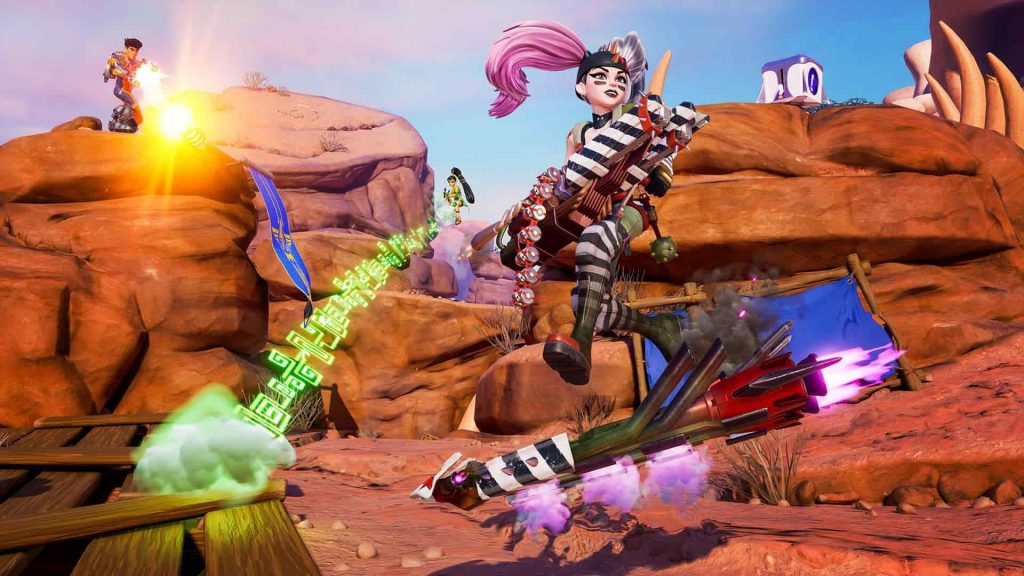 Coming next week, Rocket Arena, the multiplayer arena shooter, has been given a PS4 map showcase trailer delving into the location and areas you will get to explore.
The Golden Zephyr is an airborne map where you will fight across a battleship flying through the air, whilst The Temples of Jaaqua offer a more historical and mythical locale with traps and secrets hidden in the environment.
Shimmering Depths takes you beneath the ocean which plays with gravity and water geysers to allow for more movement. Star Crater is another similar map. Stompy's Refuge takes you to a more arid environment with a fossilised dinosaur and all kind of bony creature remains. Megadon's Junction is another canyon based desert map, with a moving train hazard going around the map.
Frostwind Grove and Icefall Keep are your two snow environments. Finally, Apogee Acres and Hypersonic Heights take you to the home of the Rocket Arena headquarters and a much different city-filled environment.
That equates to a sizeable 10 maps for the game. You can check them all out below:
Final Strike Games announced Rocket Arena as an EA Original title back in June at EA Play Live after Nexon severed their partnership with the studio, throwing the game into uncertainty. But it is now set to release sooner than ever, on July 14.
Rocket Arena releases for PS4 on July 14.