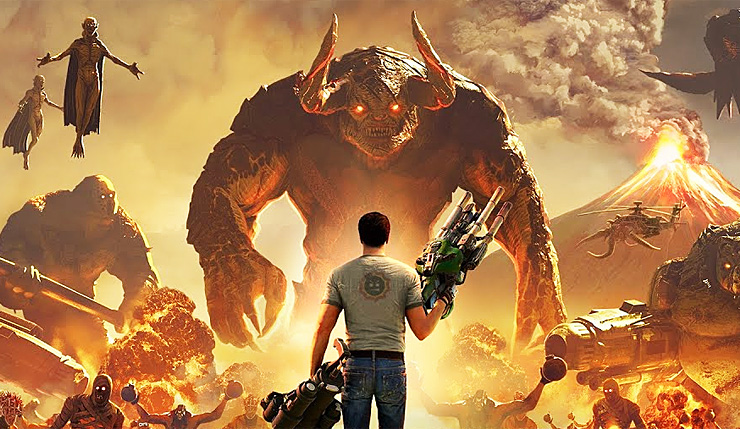 Serious Sam 4 Is Coming To PS4 in 2021 with a potential PS5 release alongside it. Publisher Devolver Digital has announced the new title in the long-running series of its action-packed shooter. The fourth instalment is set to release this year but with a catch.
Serious Sam 4 Is Coming To PS4
It seems that Serious Sam 4 will launch exclusively on the Google Stadia and PC this Summer. This is part of an exclusivity deal that Stadia has reached with Devolver Digital. But the news isn't all bad. The exclusivity is only timed and Serious Sam 4 will make it's way to PS4 in 2021. And, considering the PS5 will be out by then we shouldn't be surprised if we see a PS5 release in 2021. It's unfortunate we won't be able to get our hands on the game for a while, but the wait should be worth it.
You can watch the latest trailer for Serious Sam 4 below:
It's a shame that console gamers may have to wait a full year to play Serious Sam 4 but at least they know it's coming. The franchise has become very popular due to it's no-nonsense action reminding gamers of old school Duke Nukem titles. Officially it's the fourth game in the franchise but there have been plenty of spin-offs along the way and the franchise has released on almost every major platform available.
Serious Sam 4 offers the iconic cast of aliens for you to fend off including the Headless Kamikaze, Beheaded Rocketeer, Kleer, Scrapjack, Werebull, and Khnum! With weapons and tools that can be upgraded, Sam can make short work of these creatures and make his arsenal even more powerful through upgrades. The game supports thousands of enemies on a battlefield with the new Legion System, as well as a fully playable co-op version of its campaign for up to four players.
Serious Sam 4 is due out in Summer 2021 for PS4.