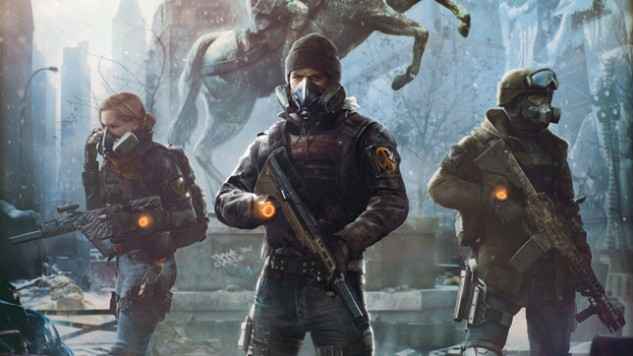 Ubisoft has today dropped a new trailer showing off what agents will be doing after they have completed the main campaign. Earlier we reported that the beta broke records for Ubisoft and that the campaign will take about 40 hours to complete. Seeing the substantial content that will be available post-game, we think that even the most content-hungry players should be quite satisfied with what's on offer.
The Division 2 Endgame
It's seven years since the initial outbreak and since the original set of sleeper Division agents were called into battle. You and your group of ragtag operatives have been in the field for seven months and are the last line of defence. You and your team are the last hope of holding onto Washington DC, if Washington falls then the whole nation falls into chaos. No pressure then.
The Division 2 is an open world, action shooter RPG set in a fractured Washington DC. Play alone or with a team of up to 4 players, engaging in various PvE and PvP activities. Experience lush environments where players will experience the series' trademark for authenticity in world building. Delve into deep RPG systems and experience high octane action like never before.
End Game Trailer
Below is the end game trailer released by Ubisoft, along with a graphic briefly describing what's on offer players have finished the story.
As you can see there is a lot to get your teeth into. Tougher enemies will take over the open world for you to encounter. There will be a new faction and a new stronghold for you to tackle. New specializations and loot will be there for you to unlock and craft. Invasion missions and higher tiers of world activities will also be on offer for players to experience. Probably the most exciting thing on offer though is the raid. A high-end group activity that will no doubt have some lucrative rewards for you on completion.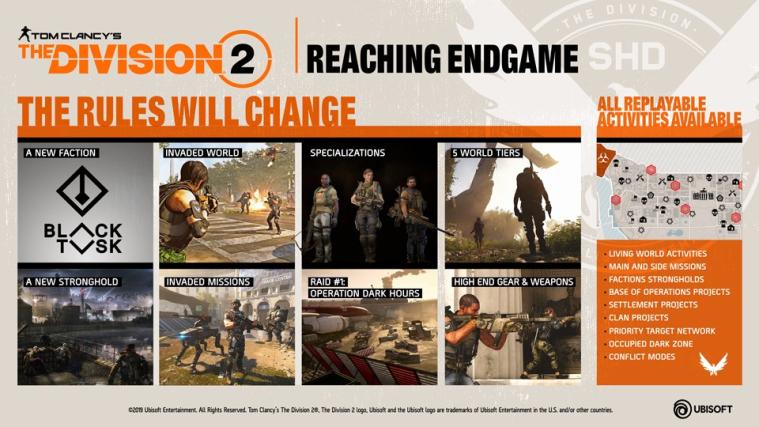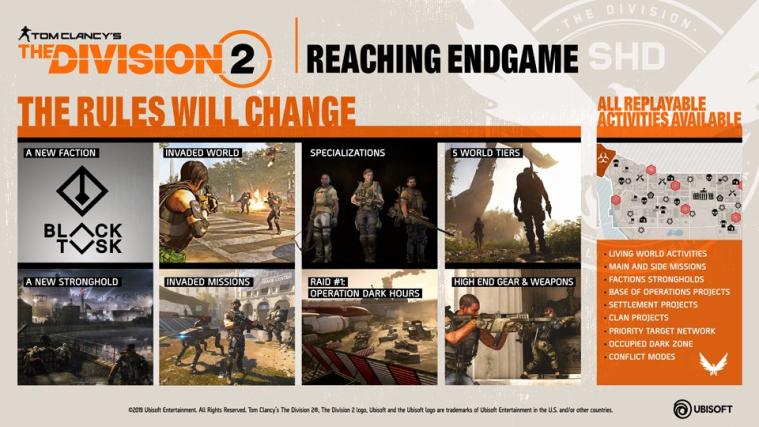 If you did not get a chance to play the private beta, don't worry. An open beta had been confirmed in a twitch stream, so everyone will get a taste of Ubisoft's latest looter-shooter.
What do you think to The Division 2's end game content? We think it seems a lot more than what was on offer in the previous game. Let us know in the comments below.