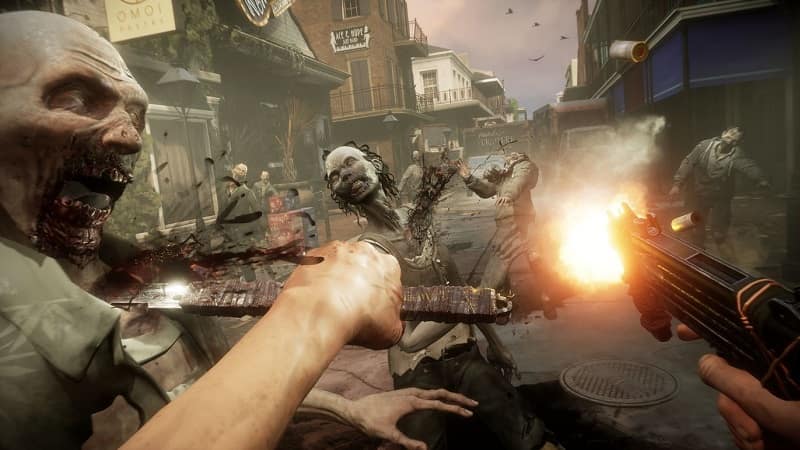 Recently I was vert fortunate to have the opportunity to take part in a hands-off preview of The Walking Dead: Saints & Sinners – Chapter 2, the highly anticipated continuation of The Walking Dead: Saints & Sinners. One of the best examples of how to transplant a thickly atmospheric property like The Walking Dead into the medium of VR, The Walking Dead: Saints & Sinners expertly combined extraordinarily immersive first-person perspective combat with a dynamic, non-linear single-player campaign to keep players coming back for more.
Happily, I can report that The Walking Dead: Saints & Sinners – Chapter 2: Retribution is a more than capable follow-up to that first chapter, ably augmenting and expertly improving upon the base concepts seen in the The Walking Dead: Saints & Sinners in a number of compelling ways.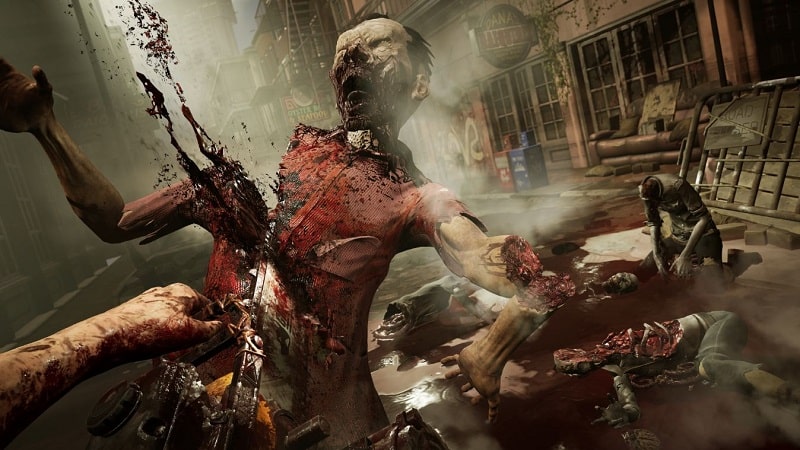 Continuing its tour of post apocalyptic New Orléans, Chapter 2: Retribution has players once again threading the needle in terms of not only dealing with the encroaching Walker horde but also evading the hostile intentions of the various warring factions that now stalk the streets of the Big Easy. However things have certainly changed in this second chapter, as The Tower, a brutal faction that made their mark in the first chapter, is now seemingly on the cusp of domination of New Orleans all the while supplies and resources dwindle yet further still.
Set against this desperate backdrop, the hands-off gameplay demo that I was treated to for The Walking Dead: Saints & Sinners – Chapter 2: Retribution showed a great deal of promise to say the least. Kicking things off in Sonny's Pawn Shop, we are treated to a handy hub area that allows our 'tourist' to upgrade their skills and abilities, buy equipment, update mission tasks, trade for goods and earn new blueprints to craft an increasingly devastating array of weapons. Certainly, it seems fair to say that when you aren't splitting skulls and running for your life, you'll be spending a fair chunk of time here.
Further Reading – The Walking Dead: Saints And Sinners PSVR Review
Arguably the most devastating of these new weapons that Chapter 2: Retribution introduces is the chainsaw. That old and trusty staple of zombie and horror movies everywhere, the chainsaw allows players to tear through the undead horde (and maybe the odd unlucky mercenary or two) with vicious aplomb, as limbs, blood and all manner of viscera and cartilage spray across the screen in a deeply macabre spectacle, all the while the haptics of the PSVR 2 controller respond in kind to the carnage unfurling on screen. Elsewhere a new laser sight, sawn-off shotgun and automatic machine gun provide players with yet further creative latitude for combat, while Saint & Sinners gloriously crunchy melee combat remains as grimly compelling as it always has.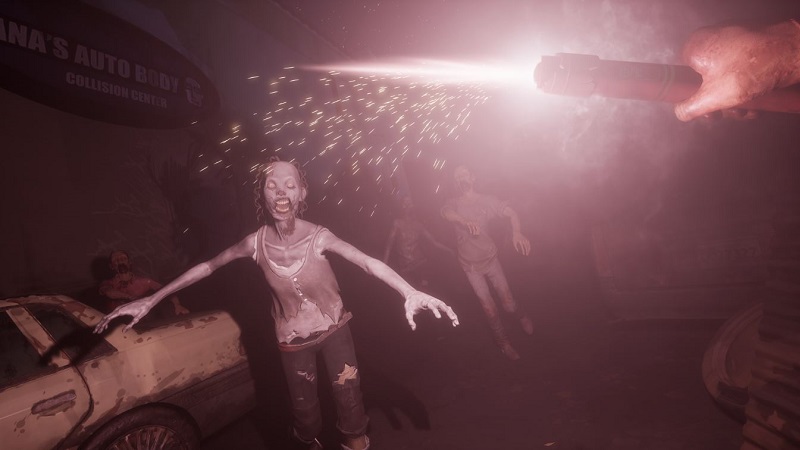 Elsewhere, one of the biggest advances that Chapter 2: Retribution brings over its predecessor is the inclusion of night-based missions and exploration. Once again tapping into the silver screen horror genre that clearly serves as the thematic bedrock for The Walking Dead, players now need to be extra careful when stalking the streets of New Orleans during the twilight hours, using a handy torch to flush out surprises that might be lurking around any corner, while also keeping an eye out for precious supplies and resources to keep your bloody adventure going through the use of UV flashlight to spot hidden signs pointing towards secret loot.
Though night mode is much harder than tackling the numerous horrors of The Walking Dead during the day, thanks in no small part to the higher numbers of the undead and their sensitivity to the light, the rewards are certainly worth it, with massive caches of supplies and loot that can be yours if you come out of the night in one piece. Again, it's just one more example of how developer Skydance Interactive are meaningfully augmenting the base Saints & Sinners experience by giving players a whole new challenge tackle, all the while amply incentivising them to do so in the process.
Further Reading – Best PS5 Horror Games Ranked – The Scariest Games On PlayStation 5
Speaking of new settings, Chapter 2: Retribution whisks us off to the iconic French Quarter of New Orleans where the Tower presence has increased dramatically, forcing the player to continually make risk/reward calculations about whether to engage these heavily armed goons directly, or seek a more evasive approach to gain access to key buildings and objectives.
Much of the demo was focused on the Hotel Eclaire, a massive and sprawling structure with a number routes that players can take through the building, revealing all manner of nooks, crannies, secrets and side-mission giving NPCs in the process. In short, the level design in Chapter 2: Retribution appears to be a sizable step above and beyond that of Saints & Sinners first chapter, with much more in the way of non-linear progression through the area, in addition to a noticeably more dense and sophisticated game world that more accurately reflects the abandoned infrastructure of post-apocalyptic New Orleans.
Another new element that Chapter 2: Retribution brings to the table is the notion of falling Walkers and lots of them. That's right, not only is dealing with the usual garden variety Walkers still absolutely pant-filling, but now you'll have to contend with Walkers falling from higher floors, tumbling off mezzanines and more besides, forcing you to look skyward for threats as much as you would normally look anywhere else. How lovely.
Further Reading – The Walking Dead: The Telltale Definitive Series PS4 Review
Though Chapter 2: Retribution adds a whole heap of new weapons, bigger areas and a places a bespoke focus on non-linear progression and exploration, so too has the developer doubled down on everything that made the first Saints & Sinners so immersive in the first place. From managing your health and stamina, to regulating the noise you make to avoid detection to the almost natural way that the game encourages you to use firearms and melee weapons in a fashion that is approximate to real-life, The Walking Dead: Saints & Sinners – Chapter 2: Retribution looks to feel every bit like the stellar continuation to Saints & Sinners that we've always wanted.
The Walking Dead: Saints & Sinners – Chapter 2: Retribution is set to be released on PSVR and PSVR 2 on a date yet to be announced.
Hands-off preview kindly provided by Skydance Interactive and FortySeven Communications.