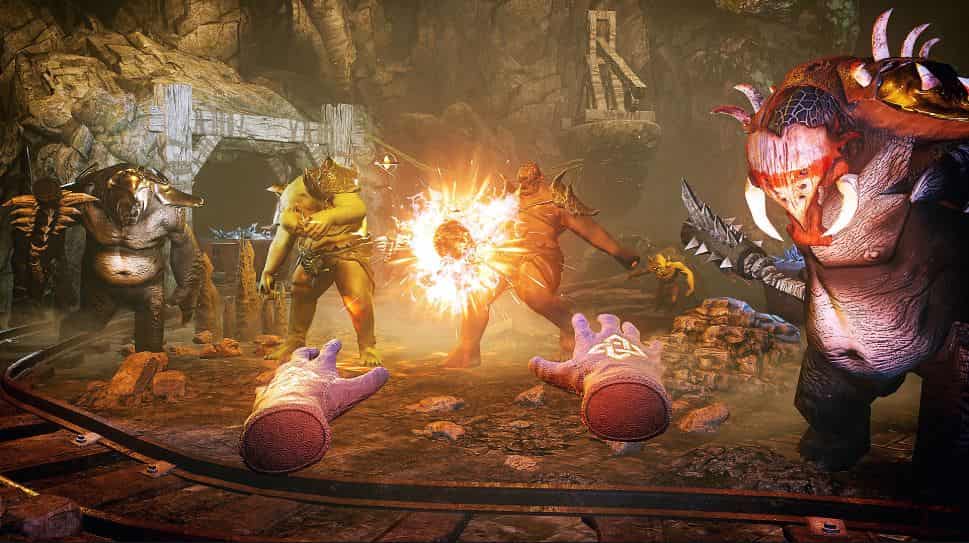 For those among you who are up for a bit of VR spellcasting powered by PSVR, you'll be chuffed to know that publisher Perp Games has announced a North American release date for The Wizards – Enhanced Edition to take place on August 13, 2019.
Already available in physical and digital form in Europe, and also currently available digitally in North America, you can catch our review of the game here and the full press release below:
The Wizards – Enhanced Edition is a high fantasy action adventure PlayStation®VR game developed by Carbon Studio and published by Perp Games. Physical copies of The Wizards – Enhanced Edition are available starting Aug. 13 for $29.99 USD, through retailers including Amazon, Best Buy and GameStop. The game is also available digitally on the PlayStation Store, and both digitally and physically in Europe.

In The Wizards – Enhanced Edition, players assume the role of a young sorcerer traveling through time to protect the ream of Meliora from destructive enemy forces. Casting elemental spells is key to freeze, burn or electrocute the legions of orcs, goblins and dragons infesting the lands. Players will unlock arcane secrets as they master the spell gestures, learning to adapt their tactics to the fast-paced flow of combat.

The Enhanced Edition adds a brand-new level to the Story Campaign for players to explore a fresh map, face new battles, and dive into the expanded lore. Players seeking out global competition can try their magical hands in the Arena Mode, confronting endless waves of enemies to conjure up a spot on the online scoreboards. Fate Cards, discoverable in both game modes, can change the difficulty and rules to the player's liking as they augment their skills or sacrifice their bonuses for high risk, high reward gameplay.

The Wizards – Enhanced Edition physical version features:

Fantastical Story Campaign –

The multi-part campaign offers players entrance into the enchanting fantasy world of Meliora, to travel through time and battle the vicious beasts threatening destruction of the magical realm;

Gesture-Based Spellcasting –

Immersive spellcasting with intuitive hand gestures equips players with six element-based spells to learn, upgrade and master;

Mystical Fate Cards –

Discoverable throughout the game's levels, these cards increase players' modifiers to unlock new playstyles for increased replayability;

Arena Mode

– Three distinct survival environments are available for players that wish to invoke a true challenge, facing an endless onslaught of enemies to survive long enough to top the leaderboards;

Three Motion Options – Includes teleportation-based exploration and free movement, using PlayStation controllers or 3dRudder, the foot motion controller for PlayStation VR.
Source: Press Release