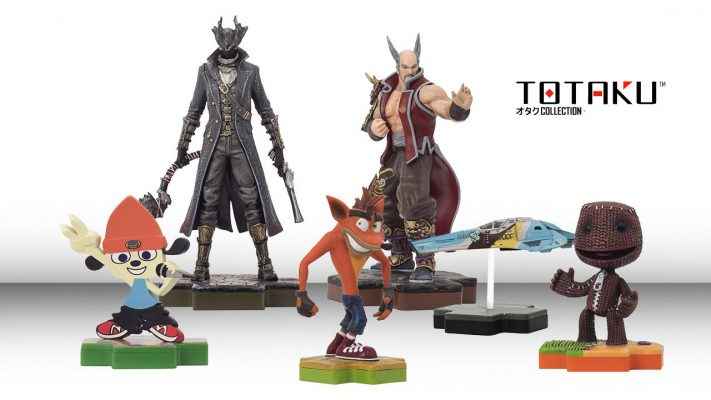 A new collection of highly detailed mini-figures, inspired by the most important franchises in PlayStation past and present history, is coming exclusively to GameStop in North America and GAME in Europe. This collectable series is called TOTAKU , and includes reproductions of popular characters such as God of War's Kratos, Tekken's Heihachi Mishima. and a Feisar ship from Wipeout.
Stunning PlayStation Collectables
The figures are 10cm tall, and feature interlocking bases. GAME Espana has them listed for a fairly reasonable 14.99€.
To the delight of collectors, the very first series of TOTAKU will be marked with a symbol that identifies the first edition. All other copies produced will not have this mark, so the statuettes of the main draft will certainly be the rarest and most desired by fans. Each of these small figures is about 10 centimeters tall, and represents a character in one of his most iconic poses. In addition, the small base where the Totaku are supported is in the shape of a cross and can be joined to the other by interlocking, forming fun scenarios with your favorite video game characters.
It's just the seven to start with, but others are to be announced and released in the coming months. A good thing as there's certainly a few we'd like to see added. So much so, that we came up with a few hopes and suggestions for future additions.
Nathan Drake (Uncharted)
Aloy (Horizon: Zero Dawn)
2B (NieR: Automata)
Spike (Ape Escape)
Solid Snake (Metal Gear Solid)
Jill Valentine (Resident Evil)
Jak and Daxter (Jak and Daxter)
Spyro (Spyro the Dragon)
Sir Dan Fortesque (MediEvil)
Kazuma Kiryu (Yakuza)
Wander (Shadow of the Colossus)
It does seem like it won't be limited to just characters from PlayStation-affiliated titles, so there's a bit of wiggle room for Dante, Geralt of Rivia, or Chell from Portal to join in if the right deals are made.
In the meantime, you can look at the first batch in this reveal video and make the appropriate pre-order plans.
Who else was sold on Bloodborne's Hunter instantly?