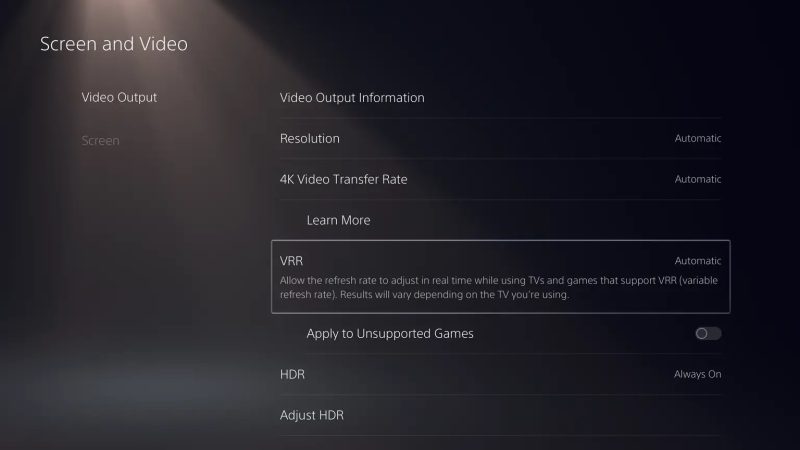 Variable Refresh Rate, or VRR is a feature that has been inexplicably missing from the PS5 since it launched, though that will soon change. The update to add VRR support will roll out this week, announced PlayStation.
A blog post on PlayStation Blog revealed that the update will start to roll out across the globe later this week, with a list of 14 first party and third party games that will release patches to add VRR support:
Astro's Playroom
Call of Duty: Vanguard
Call of Duty: Black Ops Cold War
Destiny 2
Devil May Cry 5 Special Edition
DIRT 5
Godfall
Marvel's Spider-Man Remastered
Marvel's Spider-Man: Miles Morales
Ratchet & Clank: Rift Apart
Resident Evil Village
Tiny Tina's Wonderlands
Tom Clancy's Rainbow Six Siege
Tribes of Midgard
There's no timeline given for when any of these patches will release, though, as that will be different for each title.
Players with HDMI 2.1 VRR compatible tv's and monitors will finally be able to put their full console and tv combo to use, with the full benefits of VRR finally available to them.
What's also interesting to note is that you'll have an option to use VRR for games that have yet to be patched to support it, as a means of potentially improving your experience.
Having it on or off though is entirely optional, so if turning VRR on for an unsupported title has adverse effects, you can remove it.
It'll be interesting to see what other titles in the coming weeks release patches for VRR, and if the addition of VRR can be the fix some games have needed, to run without any frame hitches at all.
Source – [PlayStation Blog]