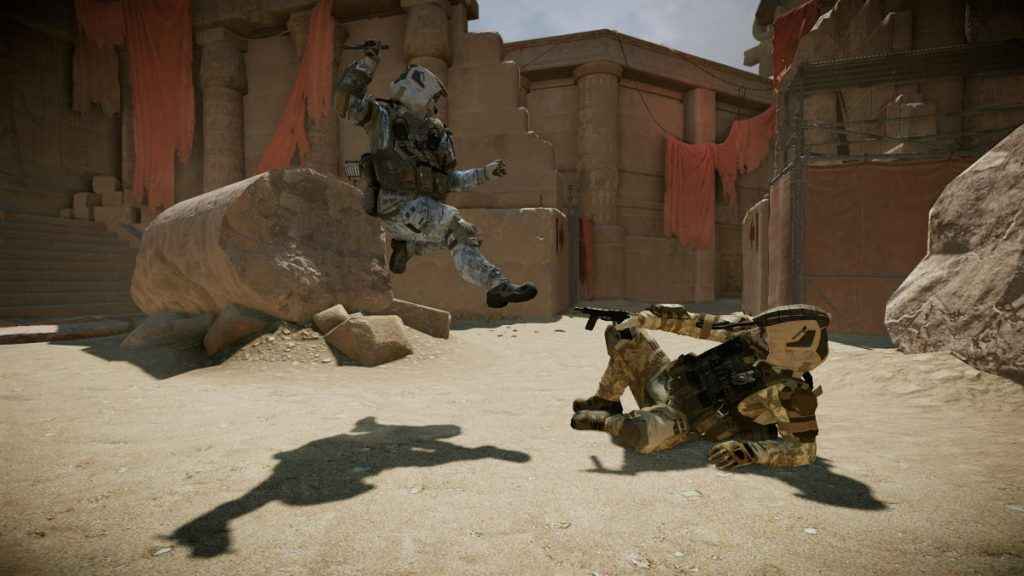 The Warface PS4 release date has been revealed as September 18. However, you can now get straight into early access and enjoy the shooter with a Warface Collector's Edition Early Access Pack.
To celebrate the launch of the military-based free-to-play shooter today, we have 15 packs to give away worth 79.99 EUROS each. Each bundle contains the following items, ensuring you'll get off to the best possible start.
Warface features PvE and PvP missions and features hundreds of upgradeable weapons. There's also a Plant the Bomb and Battle Royale mode for those who really want to test their survival skills.
Note: The giveaway has now ended.
The winners are:
Greg Middleton (via comment)
Darron Potter (via comment)
Frost (via comment)
@sonicguy14
@Gmid1983
@villdoc
@RockySkillz
@x53444
@MeTaLGuY9
@TheFinalDuke
@theparanoidass
@idakenplays
@BertusBerenboot
@zer0nik00n
@AwesomeGuy012
Note: The Collector's Edition Early Access Packs are valid for EU PSN accounts only and not exchangeable.
FN SCAR-H assault rifle and its golden variant
Fabarm S.A.T. 8 Pro shotgun and its golden variant
Magpul FMG-9 and its golden variant
Remington R11 RSASS sniper rifle and its golden variant
CZ-75 handgun and its golden variant
Jagdkommando combat knife
Paragon Squad skin set for all classes
1500 Kredits
Ready for action, soldiers? Check out our Warface preview to find out more about PS4's latest shooter, and simply reply in the comments below and tell us why you want to play Warface.
AND/OR, just retweet the following!
?RT: Get an EU @Warface Collector's Edition Early Access pack and get ready for war in @Crytek's new PS4 shooter.

?x15 to giveaway! Ends Friday noon BST.

Read first ? https://t.co/YFBhiOfhvW pic.twitter.com/bwEZaZs9jj

— PlayStation Universe (@PSUdotcom) August 14, 2018
We'll be drawing all winners at random on Friday 17 August, 2018. We'll list all winners in this article.
Terms
Closing date 17 August at noon BST
Two entries allowed per person, one via comment, one via retweet.
Entries restricted to EU PS4 players only. Codes will not work on North American PS4. An alternative prize is not offered.
PSU is not responsible for codes not working, but will attempt to get a replacement as soon as possible from the publisher.
Winners will be named within this article on 14 August and drawn at random from eligible entries.
Winners will be contacted via Twitter and comments section.