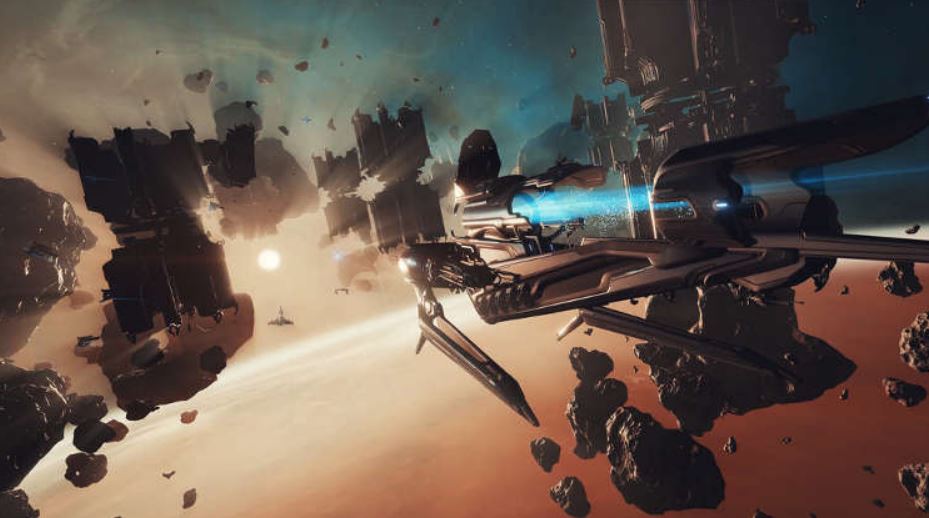 The next expansion for Warframe has been revealed during TennoCon 2019. Titled Empyrean, the expansion takes the free-to-play looter shooter into space. We have some of the first details and a look at the brand new expansion.
The Empyrean expansion for Warframe offers a brand new customisable vehicle, a Railjack, to use in Space. Along with full visual customisation, you can attach a number of different weapons to the Railjack. There are modules that you can attach to the Railjack and switch between at any time. These can make your Railjack more effective during missions.
Your Railjack has a fully customisable crew. That crew can provide bonuses to your ship and make it more effective. You can also fire and hire members of your crew. Once in space, you have a number of locations you can visit in missions. Whilst driving your ship you can mine for resources by shooting rocks and meteorites. Other players can team up with you in co-op, to perform other tasks on the ship or mine using other weapons whilst you are driving the ship. Once you reach the destination, your team can split into two groups, with one staying on the Railjack and the other infiltrating the enemy ship.
There is also a new Kingpin system. These Kingpins are enemies you have killed with a Warframe's power. The official name of these enemies are the Kuva Lich and they will use the ability you killed them with against you, grow to form their own space fleets over time and become strong deadly targets. Digital Extremes stated that you will have a long relationship with these Kuva Lich.
You can catch the full Railjack gameplay demonstration below from 07:30:00 and onwards:

Warframe is about to hit its sixth year anniversary. Starting off as the best free-to-play game when the PS4 launched in 2013, the game has grown into something much bigger. What once was a linear, corridor looter shooter has now become a game filled with a mountain of content, from open world maps and side activities, like fishing, to fully fledged, high-quality, story quests that build the world.
Warframe has become one of the most successful live-services around by respecting its player base and consistent communication about updates to the game. We took a look at how Live Services could change when the PS5 is announced and how successful they could be.
Warframe is available now on PS4 for free. The Empyrean expansion is coming to PS4.
What are your thoughts on the Empyrean Expansion for Warframe?