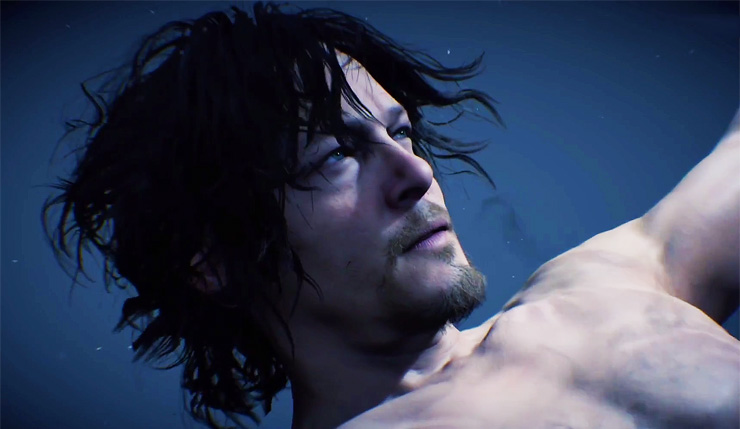 You can watch more than five minutes of new Death Stranding gameplay from Gamescom 2019.
The gameplay gives us our first look at the UI, mechanics, systems, and more. The goal of the game is to connect the cities of the United States from East to West. You will also connect with people throughout the world as you encounter obstacles during that journey. Oh and Geoff Keighley is in the game.
The game is also set to feature a number of other cameos, likely from those who have visited the studio.
You can watch the new gameplay below:
Along with that gameplay, two new trailers were showcased for the game focusing on Mama, Deadman, and the Bridge Babies. If you need a brief of what Death Stranding is this description from the official website should have you covered:
After the collapse of civilization, Sam Bridges must journey across a ravaged landscape crawling with otherworldly threats to save mankind from the brink of extinction. From legendary game creator Hideo Kojima comes an all-new, genre-defying experience for the PlayStation®4 system.

In the near future, mysterious explosions have rocked the planet, setting off a series of supernatural events known as the Death Stranding. With spectral creatures plaguing the landscape, and the planet on the verge of a mass extinction, it's up to Sam Bridges to journey across the ravaged wasteland and save mankind from impending annihilation.
Gamescom Opening Night Live is a reveal show hosted by Geoff Keighley, the Creator of The Game Awards. You can rewatch the livestream here.
If you need to keep up with all the announcements from the show you can head over to our landing page for the event which has every announcement made during the show. You can also see the announcements as they happen by heading to our Gamescom 2019 Feed.
Death Stranding releases for PS4 on November 8, 2019.